The CW may have brought Arrow to an end this year, but the network has another superhero waiting in the wings to take his place. Stargirl will start on the network on Tuesday, May 19 at 8 p.m. ET (delayed from its original May 12 release date), with Brec Bassinger leading the show after she made her debut in the "Crisis on Infinite Earths" crossover earlier this year.
The CW synopsis for the episode gives viewers a hint of what to expect from the show and its main character. It reads: "Courtney Whitmore's (played by Bassinger) seemingly perfect life in Los Angeles gets upended with a move to Blue Valley, Nebraska with her mother Barbara (Amy Smart), stepfather Pat Dugan (Luke Wilson) and stepbrother Mike (Trae Romano), and she finds herself struggling to adapt to her new town and high school.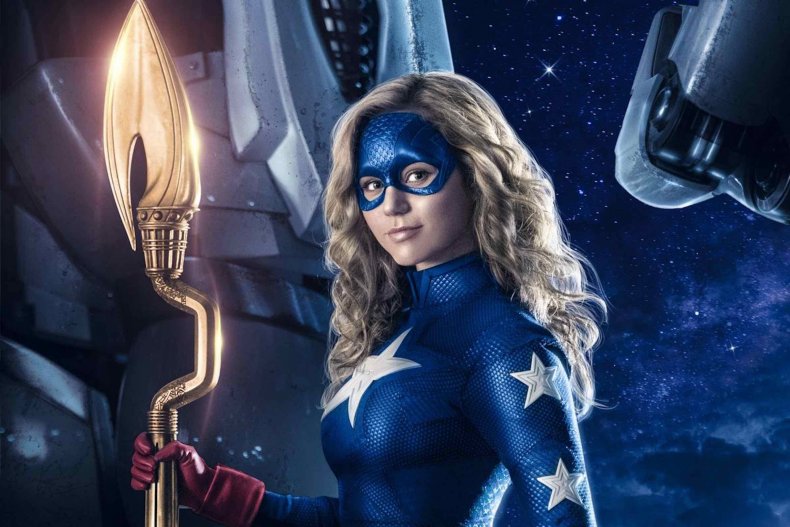 "But when Courtney discovers that Pat is harboring a major secret about his past, she ultimately becomes the unlikely inspiration for a new generation of Super Heroes."
Stargirl, not to be confused with the Disney+ original movie of the same name, began life in 1999, which also happens to be the year that the CW show's lead actor was born. In that year, writer Geoff Johns and artist Lee Moder created Whitmore as a character in DC Comics' Stars and S.T.R.I.P.E series. The character was a tribute to Johns' sister Courtney, who died in a plane explosion.
In the character's original incarnation, she became the Star-Spangled Kid after finding the costume in her stepfather's possessions. Finding this out, Dugan builds himself a mech suit known as S.T.R.I.P.E. that he uses to help her fight crime.
Once this character joins the superhero team Justice Society of America in 2003, her name was changed to Stargirl after she is given a cosmic staff—a staff that can be seen in many of the promotional images for the new show. In the original comics, this staff was given to her by Starman, confirmed to be appearing in The CW series, played by Community star Joel McHale.
The trailer for the show confirms other members of the JSA will appear in the CW show. Seen in the promo alongside Stargirl and Starman are Wildcat (Brian Stapf), Dr. Mid-Nite (Henry Thomas) and Hourman (Lou Ferrigno Jr) alongside a large robot that seems to be S.T.R.I.P.E.
In some versions of the character, she has no powers herself and simply gets her abilities from the staff and its accompanying power belt. However, her work with the JSA means that she becomes a trained gymnast and kickboxer.
Among the powers she gets from the belt are enhanced agility, durability, speed, stamina, strength, plus the power to generate a powerful force field. The Cosmic Rod, meanwhile, gives her the ability of flight and energy projection powers.
Stargirl starts on Tuesday, May 19 at 8 p.m. ET on The CW.