Disney+ will soon release its latest movie in the form of Stargirl—not to be confused with the upcoming CW superhero series of the same name. In the Disney+ film, based on the Jerry Spinelli novel of the same name, America's Got Talent star Grace VanderWaal has been cast as Stargirl, a quirky girl who brings the shy Leo Borlock (played by Graham Verchere) out of his shell. Disney has released the first trailer for the movie which gives viewers a taste of the film's plot.
When is Stargirl out on Disney+?
The release date for the Disney+ movie is Friday, March 13, with an expected release time of one minute past midnight PT (or 3 a.m. ET). To tease the film, Disney has also released a trailer on the DisneyMovieTrailer YouTube page to give fans a preview before it comes out.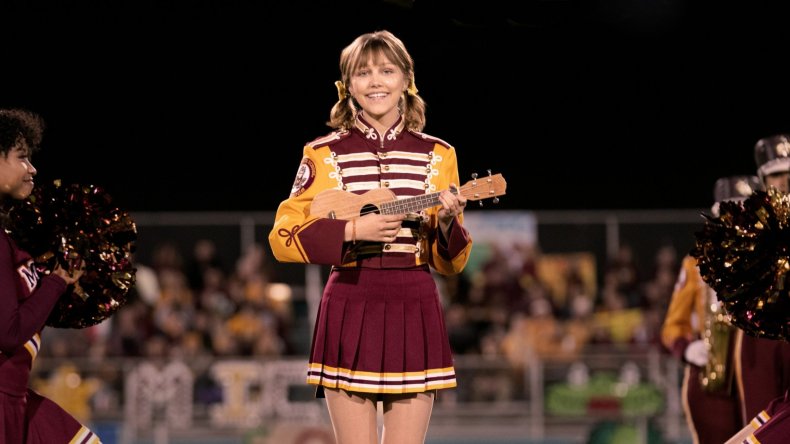 Who is in the cast of Stargirl on Disney+?
The movie is led by America's Got Talent Season 11 winner Grace VanderWaal, as the ukulele-playing, offbeat new girl to an Arizona high school who calls herself "Stargirl."
Speaking to Refinery29, director Julia Hart said of the singer-songwriter, "Stargirl has a profound acceptance of people for who they really are, which is a kind of innocence that shouldn't be mistaken for naivety.
"Grace was able to capture this ineffable 'worldly innocence' that this character embodies in a way that never felt self-conscious—and that is a tall order, especially for your first big acting job."
In Stargirl, she forms a friendship and then potential relationship with Leo Borlock, a boy who after being bullied starts hiding his true self from everyone. That role is played by Graham Verchere, who was previously seen in Fargo, Supergirl and The Good Doctor, where he plays the younger version of the main character, portrayed by Freddie Highmore.
The adults in the Disney+ movie include Leo's mom Gloria, as played by Darby Stanchfield of Locke & Key, and Breaking Bad actor Giancarlo Esposito, a retired professor who owns a legendary fossil collection the teens often visit.
What will happen in Stargirl?
The official Disney+ synopsis reads: "Stargirl from Disney+ is a tender and offbeat coming-of-age story based on the critically-acclaimed, New York Times best-selling young adult novel about an unassuming high schooler who finds himself inexplicably drawn to the free-spirited new girl, whose unconventional ways change how they see themselves...and their world."
The blurb for that novel by Jerry Spinelli, meanwhile, gives viewers more of an insight as to what to expect. It reads: "Leo Borlock follows the unspoken rule at Mica Area High School: Don't stand out—under any circumstances! Then Stargirl arrives at Mica High and everything changes—for Leo and for the entire school. After 15 years of home schooling, Stargirl bursts into tenth grade in an explosion of color and a clatter of ukulele music, enchanting the Mica student body.
"But the delicate scales of popularity suddenly shift, and Stargirl is shunned for everything that makes her different. Somewhere in the midst of Stargirl's arrival and rise and fall, normal Leo Borlock has tumbled into love with her."
Stargirl is released on March 13 on Disney+.