Starlink Outages Put 'Dent' in Ukrainian Counteroffensive Against Putin
Starlink communications device outages are straining the Ukrainian military as it mounts a counteroffensive to take back territory occupied by the Russians, according to Ukrainian officials.
Starlink, a satellite internet system operated by SpaceX, deployed technology to Ukraine after Russia invaded the country in late February. The company's billionaire CEO Elon Musk recently estimated that the company has spent $80 million in remote internet terminals for the Eastern European country.
However, the Financial Times reported on Friday that a senior government official in Ukraine said Starlink outages have created a "catastrophic" loss of communication on the frontlines of the war in Ukraine. One anonymous official told the newspaper that such outages occurred as forces were making advances into Russian-occupied areas. Soldiers also told the newspaper that the communications systems stopped working mid-battle, and that some Starlink technology hasn't worked in areas recently taken back from the Russians.
In an interview with Newsweek on Friday, V.S. Subrahmanian, a professor of computer science at Northwestern University, said that Russia "basically took out all of Ukraine's military communications" at the beginning of the war, and it's only when Starlink technology was introduced that "those comms went back to fairly reliable form."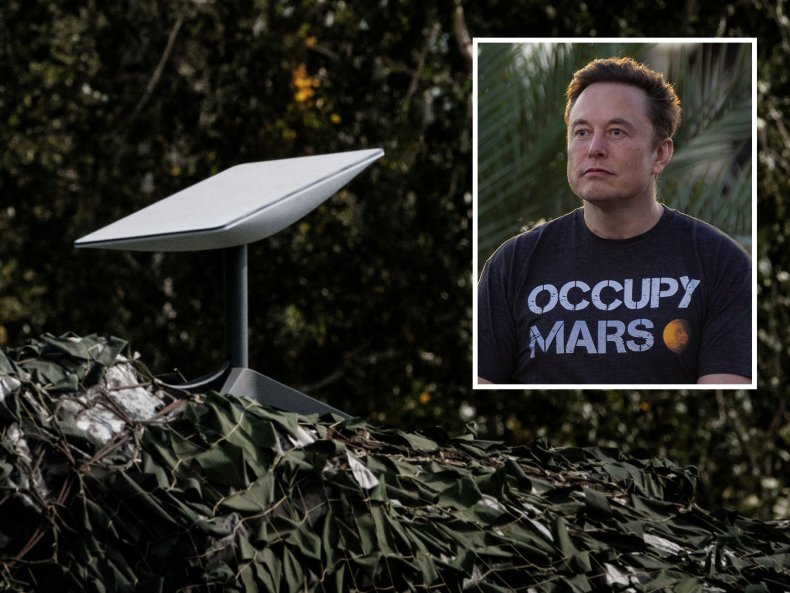 "I think the fact that Starlink communications have been disrupted in the key theaters of battle right now, mainly the territories Ukraine is trying to take back...The fact that that's gone is definitely placing a dent in Ukraine's plans," Subrahmanian added.
Roman Sinicyn, a coordinator at the Serhiy Prytula Charity, which has helped donate Starlink technology to Ukraine, told the Financial Times that the outages may be occurring because SpaceX is trying to prevent Russian forces from accessing the communications systems in areas that were only recently liberated by Ukrainians.
"It is absolutely clear to me that this is being done by representatives of Starlink to prevent the usage of their technology by Russian occupation forces," Sinicyn said.
Subrahmanian also told Newsweek that the Ukrainian military "probably" didn't tell Starlink they were planning to advance on "certain zones previously occupied by the Russians."
He said that a more remote possibility is that Russia hacked Starlink to take the communications offline.
"I think that's less likely because if that was the case, we would have heard either from the US government or from the Ukrainians, or from Starlink, all of whom would have known if their comms were taken offline by the Russians," Subrahmanian said.
Stephen Quackenbush, an associate professor of political science and the director of the Strategic Studies Program the University of Missouri, told Newsweek on Saturday that the outages "appear to be related to advances into territory previously occupied by Russia."
"That suggests that SpaceX is able to target access with a great deal of precision. It also appears to me to be an issue that they are working on improving, with greater coordination between the Ukrainian military and SpaceX," he wrote in an email.
He added that the outages don't change "the fact that momentum in the war is on Ukraine's side."
"While Russia has continued attacks in the Donetsk Oblast with limited success, Ukrainian advances in the northern (Kharkiv/Luhansk) and southern (Kherson) fronts over the past month have been beyond anything that Russia has been able to achieve since the spring," Quackenbush said.
Meanwhile, Subrahmanian said he doesn't believe the outages will pose a major problem for the Ukrainians in the long-run, saying that the Ukrainian military "has multiple ways of getting information to their troops" and has had continued support from the West.
He said that Western nations will "find a way to get sufficient comms and intelligence back to the Ukrainians to continue with their effort to take back the territories that are rightfully Ukrainian."
Newsweek has reached out SpaceX and Ukraine's Ministry of Defense for comment.
Musk Takes to Twitter
On Twitter on Friday, Musk said the Financial Times' article was "bad reporting."
"This article falsely claims that Starlink terminals & service were paid for, when only a small percentage have been. This operation has cost SpaceX $80M & will exceed $100M by end of year," Musk tweeted. "As for what's happening on the battlefield, that's classified."
Representative Adam Kinzinger, an Illinois Republican, called on Musk to explain the outages on Friday.
"Evidently the Starlink system is down over the front lines of Ukraine. @elonmusk should make a statement about this, or, this should be investigated. This is a national security issue," the congressman tweeted.
Earlier this week, Musk came under fire after he tweeted a Twitter poll for how peace between Ukraine and Russia can be obtained that included Russia permanently taking Crimea, which it annexed from Ukraine in 2014.
The billionaire's four-point plan for Russian-Ukrainian peace included a redo of elections in the annexed regions under the supervision of the United Nations, with Russia leaving the territories if that is the "will of the people"; making Crimea formally part of Russia; assuring water supply to Crimea; and Ukraine remaining neutral.
High ranking Russian officials touted Musk's plan, while Ukrainian President Volodymyr Zelensky blasted him after the tweet.
"Which @elonmusk do you like more?" Zelensky tweeted alongside the choices. "One who supports Ukraine" and "One who supports Russia."