Stars of Documentary About Free Speech Blast Walmart for Refusing to Sell DVD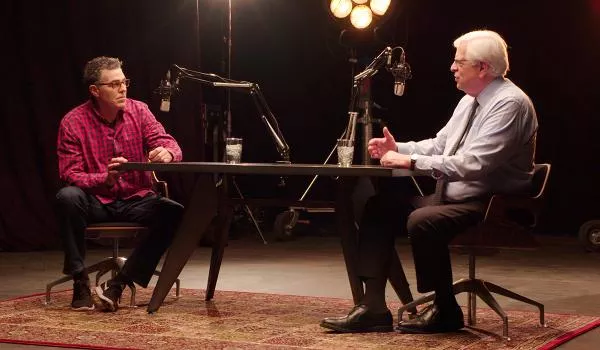 The DVD for No Safe Spaces, last year's top political documentary based on its $1.3 million haul at the box office, won't be sold at Walmart stores, and the film's stars, comedian Adam Carolla and talk-show host Dennis Prager, are accusing the giant retailer of bias.
No Safe Spaces, which features conservatives like Ben Shapiro and Jordan Peterson alongside liberals like Van Jones and Alan Dershowitz, is mostly about free speech on college campuses but also delves into alleged censorship at YouTube and the leading social media firms.
While Walmart typically carries political films by Michael Moore and other liberal film makers in their stores when they are first released on DVD (and sells them at Walmart.com in some cases for several years), the chain acknowledges it has passed on No Safe Spaces, which is generally considered a conservative film.
Carolla tells Newsweek that it is ironic that a movie "about the importance of allowing Americans to share ideas freely" was deemed unfit for sale at Walmart. "You can't make this stuff up," said Carolla. "It's a free country and Walmart is free to ban our movie, but our fans are also free to let Walmart know how they feel about that."
The No Safe Spaces DVD is expected to be released on September 15 by Mill Creek Entertainment, which also distributed the DVD version of Unplanned, a narrative about anti-abortion activist Abby Johnson. Insiders say 300,000 copies of Unplanned sold at stores nationwide, the bulk of them at Walmart.
While No Safe Spaces was popular relative to other documentaries, its $1.3 million take theatrically wasn't enough to warrant selling the DVD at Walmart stores, according to insiders. By comparison, Unplanned made $21 million at the box office.
"Walmart works hard to meet the needs of its customers by providing a broad assortment of products to choose from," the company told Newsweek. "The DVDs sold in our stores and Walmart.com are based off data-driven customer insights and the content does not reflect the views of Walmart or its associates."
Mill Creek declined to comment. Walmart noted that it will be selling the No Safe Spaces book and ebook, though not the DVD or Blu-ray disc.
"Americans are now used to this type of treatment by Google, YouTube, Netflix and Twitter. But Walmart?" Prager told Newsweek. "What a sad day. Millions of Americans trust Walmart, and the thought that they are refusing to stock one of the biggest documentaries of 2019—a documentary on the core American value, free speech, which features people of all political backgrounds, no less—is truly dispiriting."
No Safe Spaces has been down this road before, as it also couldn't find takers among the large streaming services like Netflix and Amazon, so it was released online in March by Salem Media Group, a first for the leader in talk radio.
It's the second time in a week that the makers of a political documentary have claimed that a large corporation is hampering their ability to distribute their film, as Michael Moore and Jeff Gibbs had their Planet of the Humans release taken down from YouTube. While Gibbs called it "censorship," YouTube said it was responding to an accusation of copyright infringement. Planet of the Humans is about the shortcomings of the solar- and wind-energy industries.
{{#isDisplay}} {{/isDisplay}}