The cast and showrunner of the police-themed sitcom Brooklyn Nine-Nine are donating $100,000 to help with bail for people arrested during ongoing protests against police brutality and racism after the death of George Floyd.
Dan Goor, Brooklyn Nine-Nine's co-creator, was one of several people associated with the show who on Tuesday night shared a Twitter post announcing that the donation was being made to a group that curates donations to local funds providing money for people needing to post bail after taking part in the protests.
"The cast and showrunner of Brooklyn 99 condemn the murder of George Floyd and support the many people who are protesting police brutality nationally," the tweet read. "Together we have made a $100,000 donation to The National Bail Fund Network. We encourage you to look up your local bail fund: the National Bail Fund Network is an organization that can lead you to them. #blacklivesmatter"
The widespread protests have inspired a host of successful fundraising efforts aimed at providing funds for people who are arrested at demonstrations but might not be able to afford bail. Police throughout the U.S. have arrested over 11,000 people during the protests.
Many in the entertainment business have been vocal in supporting the demonstrations, which are taking place in the wake of the May 25 death of Floyd, a black man who died after he was pinned to the ground by the knee of a white police officer in Minneapolis, Minnesota for nearly 9 minutes.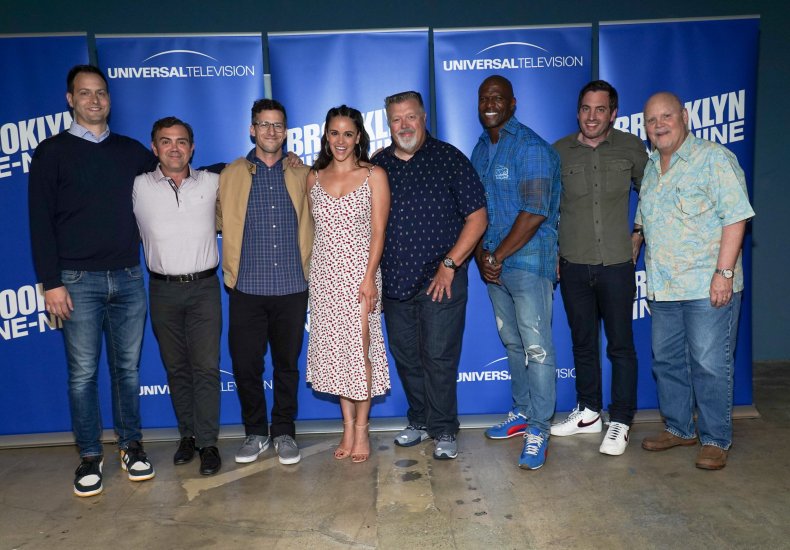 Actor Griffin Newman, who portrayed a detective on two episodes of the show Blue Bloods, announced to Twitter on Monday that he was donating $11,000 to a bail fund and urged others who make money playing police officers to also donate.
"Hopefully it will drive other actors, writers, directors, and others all across the arts and entertainment industries to consider making proportionate donations," Newman told Newsweek.
A number of people in the industry answered the call, including Brooklyn Nine-Nine co-star Stephanie Beatriz, who plays Detective Rosa Diaz. Beatriz matched Newman's donation and repeated his message in a tweet on Wednesday.
Terry Crews, who plays Lieutenant Terry Jeffords on the show, has also been outspoken in supporting the protests and other efforts to combat police brutality and racism.
"George Floyd looks like me. George Floyd could be me. I could easily, easily be that man on the ground with that police officer's knee on my neck," Crews said in a video that went viral after being posted to Instagram late last week. "Let's make sure that justice gets done."
Brooklyn Nine-Nine is centered on officers from the New York City Police Department (NYPD) and stars an ensemble cast, including Andy Samberg as NYPD Detective Jake Peralta. The show began in 2013 and has been renewed for an eighth season by NBC, who revived the show in early 2019 after it was cancelled by Fox the previous year.
Newsweek reached out to NBC for comment but did not receive a response in time for publication.