Trump Orders Historic Military Newspaper Stars and Stripes Shut Down as His Popularity With Troops Slips
Pentagon officials have ordered the independent military newspaper Stars and Stripes to stop publishing by the end of September, as President Donald Trump's popularity with the troops has seen a decline.
While the order calls for publication to cease by the end of this month, it gives the actual organization behind Stars and Stripes a little more time to dissolve itself—until the end of January 2021. As noted by The Associated Press, this news comes after a Pentagon effort earlier this year to save the $15.5 million that's budgeted towards the paper. The House of Representatives passed a budget that would allow funding for Stars and Stripes, but the Senate has yet to sign off on a new bill to fund the Defense Department.
Senators from both major political parties oppose the decision to cut funding for the paper, the name of which dates back to the Civil War. "Stars and Stripes is an essential part of our nation's freedom of the press that serves the very population charged with defending that freedom," reads a letter signed by 15 senators to Defense Secretary Mark Esper, according to the AP.
In a statement, Stars and Stripes ombudsman Ernie Grant said the DoD was making a major mistake in ceasing funding for the paper. His full statement is below:
I can't speak for Stars and Stripes' leadership or management, but I can comment as ombudsman. My charge is to hold the newsroom accountable to journalism standards and to defend its independence from command interference. Shutting it down would be fatal interference and permanent censorship of a unique First Amendment organization that has served U.S. troops reliably for generations.

To shut down Stars and Stripes on Oct. 1 would defy the expressed will of the House and pre-empt full consideration by the Senate.

There's every reason to expect that the federal government will operate under a Continuing Resolution when the current fiscal year ends on Sept. 30. Secretary Esper and the Defense Department should commit to continuing to fund Stars and Stripes under such a scenario – and when Congress completes the budget process, it should then make Stars and Stripes' funding ironclad.
The decision to shut down the paper drew ire from some people on Twitter, including California congressman Ted Lieu and CNN correspondent Phil Mattingly.
Some people suggested that Trump's apparent declining popularity with the army may have played a part in the decision to shutter the paper.
A new Military Times poll suggests that Trump is losing support among those serving in the military. The August poll found that 41.3 percent of troops said they would vote for former Vice President Joe Biden in the upcoming presidential election, compared with the 37.4 percent who said they were voting for Trump, and the 12.8 percent who said they were voting third party.
The poll also found that 42 percent of those surveyed had a "Very Unfavorable" view of Trump, and 7.9 percent had an "Unfavorable" view of him. Only 37.8 percent of those surveyed had either a "Favorable" or "Very Favorable" view of him, and 12.3 percent were neutral. According to the Times, this marks a serious decline compared to the start of Trump's presidency, when at least 46 percent of troops viewed him favorably.
Stars and Stripes was originally founded in 1861, but it has been in print continuously since World War II. While it receives funding through the Department of Defense, the paper "is governed by the principles of the First Amendment," which means that it operates with editorial independence.
According to the Stars and Stripes website, more than 7 million copies of the paper's U.S. Weekly edition were distributed in 2019, and over 4 million special editions of the paper were printed and distributed in the States and overseas that same year. Its website also boasted 38 million pageviews last year.
Press contacts for the White House did not respond to Newsweek's emailed request for comment in time for publication.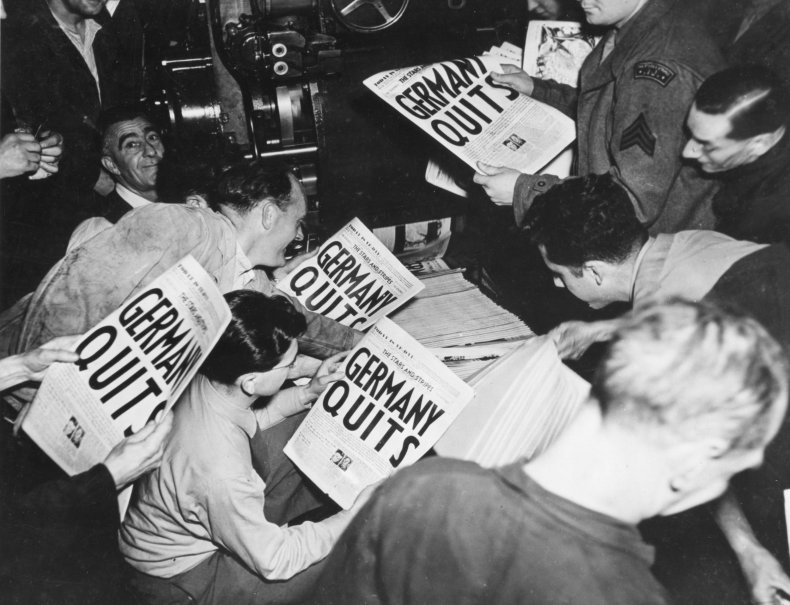 Update 9/4/20 3:59 p.m. EST: This story has been updated to include comment from Stars and Stripes ombudsman Ernie Grant, which was received after the story originally published.