Delivery Robots Headed to 100 College Campuses: Entire Generation Expects Robot Service, Company Says
Along with a new class of students, some colleges and universities will welcome a fleet of robots to campus for the fall semester.
On Tuesday, Starship Technologies, an autonomous delivery service, announced that robots have arrived at the University of Pittsburgh in Pennsylvania. Purdue University in West Lafayette, Indiana, will follow suit on September 9 and an additional 98 university campuses would be added over the next 24 months.
"An entire generation of university students are growing up in a world where they expect to receive a delivery from a robot after a few taps on their smartphone," Starship Technologies CEO Lex Bayer said in a press release.
People at the University of Pittsburgh will be able to get delivery from both national and local retailers, including Einstein Bros. Bagels and Common Grounds. Students, according to Starship Technologies, will be able to use their meal plan to pay for their food, as well.
The expansion to the additional 100 campuses moves the company toward its goal of servicing one million students and comes after the initial roll out with George Mason University. Northern Arizona University also has a fleet of robots on its campus.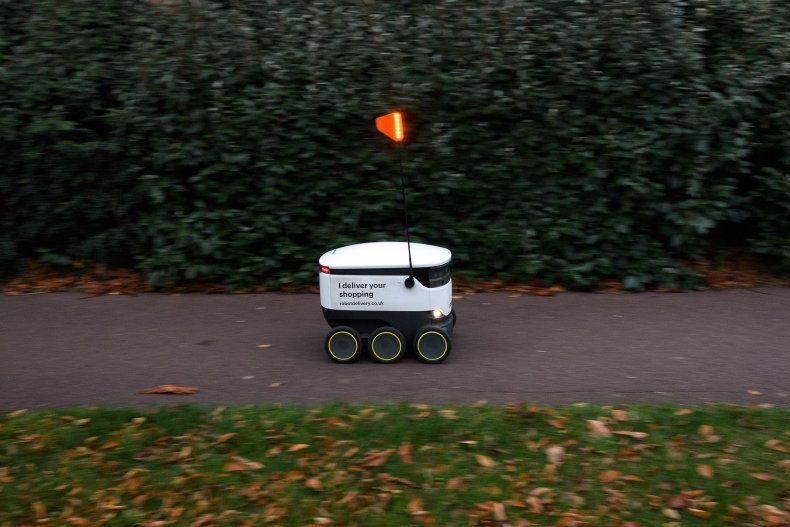 To take advantage of the service, users must download the Starship Deliveries mobile application on their iOS or Android device. From the app, they can choose from a variety of food and drink items, then drop a pin for where they want their order to be delivered.
An interactive map allows users to track their order as it makes its way from the restaurant to them. Once a robot arrives at its destination, an alert is sent to the user, which then meets the robot and unlocks the delivery through the mobile application. Similar to other delivery services, the convenience of having a product brought to you comes with a price—normally a fee of $1.99 or less.
On Tuesday, Starship Robots posted a photo of the University of Pittsburgh on Instagram. There were seven robots in the photo, but Starship didn't specifically mention the number of robots that would be available for on-campus deliveries.
The robots are battery powered—reducing pollution—and can tackle sidewalks, crossing streets and even going over curbs. Need to satisfy a craving when there's inclement weather? Never fear, robots can also operate in both rain and snow.
Along with completing 100,000 commercial deliveries, Starship Technologies raised a total of $85 million, partly thanks to closing $40 million in Series A funding. This funding will help it expand its university services, which the company said have been well received so far.