Moti 'At Peace': Starved Captive Elephant Dies 11 Days After Rescue
A starved captive elephant has died 11 days after being rescued, due to his severe injuries caused by neglect.
The Asian elephant, named "Moti," was found collapsed in the foothills of the Indian state of Uttarakhand after being neglected by his owner for months. He was in critical condition and on the "verge of death" when rescue teams from conservation charity Wildlife SOS found him.
The elephant had suffered for months with an untreated fracture, a mutilated foot pad, and multiple other injuries. His foot pad had been separated from the base of his foot, exposing raw tissue, which was incredibly painful. Tests also showed he had been starving for a long time.
Moti collapsed due to his injuries and was unable to stand for 17 days. His condition became critical when hypostatic pressure—low blood pressure from lying down for too long—started to threaten kidney and heart functions. With his health starting to deteriorate, the Indian military was called in to assist Wildlife SOS in lifting the animal, so that veterinary teams could tend to him.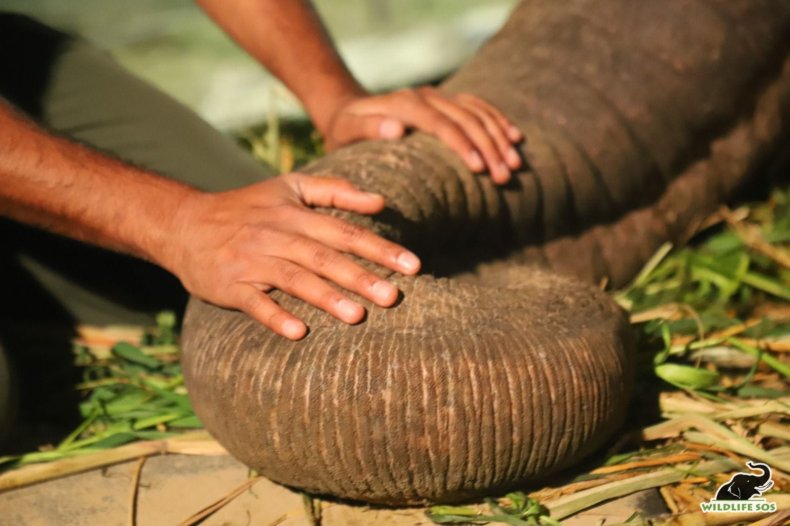 Rescue teams eventually managed to lift him upright on February 7. But they then had to embark on the challenge of removing him from the remote location. Despite rescue teams' best efforts, the elephant died on February 18.
The charity said they hope he is now "at peace."
Kartick Satyanarayan, CEO and cofounder of Wildlife SOS, told Newsweek: "Over the past 4 weeks, the Wildlife SOS team cared for Moti, eased his pain, and showed him the first love and compassion he had likely ever experienced. Tragically, last Saturday Moti gave up his fight and passed away peacefully surrounded by Wildlife SOS caregivers."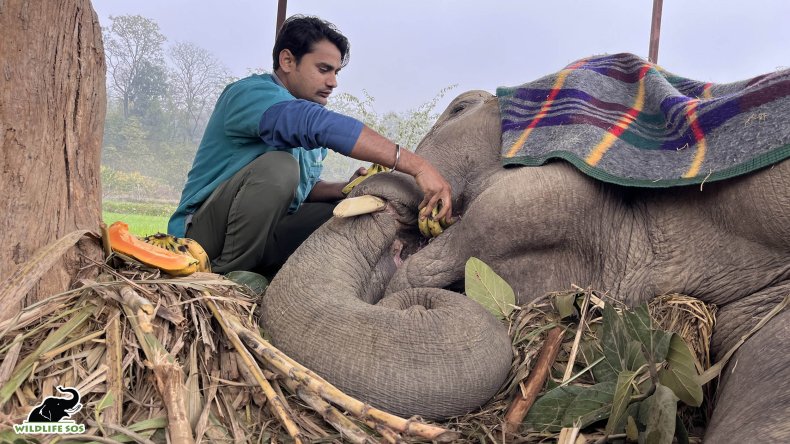 India is home to almost 60 percent of Earth's remaining Asian elephant population. There are fewer than 22,000 left in the wild, with approximately 2,700 in captivity.
Many elephants are privately owned by people for commercial purposes or labor.
By law, elephant owners must log the animals' condition with a wildlife warden who will ensure they are in good health. The warden also ensures that owners are able to provide the elephant with shelter, nutrition and veterinary treatment. But these laws are not always enforced. When not enforced, it can lead to tragic situations like Moti.
"Moti is not the first of such victims, many elephants suffer from painful, life-threatening injuries every year in India due to abuse, severe neglect and lack of medical care. In the spirit of Moti's strength, kindness and willingness to fight, we need to make sure Moti didn't die in vain," Satyanarayan said.
"Gut-wrenching to our team, If we had learned of Moti's condition sooner, our skilled veterinarians likely could have helped him live. With the world watching Moti, we must focus on making something good come from this tragedy."