Wildlife officials in Colorado have been forced to euthanize a sick bear after it suffered "severe intestinal blockage" from eating human trash.
The bear was found near the river trail in Telluride, Colorado, on September 9, and a necropsy was performed the following day.
"The bear could not digest food and was very sick," Colorado Park and Wildlife (CPW) area manager Rachel Sralla said in a statement. "It all comes back to trash, which we talk about too often when it comes to bear conflicts in Colorado. The reason we had to put this bear down was to end its suffering that was caused by eating indigestible trash."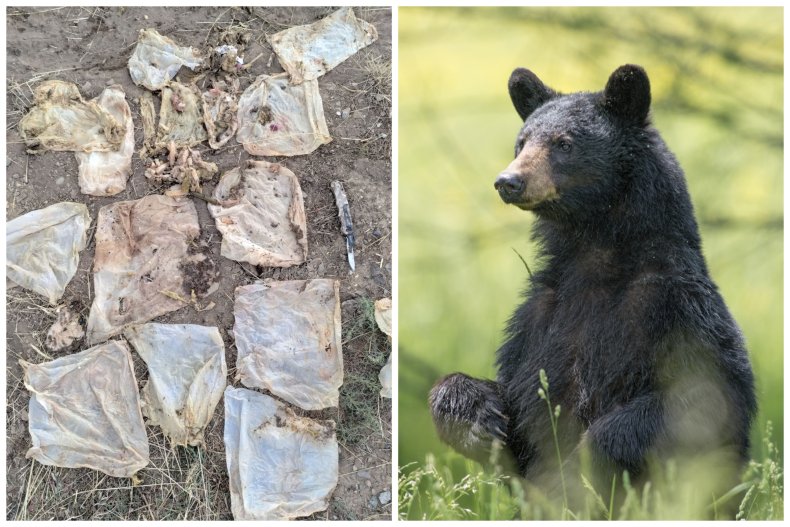 According to officials, the bear, estimated at 400 pounds, was acting feverish and had puffy eyes, with discharge coming from its eyes and mouth. It also appeared to have severe abdominal pain, walking with a humped posture and showing a reluctance to move.
The bear was well known in the area and is believed to have been involved in a home entry during the summer. However, while he had previously responded to hazing techniques, the bear was no longer responsive when confronted by officials. According to the U.S. Fish and Wildlife Service, hazing is anything that is done to discourage undesirable behavior in wildlife, which can be in the form of loud noises, flashing lights, splashing water, etc.
"Based on the behavior and condition of the bear, CPW made the decision to euthanize the animal for human health and safety reasons as well as to prevent the bear from further suffering," the statement read.
The following morning, officers conducted a necropsy of the animal and were shocked by what they found.
"The removal of the stomach and intestines showed that the bear was starving due to a plug of paper towels, disinfectant wipes, napkins, parts of plastic sacks and wax paper food wrappers in the pylorus," CPW district wildlife manager Mark Caddy said in the statement. "This plug was accompanied by french fries, green beans, onions and peanuts. The small and large intestines were empty of matter. The intestines were enlarged due to bacteria in the beginning stages of decomposition, but we opened them up in several locations and found no digested food matter."
Colorado is home to between 8,000 and 12,000 black bears. They are naturally shy and wary of humans, but are attracted to the smell of human food and trash, sometimes to their detriment.
This incident is an urgent reminder to residents to keep their trash secured and away from hungry bears. "When you have a very fat 400-pound bear, it will take it ages to starve to death," Sralla said. "That's a horrific way to die, decaying from the inside out for that long. As officers, we had to make an unfavorable call. It's a call we wish we never had to make. [But] we could not leave a sick bear like this knowing it was suffering and struggling to survive."