Starving Elephants Trample Three to Death While Searching for Food
Starving elephants have trampled three people to death while searching for food in India.
The elephants had entered a village, in the Goalpara district of Assam state, near the Lakhipur forest, when the incident occurred, The Times of India reported.
The victims, identified as Sarati Lama, her 4-year-old son Sasit Biswakarma, and another villager Bhim Kumar Rai, came across the herd at 3 a.m, the news outlet reported.
Although usually seen as gentle giants, elephants can pose a danger to humans when they feel threatened or provoked. Human and wildlife conflict has been increasing in rural areas of India due to a lack of resources. Animals will often wander into populated areas in search of food, when it is scarce in their own habitat.
According to The Times of India, 12 of the 16 people killed in elephant attacks in Goalpara district this year died in the Lakhipur forest area.
Dhruba Dutta, a range forest officer from the Lakhipur forest range, told The Times of India that after spotting the herd nearby, the villagers put up resistance.
"The three people, killed on the spot, were chased down by the herd," Dutta said.
A police officer told the Indo-Asian News Service that the elephants had most likely been in search of food when the attack occurred, Newsroom Odisha reported.
Newsweek has contacted the local Forest Department for comment.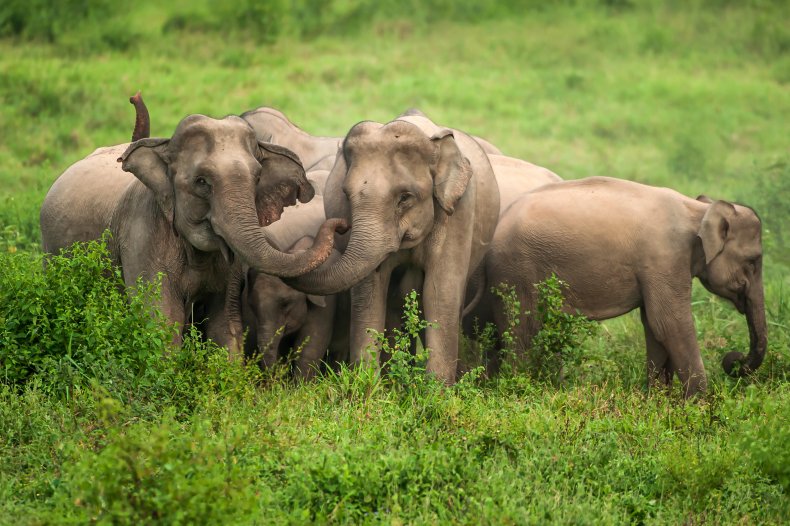 Other similar incidents have occurred across India recently.
In June, an elephant killed a 70-year-old woman in Odisha's Mayurbhanj district in eastern India. After the woman died, the elephant later returned to her funeral and trampled on her corpse, local police said at the time.
The elephant had strayed from a nearby wildlife sanctuary.
Human and elephant conflict is also rising due to a loss in habitats.
As populated areas grow, elephants are being forced into closer proximity with humans.
Climate change is also increasing temperatures in India, causing water sources to dry up. This is creating pressure for the species, and forcing them to seek resources elsewhere.
The fragmentation of habitats can also cause "crop raiding" instances, when elephants stray onto farmlands. This can often lead farmers to retaliate, creating danger for both themselves and the elephants.
In May, one such case occurred when an Indian farmer was trampled to death by wild elephants.
The herd of 11 elephants had strayed into farmlands near a village in Andhra Pradesh's Chittoor district during the night. The man who was attacked had been guarding the field, The Hindu Times reported.
The farmer died instantly after being trampled, the news outlet said.