Starving Horses Eat Aluminum off Side of House, Dead Animals Removed from Maryland Farm
Starving horses searched desperately for food at a Maryland farm where an animal hoarder's herd had grown out of control. The animals tore at the aluminum panels of the house on the property, and broke the glass doors in the back in search of food.
Mares and foals risked starvation, and authorities found more than 25 horses that had already died in the field. One was a newborn foal laying feet from the house's entrance. On one side of the house, they helped a mare deliver a stillborn foal.
A concerned community member contacted the Sheriff's department in Wicomico County, Maryland to investigate the farm. Officers had been to the property several times to deal with complaints about escaped horses and other issues, but they didn't have enough evidence until recently to declare that there was an issue of neglect, The Delmarva Daily Times reported.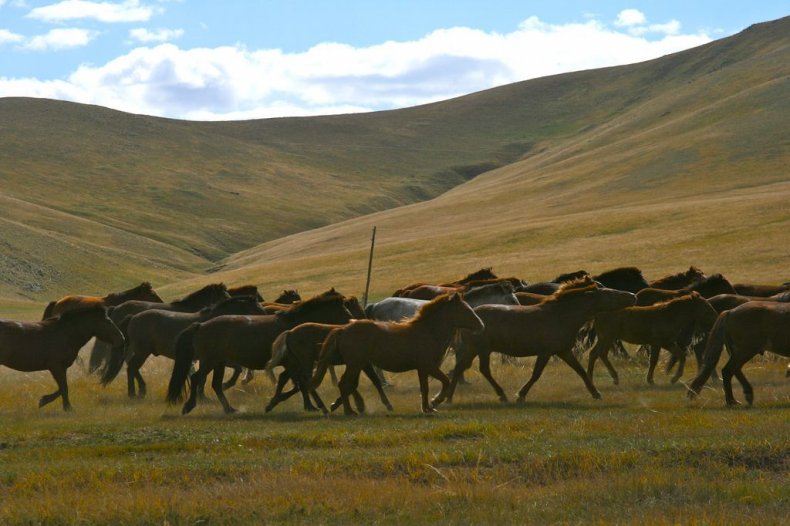 "What I saw today was absolutely shocking, horrendous," Wicomico County Sheriff Mike Lewis told the Times. "I am an animal lover and to see 20 to 25 horses in various stages of decomposition is shocking, you can't believe what you are seeing."
The sheriff's department confiscated the living horses and carted away the dead in a green dump truck. They will be sent to a landfill with a special liner to prevent any diseases that they might have from leaking into the water table. They are currently investigating their causes of death.
This isn't the first time that one of the owners of the Quantico, Maryland property have demonstrated troubles with animals. Police confiscated more than 200 cats from the same owner in 1995, charging her with almost 100 counts of animal cruelty, though she was never prosecuted.
A local farm supply store donated 5,000 pounds of grain to help the living horses while people load the horses into trailers, taking a few away at a time and delivering them to an undisclosed location. They'll start with the most vulnerable: the mares and foals.