Starving monkeys are attacking children in eastern Ethiopia amid a severe drought.
International charity Save the Children reported that the "current intensity" of the drought in the country is unprecedented.
Abdirizak Ahmed, Save the Children's area operations manager for eastern Ethiopia, said in a statement that three months ago, the charity started receiving reports of wild monkey's attacking communities, particularly in Dawa and Shebelle.
Monkeys have become particularly aggressive, with many families having to fend off the starving monkeys "with sticks."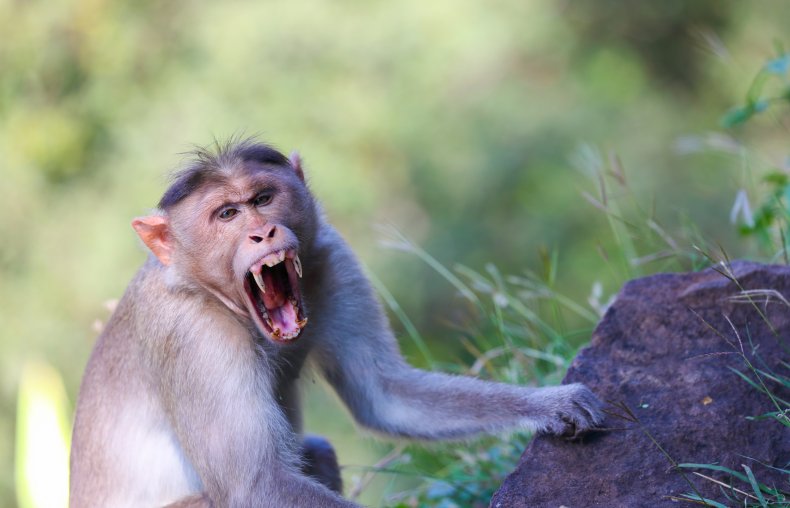 Ethiopia is in the grips of one of the worst droughts seen in 50 years.
According to Oxfam, El Niño weather patterns, triggered by the effects of climate change, have caused rainfall to become erratic and unreliable, causing water sources to dry up.
As Earth's greenhouse gases trap heat in the atmosphere, the planet continues to warm. This is resulting in changing weather patterns and in hotter countries, as the climate changes, water evaporates more quickly and causes drier weather conditions and droughts.
Not only has this caused mounting pressure on communities in the country, but it has also caused wildlife to venture further into populated areas in search of resources.
In a statement, Ahmed said monkeys never normally attack people, however "the situation is so terrible, that they are resorting to unnatural behavior."
So far, children remain uninjured, but people are filled with fear about "what the future will bring."
The drought has also caused other wildlife such as warthogs to encroach onto homes and refuse to leave.
"They pester people and enter homes to look for water and anything edible. They come to villages without fear just to survive," Ahmed's statement read.
Monkeys are appearing in front of the bush and attacking children and women who are carrying something, believing it is water.
"Many villages in the Somali region are reporting animals, especially monkeys, in their communities. Aside from domestic animals, different wildlife are also dying. Even the impalas, you will see them, they are dropping dead like goats," Ahmed said.
Extreme weather events linked to climate change has increased human-wildlife conflict across the globe.
Ahmed told Newsweek that these types of situations have been seen before, however they were not as bad as it is today.
"It has not been this widespread before, families are afraid of sending their children out of their compound because, you know, monkeys are everywhere, attacking children. It has never been to the level it is today," he said.
"What do we do about it? To be honest, I don't know. I don't know what we can do about it. These animals are starving to death because of lack of water and then anything to feed on, because of the drought.
"It is really, really painful to see a wild animals dying because of this drought. People are already struggling to save their lives, let alone thinking about wild animals. So, to be honest, I don't know what can be done to fend off these animals. But at least you know, the communities are aware of the danger and the risk. They are doing everything possible to make sure that their children are safe."
Dr. Tatyana Humle, Reader in Conservation and Primate Behaviour at the University of Kent, told Newsweek that the loss of natural resources and habitats, "whether driven by deforestation or droughts exacerbated by climate change," can cause extreme stress for both wildlife and people.
"When grazing areas for livestock are growing scarce, livestock may be taken to feeding grounds further away usually used by wildlife, exposing livestock potentially even more to natural predators, and making it harder in some cases also for wild ungulates, who also feed on grass, to survive. Such conditions can really trigger or aggravate negative people-wildlife interactions as stresses on all parties worsen," Humle said.
Humle said there may be "several reasons" for the monkey's aggressive behavior.
"Extreme food stress could render some monkeys bolder in approaching and seeking food in human areas; this may more likely where monkeys had previously foraged on human crops or foods in the recent past. In several wildlife species in some localities, wildlife may turn to human crops or livestock when their natural wild foods are limited in availability or exhausted," Humle said.
"Aggression could also critically be exacerbated by the way people are behaving towards the monkeys, e.g. if there are threatened with hunting locally (or more so than before) or people are chasing them aggressively away, the monkeys may start viewing (or increasingly so) people as a threat and some individuals of the species may then consequently behave more aggressively toward them when encountered."
Update 6/21/22 6:44 a.m ET: This article has been updated to include quotes from Tatyana Humle