Starving Stray Dog Gets New Lease on Life In Heartwarming Video Series
When Will Zhang saw a starving dog digging through the trash for something to eat, he knew he had to help—and his videos of the pup's journey have become a sensation on TikTok.
In the multi-part series, titled "Save the Poor Guy," TikTokker Zhang shares progress videos of his work to nurse the dog back to health, and he's getting a good response, with one of the episodes reaching over 2.4 million views.
Each episode starts with a brief clip of when Zhang first saw the dog in the trash—the poor pup looks skeletal, missing most of his fur and generally looking a wreck. In the first episode, posted March 28, Zhang first gets the dog's trust by giving him some food to eat, and then looks the dog over, seeing his many wounds.
Though in the early videos, the dog is timid, shaking in fear, he soon learns that Zhang can be trusted. He gives the dog healthy meals with meat and eggs so the poor pup can regain his strength.
Once the dog is more comfortable, Zhang takes him to the vet—luckily, outside of an eye infection, he's mostly healthy. Unlike most dogs, Zhang's pup appears fine to be at the vet's in the videos, as if he knows that the vet is helping him.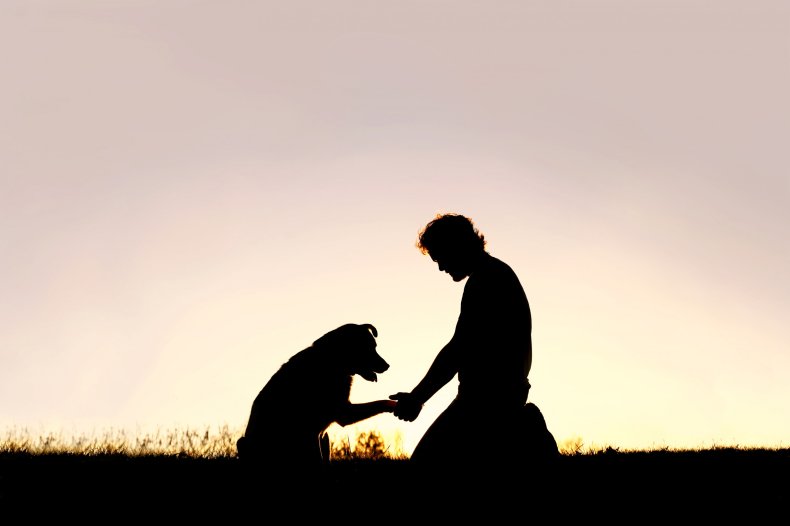 In a video posted last week, Zhang gives an update on the pup's condition—and it's amazing how far the pup has come in such a short time. His ribs and bones are no longer showing through his skin, and his fur is starting to come back. He waits patiently for his eyedrops, and then slowly eats a big bowl of food.
In another video, posted Monday, the unnamed dog gets what could be his very first bath. Though it appears the dog would rather not be being bathed—after all, most dogs aren't fans of baths—he definitely tolerates it, especially when it comes time to get dried off. As Zhang rubs him down with the towel, the dog looks up at his new friend with what can only be love in his eyes.
The latest video, also from Monday, shows the pup now clean, enjoying a big bowl of food, looking drastically different from the dog he was before Zhang rescued him.
This is not the first dog Zhang's been seen helping on his TikTok. Another series of TikToks shows a small terrier who has a massive tumor on his chest—but after some tender, loving care and surgery, this dog became happy, healthy and one would never know that the tumor was ever there in the first place.