Supreme Court Eyes Abortion Debate as Justice Says Rulings On Controversial State Laws Are Needed 'Soon'
State abortion laws might have an easier path to the Supreme Court after Justice Clarence Thomas said on Tuesday that rulings on the constitutionality of such legislation is needed "soon."
In its first major reproductive health case since the appointment of conservative Justice Brett Kavanaugh, the Supreme Court issued an ambivalent review of a 2016 Indiana abortion law signed by then-Governor Mike Pence.
The court rule reinstated Indiana's fetal burial provision, but refused to hear the state's appeal to revive a measure banning abortion based on fetal disability, sex or race. The reasoning for declining to take on the case was that no other circuit court had ruled on the subject.
While Thomas agreed with the court's decision, he wrote in a concurring opinion that the bench will have to start ruling on abortion-related cases in the near future. The comment comes amid a flurry of strict anti-abortion measures passed in conservative states, many of which already face legal challenges from the American Civil Liberties Union and Planned Parenthood.
"Given the potential for abortion to become a tool of eugenic manipulation, the Court will soon need to confront the constitutionality of laws like Indiana's," Thomas wrote in his opinion. "But because further percolation may assist our review of this issue of first impression, I join the Court in declining to take up the issue now."
Vice President Pence tweeted that the Supreme Court's review on Tuesday was a "victory for life" as he called for the bench to rule in favor of abortion restrictions. "Hopeful someday soon SCOTUS will recognize the same protections for the unborn when they rule on future appeals of pro-life legislation," he wrote.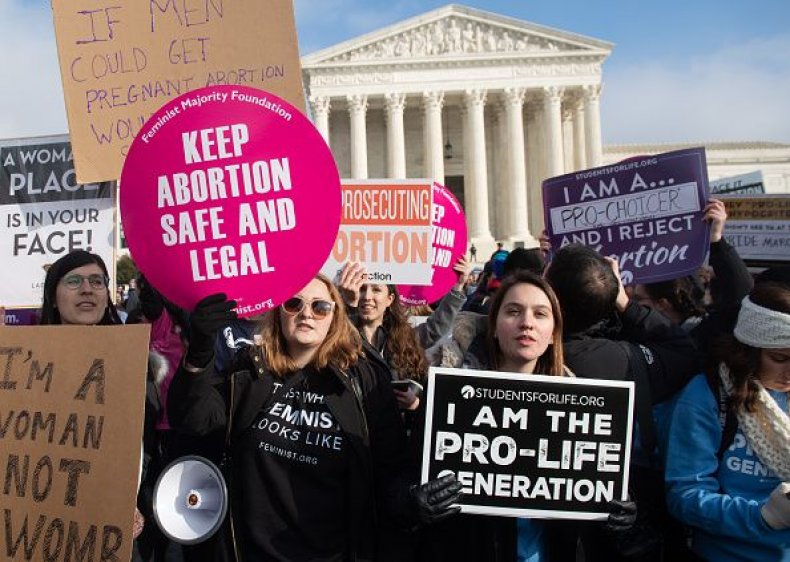 In 2019, Republican-lead legislatures in Alabama, Georgia, Kentucky, Ohio and Mississippi have all passed laws restricting access to abortion — nearly all of which are being challenged in court.
Earlier this month, Alabama passed one of the most restrictive anti-abortion measures in the country. The law, passed by a Republican-controlled legislature and signed by Governor Kay Ivey, makes it a felony for a doctor to perform an abortion. The only exception would be if a woman's health is at serious risk. There are no exceptions for cases of incest and rape.
Alabama's law followed on the heels of Georgia's "heartbeat" bill, which was signed by Republican Governor Brian Kemp. The law bans abortion after a fetal heartbeat is detected, which can happen as early as six weeks into pregnancy — before many women are even aware they are pregnant.
The two laws are already being challenged in court by abortion rights advocacy groups. But abortion opponents say that these abortion laws were passed with the goal of working their way through the lower courts on its way to the conservative Supreme Court.
Alabama Governor Kay Ivey said that the sponsor of the state's latest anti-abortion law "believe that it is time, once again, for the U.S. Supreme Court to revisit this important matter, and they believe this act may bring about the best opportunity for this to occur."
But according to a new survey by CBS News, Americans do not want to see Roe v. Wade overturned. Sixty-seven percent of those polled want the landmark decision to stay as is, while 28 percent want it to be overturned.