Porsche is pushing the limits of sustainability and performance with its new Mission R concept car. The model utilizes new technologies, sustainable materials, and electric powertrain technology.
The Porsche Mission R is a low-sitting all-electric competition car designed to appeal to the hearts and minds of brand enthusiasts. "Porsche is the brand for people who fulfil their dreams. This is also true in motorsports. We experience our innovative strength on the race track, demonstrate courage in pursuing new avenues and delight car owners with sporting performance," said Oliver Blume, chairman of the executive board of Porsche AG.
"In addition to our involvement in the Formula E World Championship, we are now taking the next big step forward in electric mobility. The concept study is our vision of all-electric customer motorsports. The Mission R embodies everything that makes Porsche strong: performance, design and sustainability."
Porsche designed the car to be sized slightly longer and far wider than the current generation 718 Cayman series.
The car delivers up to 1,073 horsepower courtesy of newly-developed front and rear motors. Most of the power comes from the rear. The car's power is not derated when thermal conditions traditional warrant the exercise present themselves. A variety of drive modes are available including Qualifying mode.
The German automaker says that a 15-minute break from racing is all that is required to charge the car's battery from 5 to 80 percent. The car's battery is capable of charging at a rate of up to 340 kilowatts.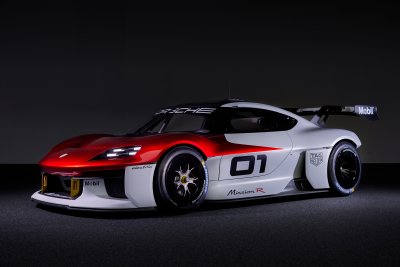 Porsche Active Aerodynamics with drag reduction take change on the car's nose and wear wing. The system is comprised of three louvres living inside each air intake. A two-section wing can be found out back.
The body of the vehicle is make largely of natural fiber reinforced plastic, the basic material of which s flat fibers obtained from farming. The front spoiler lip, diffuser, side skirts, interior panel doors, rear bulkhead and seat are also made of the material.
The roof of the car features a carbon "exoskeleton" that combines a safety cage and roof skin.
A display screen that is housed between the controls on the car's steering wheel showcases all relevant race data. Above the steering column, images from the side and rear mirror cameras are shown on another screen. A driver's biometric data can be displayed on a surface next to the seat. Live streams of the car's interior are possible.
The monocoque driver's module doubles as an esports simulator.
In the past, Porsche has looked toward its concepts when taking inspiration for next-generation models. Look for the Mission R influence to permeate the lineup in the future.