State-by-State Coronavirus Projections Show How COVID-19 Could Impact U.S. Over Next Four Months
A forecast predicting how each U.S. state will be impacted by the new coronavirus over the next four months has been published by scientists at the University of Washington. Researchers at UW Medicine's Institute for Health Metrics and Evaluation (IHME) warn the country is underprepared and understocked for the spike in demand projected over coming weeks.
According to the model, hospital demand for COVID-19 treatment is expected to peak nationwide on April 15, 2020, as its current prediction subsides toward the beginning of August. The team predicted demand for hospital services such as general hospital beds, Intensive Care Unit (ICU) beds and ventilators, and deaths from COVID-19 over the next four months.
The team's online visualization shows that as of March 30, 2020, the country is predicted to need 220,643 beds, with a shortage of 54,046 beds. It predicts the need for 32,976 ICU beds with a shortage of 13,856. Overall, 26,381 ventilators are predicted to be required.
New York, New Jersey, and Vermont are expected to peak earlier, with demand for hospital resources reaching their highest on April 9, 2020, according to the model predictions.
In New York—where more than 1,300 residents have already died from the virus—hospitals are projected to need 73,620 beds with a shortage of 60,610 on this date, including 11,320 ICU beds required with a 10,602 shortage. 9,055 ventilators are predicted to be required.
Based on the current data, the model is projecting 83,967 deaths from COVID-19 out to August 4, but this is across a large band of uncertainty, ranging from a low of 36,614 deaths to a high of 152,582 deaths.
The graphic below, provided by Statista, illustrates the number of coronavirus cases in the U.S. and the rapid rise in cases in New York.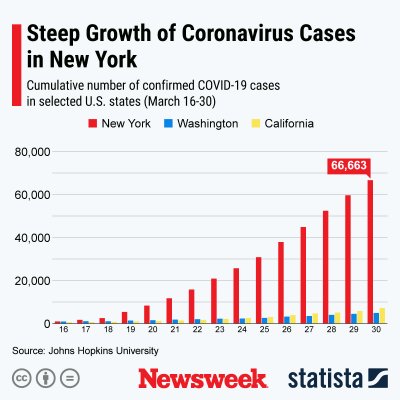 The Institute's paper discussing the forecast has been released pre-print, meaning it has not been peer reviewed by a group of experts to evaluate the findings. It uses data from the World Health Organization (WHO), local and national governments, and information on hospital capacity and utilization by state.
As more data comes in each day, the team is updating the model to produce a better reflection of how things are playing out in the U.S. This means the projections may change day-to-day.
"At this early stage, even one to two days' more data for a state will improve the estimates of service need and expected deaths," the study's authors write.
Dr. Harlan M Krumholz, Professor in the Institute for Social and Policy Studies, of Investigative Medicine and of Public Health at Yale University, who did not work on the UW research, said the model provides interesting and important insights, but warns that models like these are subject to assumptions built on what we know from the past.
"We can take it as information, but we need to recognise that it's a very dynamic situation and it is about more than just the biology of the virus," Krumholz told Newsweek. "It is about how we are conducting ourselves and the degree to which society is moving to slow the spread.
"The situation is highly dynamic, fluid and changing almost every day. Not so much because of the biology of the virus, but because of the way we're responding to it."
Joshua Epstein, PhD, professor of epidemiology at NYU School of Global Public Health, who did not work on the UW research, agrees that there is a good deal of uncertainty and says the model seems to be missing behavioral factors.
"They don't model transmission," he told Newsweek. "They are using a statistical forecast that appears to assume exponential growth when the whole point of social distancing is to flatten that out. It's useful to say that if trends continue in the following manner, this is what you'll get."
According to its latest update, UW's projections assume current social distancing measures, includinng school closures in 45 states and stay-at-home orders in 23, remain in place. The study's authors underscore the importance of individual behavior and government policy, particularly those around social distancing, in controling the spread of the virus and reducing demand for hospital services.
The researchers cite the tough social distancing measures implemented in the city of Wuhan, China, where COVID-19 is thought to have originated. A strict lockdown enforced on January 23, 2020 appeared to drastically curb the spread of SARS-CoV-2. By March 15, 2020—when the number of new infections had declined to one per day or under—the proportion of people in Wuhan reported to have or had COVID-19 was under 0.5 percent.
"In China, where they seem to have gained control, there is still a question of what will happen when they loosen social constraints," said Krumholz. "Because most of the country didn't get exposed to the virus, it's not run its course. What will happen when the weather warms up? What will happen when the social constraints relax?"
Epstein said: "There's two contagions; one is the contagion of the actual disease and the other is contagion of fear about the disease."
"When people are afraid, they go into isolation. That depresses levels of disease. When the level of disease gets low enough, people stop being afraid, come back out of the basement and begin mixing again. It produces a second wave of epidemic just as happened with the Spanish Flu in 1918."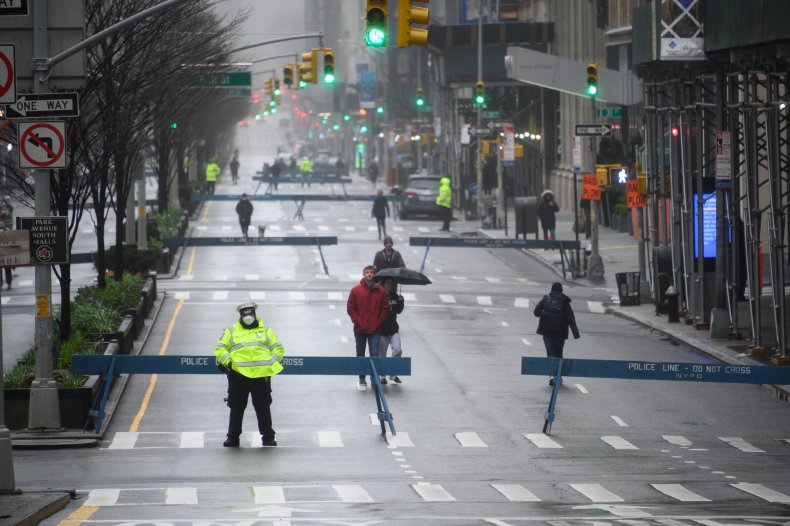 The authors hope IHME's data will be used to inform strategy against the virus. The researchers urge authorities to increase the capacity of health facilities to meet the expected demand, while continuing to enforce social distancing measures.
The researchers highlight challenges in predicting the course of the outbreak, including limited data. This means the models rely heavily on information from China and Italy. Aside from the U.S., these two countries have seen the most cases of COVID-19 to date, with 82,463 reported in China and 97,689 reported in Italy as of March 30, according to European Centre for Disease Prevention and Control.
The U.S. has overtaken both China and Italy, with over 175,00 cases reported as of March 31, according to Johns Hopkins University.
Krumholz said UW's researchers are making the best use of the past data to project the future, but nobody knows how this story will unfold as "we're just still at the beginning of it in many places." He added, "These kinds of simulations are showing people how serious this is."
World Health Organization advice for avoiding spread of coronavirus disease (COVID-19)
Hygiene advice
Clean hands frequently with soap and water, or alcohol-based hand rub.
Wash hands after coughing or sneezing; when caring for the sick; before, during and after food preparation; before eating; after using the toilet; when hands are visibly dirty; and after handling animals or waste.
Maintain at least 1 meter (3 feet) distance from anyone who is coughing or sneezing.
Avoid touching your hands, nose and mouth. Do not spit in public.
Cover your mouth and nose with a tissue or bent elbow when coughing or sneezing. Discard the tissue immediately and clean your hands.
Medical advice
Avoid close contact with others if you have any symptoms.
Stay at home if you feel unwell, even with mild symptoms such as headache and runny nose, to avoid potential spread of the disease to medical facilities and other people.
If you develop serious symptoms (fever, cough, difficulty breathing) seek medical care early and contact local health authorities in advance.
Note any recent contact with others and travel details to provide to authorities who can trace and prevent spread of the disease.
Stay up to date on COVID-19 developments issued by health authorities and follow their guidance.
Mask and glove usage
Healthy individuals only need to wear a mask if taking care of a sick person.
Wear a mask if you are coughing or sneezing.
Masks are effective when used in combination with frequent hand cleaning.
Do not touch the mask while wearing it. Clean hands if you touch the mask.
Learn how to properly put on, remove and dispose of masks. Clean hands after disposing of the mask.
Do not reuse single-use masks.
Regularly washing bare hands is more effective against catching COVID-19 than wearing rubber gloves.
The COVID-19 virus can still be picked up on rubber gloves and transmitted by touching your face.