State Department Asks U.S. Citizens to Leave India, Issues Highest-Level Travel Advisory
The State Department is urging U.S. citizens to leave India and issued its highest-level travel advisory amid the surge of coronavirus cases there.
"The U.S. Centers for Disease Control and Prevention (CDC) has issued a Level 4 Travel Health Notice and the Department of State has issued a Level 4 Travel Advisory advising against all travel to India," the State Department said in a statement. "Level 4 is the highest advisory level due to greater likelihood of life-threatening risks."
The statement continued, "The Department of State advises that U.S. citizens not travel to the country or to leave as soon as it is safe to do so. The Department of State provides additional advice for travelers in these areas in the Travel Advisory."
A State Department spokesperson told Newsweek that the agency has also approved the voluntary departure of individuals at the U.S. Embassy in New Delhi and its consulates. The spokesperson noted that while the voluntary departure is approved, personnel are not required to leave, as the embassy and its consulates remain open.
The travel advisory comes as the country faces an out of control health crisis.
"Hospitals are reporting shortages of supplies, oxygen, and beds for both COVID-19 and non-COVID-19 related patients," the State Department statement said. "U.S. citizens are reporting being denied admittance to hospitals in some cities due to a lack of space. Some states have enacted curfews and other restrictions that limit movement and the operation of non-essential businesses."
On Thursday, the Associated Press reported that India set a global record for coronavirus cases, with an average of 350,000 new daily cases over the past week.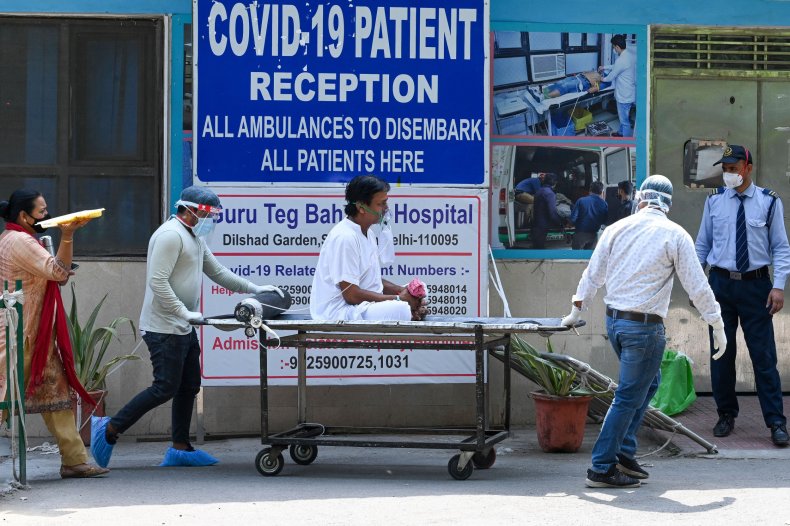 According to data from Johns Hopkins University, India has reported more than 18 million confirmed cases of the virus as well as at least 204,832 deaths.
The oxygen shortage in numerous Indian hospitals has prompted several nations to offer assistance. Videos posted across social media show medical oxygen tanks receiving police escorts in India.
In a Wednesday statement, the White House announced that the U.S. is providing India with "supplies worth more than $100 million in the coming days to provide urgent relief."
"Just as India sent assistance to the United States when our hospitals were strained early in the pandemic, the United States is determined to help India in its time of need," the statement said.
The U.S. will be delivering oxygen tanks, personal protective equipment, vaccine manufacturing supplies, COVID-19 tests, therapeutics and public health assistance, the White House said.