State Department Ends 'Cultural Exchange' Programs With China After Enacting Visa Restrictions
The U.S. Department of State announced a ban on several cultural exchange programs with China on Friday, shortly after enacting new restrictions on many Chinese citizens seeking visas to enter the country.
Secretary of State Mike Pompeo said that the five programs, which are "fully funded and operated" by the Chinese government, are ending because they are covert "soft power propaganda tools." The move comes only two days after strict new rules limiting visas for members of the Chinese Communist Party (CCP) took effect.
"Today, the Department of State terminated five programs, disguised as 'cultural exchanges,' with the People's Republic of China (PRC)," Pompeo said in a statement obtained by Newsweek. "They provide carefully curated access to Chinese Communist Party officials, not to the Chinese people, who do not enjoy freedoms of speech and assembly."
"The United States welcomes the reciprocal and fair exchange of cultural programs with PRC officials and the Chinese people, but one-way programs such as these are not mutually beneficial," he added.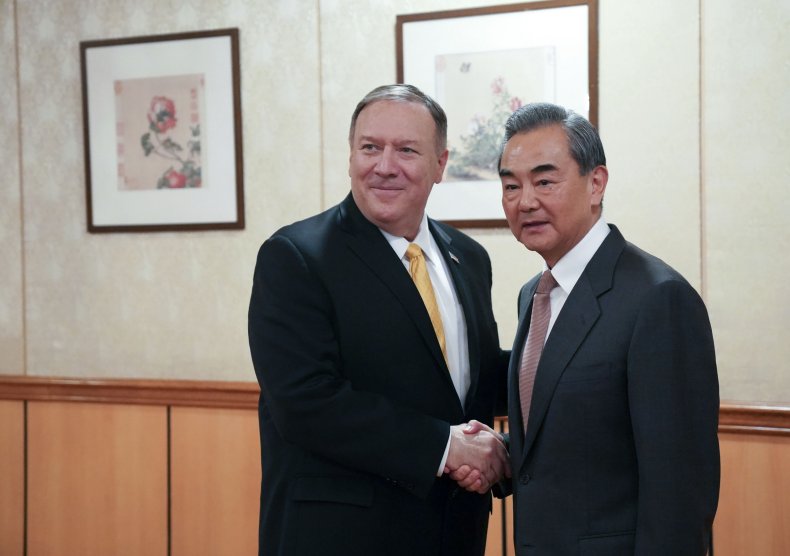 The programs were operating under a provision of the Mutual Educational and Cultural Exchange Act (MECEA) that allows federal workers to fund their travel with money from foreign governments.
Programs set to end include the U.S.-China Friendship Program, the U.S.-China Leadership Exchange Program, the U.S.-China Transpacific Exchange Program, the Hong Kong Educational and Cultural Program and the Policymakers Educational China Trip Program.
While Pompeo singled out the five programs as disguised "propaganda" operations by the Chinese government, he said that other programs "under the auspices" of MECEA would remain intact because they were mutually beneficial.
On Wednesday, new U.S. visa restrictions were placed on the more than 90 million Chinese citizens who are CCP members. The restrictions took effect immediately and are intended to limit U.S. travel visas obtained by CCP members, along with their immediate family members, to one month.
"It is obvious to all that this is an escalation of political suppression by some extreme anti-China forces in the U.S. out of strong ideological prejudice and deep-rooted Cold War mentality against China," Chinese Foreign Ministry spokesperson Hua Chunying said in reaction to the restrictions during a Thursday briefing.
Pompeo said the visa restrictions were needed because the CCP "has long sought to spread Marxist-Leninist ideology and exert its influence all over the world" and the U.S. was seeking to block its "malign activities" from furthering China's "authoritarian narratives and policy preferences."
However, the extent to which the new measures will be enforced is unclear. It could be difficult for U.S. officials to determine which Chinese citizens applying for visas are CCP members, since many members do not participate in activities that would publicly identify them.