State Department Blames Syria for New 'Holocaust,' Russia Says U.S. Preventing Peace
The State Department has issued one of its strongest condemnations yet of Syria, while Russia's top diplomat indicated it was the United States preventing a peaceful resolution to the conflict.
Speaking at the Council of Foreign Relations, State Department spokesperson Josh Rayburn laid out six conditions Wednesday for reestablishing relations with the Syrian government, "whether it is the current one or the future one." The final point called for the prosecution of war criminals, accusing Syrian President Bashar al-Assad's administration of running a "killing machine" and citing NGOs that have placed the number of reported disappearances in Syrian prisons as high as 215,000.
"The Assad regime is rerunning the Holocaust in the 21st century," Rayburn said. "All of us have an important stake in making sure that one of the lessons from the Syrian conflict is that an authoritarian regime cannot kill its way out of a crisis it has created because of its unwillingness to acknowledge the legitimate cost of reform for these people."
He also accused Moscow of propping up the Syrian government, but that same day Russian Foreign Minister Sergey Lavrov offered his take on the conflict, where he deemed Washington's methods "illegal" throughout the eight-year war.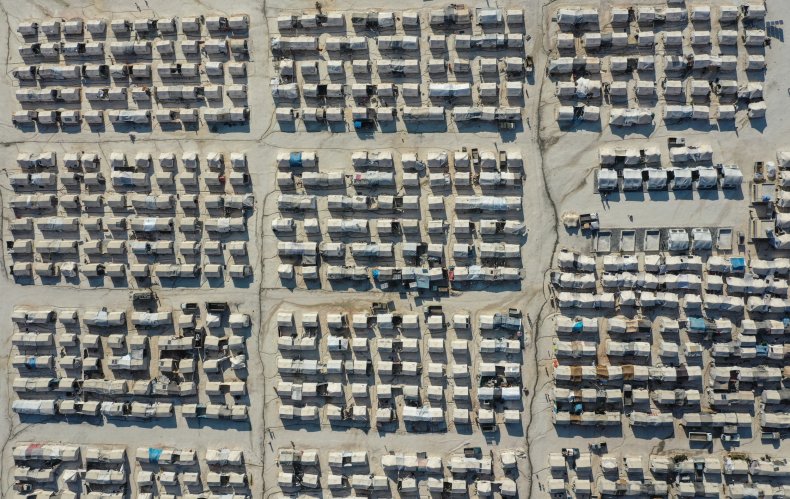 Rayburn said that "the Assad regime could not survive without the support Russia gives them," but in Lavrov's comments to Saudi-linked newspaper Asharq Al-Awsat, he defied the characterization of Moscow "saving the regime" with its 2015 entrance into the conflict. He said his country "responded to the Syrian authorities' request and provided assistance in the war on terror" and both Russia and Iran's efforts in support of the Syrian government.
"The only legitimate basis for such a presence can be based on the invitation of the legitimate authorities, or on the basis of a Security Council resolution," Lavrov told the outlet. "Iran is present in Syria at the request of Damascus, unlike the United States, for example, which has been 'known' worldwide for illegal anti-Syrian military actions."
While President Donald Trump largely severed assistance to an increasingly Islamist insurgency against Assad to focus on defeating the Islamic State militant group (ISIS), he also ordered strikes against the Syrian government in April 2017 and 2018 in response to allegations of chemical weapon use that Moscow has denied. The U.S. previously drew criticism for historical references here when, in 2017, then-White House Press Secretary Sean Spicer claimed German Nazi leader Adolf Hitler "didn't even sink to using chemical weapons" during the 20th-century Holocaust, in which millions, mostly Jews, were executed in gas chambers.
Secretary of State Mike Pompeo announced last week that the U.S. has again determined that Syrian forces used chemical weapons in an attack in the insurgent-held territory in May and declared new sanctions against "Russian entities for supporting Assad's brutal war machine and facilitating the shipments of jet fuel to Russian military forces in Syria." He accused Assad of "innumerable atrocities," including also including "killings, torture, enforced disappearance, and other inhumane acts."
Washington and Moscow have rhetorically clashed about over one another's interventions, with both accusing the other of having sponsored human rights abuses. The latter has also used Holocaust-era imagery, with the Russian military saying the conditions of the Rukban refugee camp in U.S.-controlled territory "reminds one of the concentration camps of the Second World War."
With the joint U.S.-Russian foe of ISIS mostly defeated, Lavrov said Wednesday that "questions arise about the purpose of the continued U.S. presence on Syrian soil."
"There is a strong sense that Washington's mission is to prevent the restoration of Syria's territorial integrity, in direct violation of Security Council resolution 2254, and we hope that the United States will honor the promise made by Donald Trump in December 2018 to withdraw U.S. troops from Syria," Lavrov said.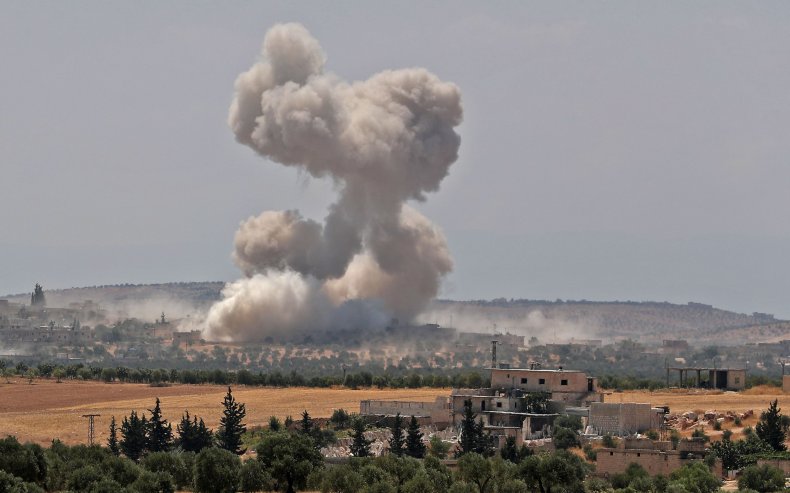 For its part, Damascus has also dismissed accusations of chemical weapons use. Responding to Pompeo's most recent allegations, Syrian Foreign Minister Walid al-Muallem told Lebanon-based outlet Al Mayadeen that "this is merely a lie and a false claim hiding behind it an attempt to export the problems of the United States."
He echoed Lavrov's defense of Iran and questioning of U.S. in Syria, saying "Iran did not come as the United States came to Syria, Iran was invited to contribute to our fight against terrorism, and there are no Iranian armies at all." Meanwhile, Rayburn listed "severing ties with the Iranian regime and its proxies" as the first condition for recognizing the Syrian government during Wednesday's talk.
Rayburn's other four conditions for normalizing ties with Damascus—suspended in 2012 as Syria's uprising turned into civil war—included ceasing "state-sponsored terrorism," no longer "being a threat to its neighbors," surrendering "its weapons of mass destruction program" and establishing "the conditions on the ground for refugees and displaced persons to return safely and voluntarily to their homes."
In its latest report published Thursday, the Russian military estimated that "652,035 people returned to Syria from the territories of foreign states" since its intervention on September 30, 2015. The United Nations has welcomed the resettling of refugees and displaced persons but, along with the U.S. and European powers, has called for all parties to ensure that such efforts not be conducted against the will of potential returnees.