State Department Appointees Bullied Officials and Accused Staffers of Political Disloyalty, Watchdog Finds
Two senior political appointees at the State Department have been engaging in a campaign of harassment and retaliation against career staffers whom they perceived as independent or disloyal to President Donald Trump, a report from the department's inspector general concluded on Thursday.
Career employees at the State Department's Bureau of International Organization (IO) Affairs described to the internal watchdog instances of verbal harassment and disparagement for their perceived political views, in addition to allegations that the appointees led a pervasive culture of mismanagement.
IO Bureau Assistant Secretary Kevin Moley and Mari Stull, Moley's senior advisor before she left the department in January, are alleged to have cultivated a "vindictive" working environment.
"Several current and former IO employees reported that Assistant Secretary Moley and Ms. Stull frequently berated employees, raised their voices, and generally engaged in unprofessional behavior toward staff," the report found. "Nearly every employee interviewed by OIG raised concerns about the leadership of IO and the treatment of staff."
Newsweek subscription offers >
Although Stull served in a non-supervisory capacity during her time in the department, she is accused of circumventing the proper chains of command when assigning tasks, which would have ensured the appropriate employees received work they were capable of performing promptly.
A result of this unusual delegation of work, in many cases failed employees failed to complete these tasks to the satisfaction of Stull and Moley, who are then reported to have berated the staffers "in a harsh and aggressive manner."
"For example, in April 2018, Ms. Stull asked a mid-level employee, without going through the employee's supervisors, for information about another nation's contributions to the UN," the report recounted. "Ms. Stull did not believe the data provided was accurate, called the work product 'garbage,' and threw it at another employee."
The allegations contained within the inspector general's 34-page report extend beyond instances of workplace power struggles to more troubling claims of political retaliation. The findings, the result of interviews with employees, voluminous reviews of e-mail messages and other documentary evidence, further allege that Stull and Moley engaged in "harassment of career employees premised on claims that they were 'disloyal' based on their perceived political views, and retaliation predicated on conflicts of interest."
Newsweek subscription offers >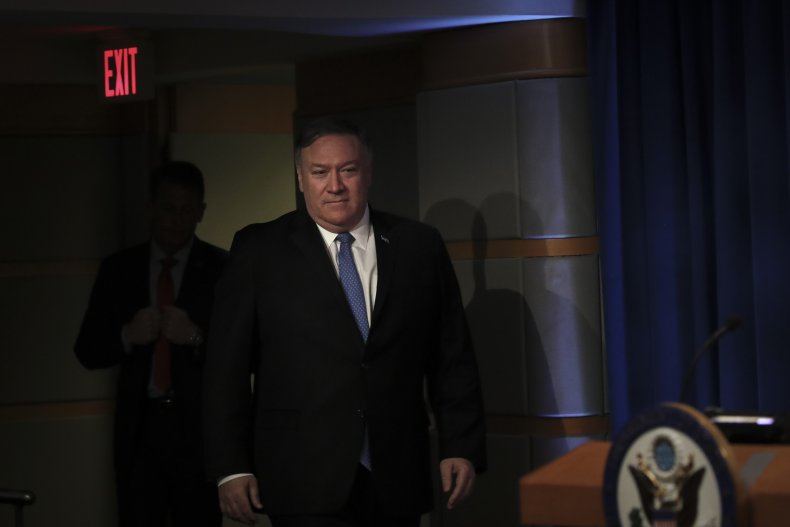 Congressman Eliot Engel, who chairs the House Foreign Affairs Committee, said in a statement that the inspector general's report "confirms what we feared: 'disrespectful and hostile' treatment of career employees at the State Department."
"Let's be clear: these actions are prohibited by law and they are offensive," the statement continued. "They happened more than a year ago with no consequences. And Assistant Secretary Kevin Moley, who is somehow still running the bureau, appears to have done nothing to stop this vindictive culture. Ultimately, of course, the buck stops with Secretary Pompeo, who continues to employ Mr. Moley as part of his senior leadership team. Mr. Moley should resign or be fired."
One employee told the inspector general that Stull moved to block the advancement of a foreign affairs officer, who was previously identified as a "leading candidate" for a senior position, in part because of his prior work on gay and lesbian rights.
In another instance of alleged political retribution, Stull is accused of directing scorn at a career employee for carrying out her routine duties. The employee, responsible for liaising with Congress and international organizations, accompanied a delegation of the Congressional Black Caucus to the United Nations. Though such a trip would be considered a standard-issue task for the employee, Stull was reportedly dissatisfied with the assignment because the delegation consisted of solely Democratic representatives. Stull is reported to have accused the employee of trying to "thwart" President Trump and subvert his agenda.
When Moley's principal deputy assistant secretary, a 25-year veteran of the department's Foreign Service, brought to his attention allegations of misconduct within the bureau's leadership, he removed the career employee for "challenging" his management.
Moreover, once concerns were raised to Stull about her alleged mistreatment of employees, she is reported to have reframed the question, calling herself the real harassment victim and offering that complaints about her behavior were pointless because the Trump administration "has [her] back."
The State Department told Newsweek in a written statement that it has accepted the recommendations contained within the inspector general's report, which urged the bureau to undertake a plan for reform and consider administrative sanctions against employees implicated in the report.
"The Department will prepare a corrective action plan after review of the final [inspector general's] report," a department spokesperson said. "The Under Secretary for Political Affairs is already working directly with the bureau to provide guidance, counsel employees, and improve leadership and management. The Department will provide a corrective action plan as recommended by the [inspector general] within 60 days."
Stull, who is now a private citizen, did not immediately respond to a request for comment.
State Department Appointees Bullied Officials and Accused Staffers of Political Disloyalty, Watchdog Finds | U.S.