U.S. Support for Saudi Arabia Tough to Explain for Top State Department Official
A high-ranking State Department official appeared to become flustered Tuesday after he was questioned about the U.S.' support for Saudi Arabia, despite the oil-rich kingdom's rejection of democratic ideals.
Stuart Jones, who was appointed as U.S. Ambassador to Iraq by former President Barack Obama in 2014 before assuming the title of assistant secretary of state for near eastern affairs in January, took a long, silent pause after an Agence France-Presse reporter asked the official how President Donald Trump could criticize Iran's democracy, while standing next to Saudi Arabian officials. Saudi Arabia is an absolute monarchy, where every position of power is appointed by either the king or other members of the Al Saud royal family from which the nation derives its name. Trump recently visited Saudi Arabia, a close ally of the U.S., and took the opportunity to deeply criticize the two nations' mutual foe, Iran, and its commitment to democracy weeks after it held its presidential election.
Related: Saudi Arabia and UAE Block Qatari Media Over Emir's Israel, Iran Comments
When asked Tuesday if the U.S. believed democracy was essential to combatting terror, especially in light of the U.S. and Saudi Arabia's partnership, Jones sighed audibly and froze for 20 seconds before responding.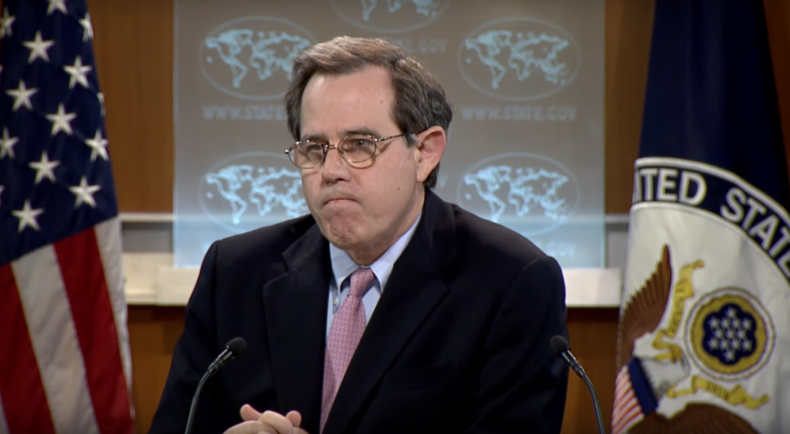 "I think what we'd say is that at this meeting we were able to make significant progress with Saudi and GCC partners in both making a strong statement against extremism and also...and also putting in place certain measures through this GCC mechanism where we can combat extremism," Jones finally said, referencing the acronym for the alliance of Gulf Arab states known as the Gulf Cooperation Council. "Clearly, one source of extremism, one terrorism threat, is coming from Iran, and that's coming from a part of the Iranian apparatus that is not at all responsive to its electorate."
Jones then briefly paused again before thanking State Department spokesperson Heather Nauert and exiting the podium. The question advanced an ongoing debate about the U.S.' close relationship with the only nation in the world that legally forbids women from driving. While a U.N. vote last month that saw Saudi Arabia put on the international body's women's rights commission was kept secret, the U.S. was widely speculated to have supported Saudi Arabia's bid. Saudi Arabia also stands on the Human Rights Council, despite the ultraconservative Sunni Muslim nation's poor record detailed by numerous international watchdogs.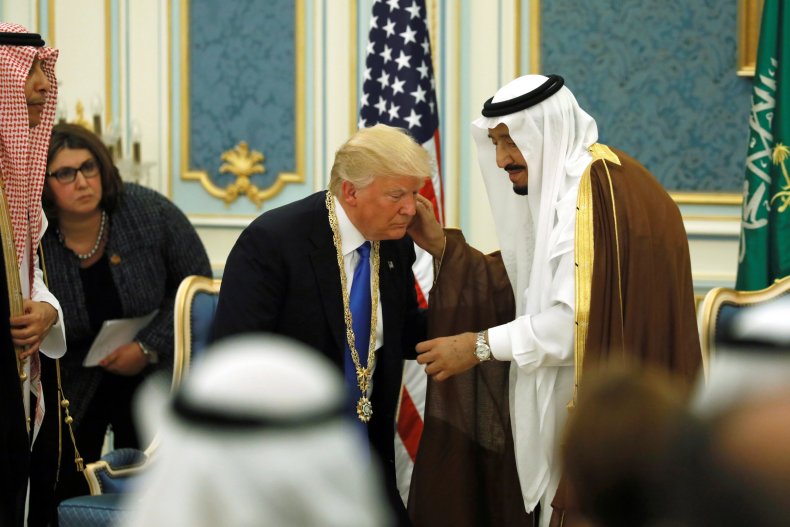 Trump, once a vocal critic of the monarchy, has since warmed up to Saudi Arabia and promised Riyadh $110 billion in arms during his first visit to the country earlier this month. The U.S. and Saudi Arabia have framed their partnership as being necessary to counter the influence of Iran in the region, which they have criticized as being a destabilizing factor. Iran and Saudi Arabia back opposing militant movements in Syria and Yemen, as well as adversarial political movements throughout the Middle East.
Unlike Saudi Arabia, Iran considers itself an Islamic republic and has a significant Shiite Muslim majority. The country has an elected president and parliament. It also has a so-called Assembly of Experts responsible for electing the nation's religious leadership, called the Supreme Leader, though all candidates for the assembly and many other influential positions must first be approved by appointees of the Supreme Leader. Iran's latest elections took place earlier this month, with incumbent President Hassan Rouhani winning his reelection campaign, despite blowback from more conservative forces in the nation.
Jones, who has not commented on the apparent gaffe, said earlier during Tuesday's conference that he soon planned to retire, but planned to remain in public service. He called the move to step down a "personal decision" and said he wanted to avoid media attention, so that it wasn't "confused with anything else."