Russia Uses Open Skies Treaty to Identify Bombing Targets, U.S. Tells NATO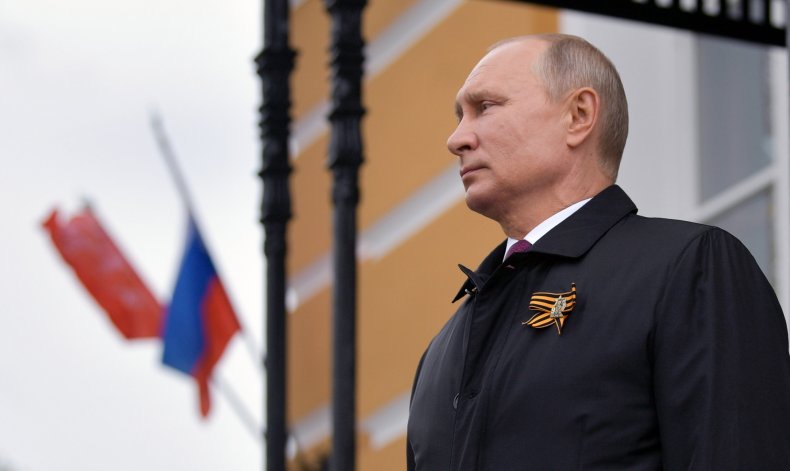 The United States is expected to tell NATO allies Thursday that it is withdrawing from the Treaty on Open Skies in part because it fears Russia is using the pact to photograph critical infrastructure in Europe and the U.S. to identify targets to bomb, a State Department memo obtained by Newsweek showed.
The Trump administration will provide a six-month notice of intent to withdraw from the treaty on Friday, according to the memo.
"After careful consideration, including input from Allies and key partners, it has become abundantly clear that it is no longer in America's interest to remain a party to the Treaty on Open Skies," the State Department told Newsweek Thursday. "Effective six months from tomorrow, the United States will no longer be a party to the Treaty. We may, however, reconsider our withdrawal should Russia return to full compliance with the Treaty."
A representative for the Russian Foreign Ministry did not return a request for comment. Neither did a representative for Belgium's permanent mission to the Organization for Security and Co-Operation in Europe. Belgium chairs the treaty's implementing body.
The New York Times first reported Thursday that the U.S. plans on withdrawing from the post-Soviet era pact that permits signatories to conduct surveillance flights over each other's territories to ensure compliance with arms controls and other agreements. Thirty-four nation parties have signed on to the treaty since it was established in 1992.
It was conceived by President Dwight Eisenhower to reduce the chances of war and, after its implementation decades later, helped to facilitate more than 1,500 overflights.
"I think we have a very good relationship with Russia, but Russia didn't adhere to the treaty, and so until they adhere to the treaty, we will pull out," President Donald Trump told reporters Thursday. "There's a very good chance we'll make a new agreement or do something to put that agreement back together."
Evelyn Farkas, a former deputy assistant secretary of defense for Russia, Ukraine and Eurasia, called the decision an "abandonment of our European allies."
"The reason we have these overflights is to prevent war," Farkas told Newsweek. "It is a confidence-building exercise for our European allies who rely on these flights to know what the Russians are doing since they don't have access to satellite technology."
Alexandra Bell, a senior advisor to the undersecretary for arms control and international security during the Obama administration, noted an overlooked benefit of the treaty: That the jointly managed overflights would provide the United States some insight into how Russia monitors U.S. infrastructure. This information could not be gleaned if Russia were to rely more heavily on satellite data following a U.S. withdrawal.
Thursday's move suggests that President Donald Trump may also seek to withdraw from the final New START arms treaty that expires one week after the U.S. presidential inauguration, the Times reported.
The United States has frequently accused Russia of breaching the terms of the Open Skies agreement by limiting or rejecting flight plans, and reports have recently suggested the Trump administration would attempt an exit.
In a classified State Department memo obtained by Newsweek, called "Open Skies Treaty—Demarche to Allies and Partners on U.S. Withdrawal," Secretary of State Mike Pompeo sent talking points to all NATO posts and U.S. embassies in Bosnia and Herzegovina, Finland, Georgia, Sweden and Ukraine laying out the reasons for the withdrawal. Russia repeatedly violated the terms of the agreement, he wrote, including by blocking U.S. flights over the country.
However, he also said that Russia had been flying over the U.S. and Europe to capture images of critical infrastructure sites that officials believe may be used to ensure they can be targeted by "conventionally-armed, precision-guided weapons."
"This use of Treaty imagery would not only be unlawful under the OST, which requires that Treaty-acquired images be used only for the attainment of the purposes of Treaty, but it would gravely undermine the central aim of the Treaty by turning it from an instrument for building confidence and trust into one that could be employed for coercion and threats," the memo said.
The document did not disclose how Pompeo knew the Russians were identifying such targets and it did not provide any information to corroborate the claim.
Bell said she took issue with Pompeo's contention that Russia's alleged misuse of overflight data should imperil the agreement. She said that the treaty "was not designed" to address data retention and security, a defect that needed to be worked out diplomatically.
"When Eisenhower proposed this, it was for the purposes of being radically transparent about what we were doing," Bell added. "If the Trump administration is concerned that somehow the Russians are using information gained from the Open Skies flights in a way that was problematic, there are venues to discuss this."
The State Department has accused Russia of impeding U.S. flights or blocking access to contested territory in the past. The department has said that Russia attempted to impose minimum altitude restrictions over Chechnya, a semi-autonomous Russian territory long the subject of arms-trafficking allegations.
In a 2017 report, the State Department said those restrictions had been resolved. However, the report noted concerns about altitude restrictions on other flights and alleged that Russia has been refusing access to territory along the border with Georgia. The report also said Russia has been improperly invoking the treaty's force majeure provisions to push deviations from approved flight plans.
Farkas acknowledged that there is "some legitimacy" to the notion that Russia has obstructed access to overflights but cautioned that unilateral withdrawal "harms the interests of our allies in Europe."
With three days' notice under the treaty, any member state can arrange to conduct an unarmed surveillance flight over any part of the territory of another country, subject to certain flight quotas and restrictions on equipment. This includes flights over both military and civilian installations.
In a 2012 op-ed, former Secretary of State George P. Schultz said aerial monitoring under Open Skies played a "key role" in addressing verification issues related to nuclear and environmental agreements.
"It is in our national interest to strengthen and extend both the technical collection capabilities and the scope of international participation in cooperative aerial monitoring programs," Schultz wrote.
This story has been updated to include additional comments from the State Department.