The State Department released an updated travel advisory on Thursday warning that U.S. citizens in Ukraine should "depart now" amid rising tensions between the country and Russia.
The travel advisory also says not to travel to Ukraine, either, because of the "increased threats of Russia military action and COVID-19." Those already there should leave through commercial or private means, according to the State Department. Should they stay, the department says people should exercise "increased caution due to crime, evil unrest, and potential combat operations should Russia take military action."
Russia has repeatedly denied that it is planning a military attack on Ukraine. However, there are as many as 130,000 Russian troops deployed near the Ukrainian border at this time. The Kremlin is also sending more military equipment, medical units, and blood to its troops. Russia also began training exercises with Belarus spanning over 10 days, reportedly aimed at "repelling external aggression," the Russian Ministry of Defense said in a statement Thursday. The ministry said the drills will end on February 20.
Two U.S. officials familiar with the latest intelligence estimates told CNNthat the Kremlin is believed to have amassed 70 percent of the military personnel and weapons at Ukraine's border necessary for Russia to conduct a full-scale invasion.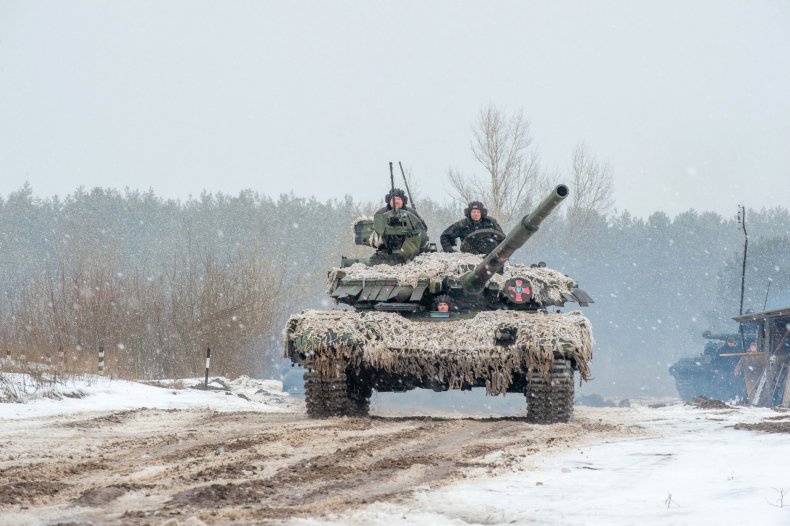 The State Department also advised against travel to the Crimea peninsula, Donetsk, and Luhansk, saying there is "extensive Russian Federation military presence in Crimea" and that U.S. citizens have been threatened, detained, or kidnapped by Russia-led forces in Donetsk and Luhansk.
The travel advisory notes that should Russian military action occur in Ukraine, the U.S. government is unable to evacuate U.S. citizens: "Military action may commence at any time and without warning and would also severely impact the U.S. Embassy's ability to provide consular services, including assistance to U.S. citizens in departing Ukraine."
The State Department first announced the voluntary departure of U.S. direct-hire employees (USDH) on January 23. The department had also ordered the departure of eligible family members from the U.S. Embassy in Ukraine because of the threats of potential Russian military action.
Newsweek previously reported that the U.S. has started deploying troops close to Ukraine and sending 1,700 additional troops to be stationed along the Polish border.It is unclear if they will conduct drills and training exercises.
"Our national contribution here in Poland shows our solidarity with all of our allies here in Europe, and, obviously, during this period of uncertainty we know that we are stronger together," U.S. Major General Christopher Donahue said upon his arrival in Poland Sunday.
U.S. troops are also being deployed to reinforce NATO allies on the eastern flank, with the first troops arriving in Romana on Tuesday, according to Romanian Defence Minister Vasile Dincu.
Update 02/10/22, 6:30 p.m. ET: This article has been updated with more details from the State Department's travel advisory and background information.