State Department Uses Image of Navy Blue Angels to Celebrate U.S. Air Force's 73rd Birthday
The U.S. Department of State mistakenly used an image of the Navy Blue Angels in a now-deleted tweet celebrating the U.S. Air Force's 73rd birthday on Friday.
Many on Twitter were quick to point out that the photo used by the government agency was not of the Air Force but rather a flight demonstration team formed by the Navy.
The Blue Angels formed in 1946, a year before the Air Force was founded, and celebrated its 74th birthday back in April. The Air Force was created by the National Security Act in 1947 after separating from the U.S. Army.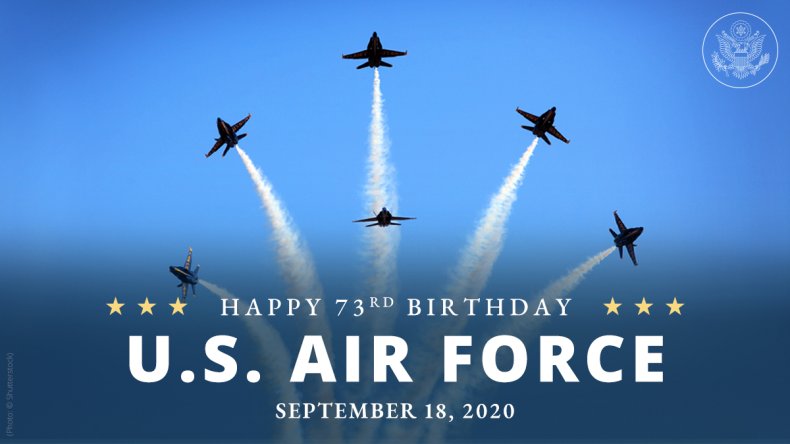 In response to the mixup, the Navy's chief of information, Charles Brown, retweeted the birthday wish but added that the Navy wouldn't be handing over the Blue Angels.
"Aircraft carriers are also only US Navy," he added.
Shortly after being called out for using the wrong image, the state department deleted the original tweet and posted a new one, with the same text, featuring the image of an Air Force fighter instead.
While the Air Force has retweeted an outpouring of celebratory messages, it has not yet acknowledged either of the tweets from the state department.
Newsweek reached out to the U.S. Department of State for comment but did not hear back before publication.
President Donald Trump also released an official statement on Friday wishing the military branch a happy birthday.
"Whether deployed for combat operations, natural disasters, or safeguarding the homeland from threats, the Air Force protects our freedoms and secures the skies," the statement read. "Today, our Airmen are fighting abroad and playing a critical role at home in our fight against the coronavirus, delivering assistance to those in need from coast to coast."
The National Museum of the U.S. Air Force in Ohio is also holding a special celebration from 10 a.m. to 3 p.m. where Air Force veterans will host talks throughout the museum. Admission is free to the public. However, certain areas have been blocked off due to health concerns surrounding the coronavirus pandemic, and masks are required to be worn by anyone over the age of three.