State GOP Chairs Asked By RNC Chair Ronna McDaniel To Rally Behind Trump's Baseless Claims of Voter Fraud
Minnesota GOP Chairwoman Jessica Carnahan relayed a message from Republican National Committee Chair Ronna McDaniel on a Thursday call with local party officials: Help amplify President Donald Trump's baseless claims of voter fraud.
"Another thing Ronna said on the call today is she asked us as chairs, 'Can you get your other leaders in the state to start coming out and speaking about this?'," Carnahan said on a call with local GOP activists, according to The Minnesota Reformer.
The state chair emphasized that supporting the president's message surrounding ballot counting would require recruiting other Republican officals to bolster those claims.
"Because it can't just be the state party chair, right? It can't just be me saying, 'Hey, we have concern of the validity of some of this stuff,'" Carnahan added. "There's concerns around the looseness of the election laws and how the Democrats came after us so hard, starting the summer with all these election law changes and excuses of all these left-leaning groups."
She informed local Minnesota GOP party officials and activists that she would begin making calls starting Friday.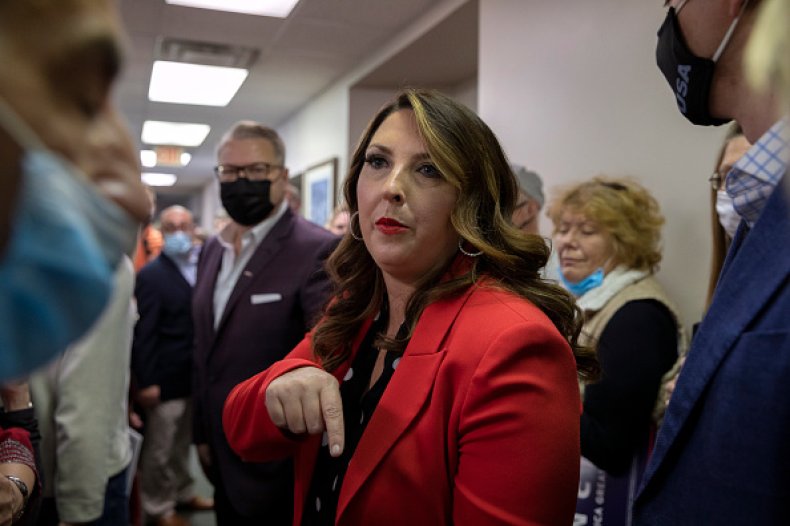 Trump lost Minnesota in this year's presidential election by seven percentage points—a loss his campaign had not expected to be so large given that Trump only lost the state by 1.5 points in 2016.
The president and many of his surrogates invested heavily in Minnesota and made many trips throughout the campaign to the state's Iron Range—a region that flipped for Trump four years ago.
Hamline University's Joe Peschek told Newsweek that the Trump campaign had "really targeted that area in terms of the personal visits in Hibbing and the Duluth area. That's kind of where the president and the vice president have personally made appearances."
Although Trump lost in Minnesota, Carnahan said she was strategizing with the party on a national level about how to support the president as ballots continue to be counted.
She said campaign personnel in Minnesota have been sent to other key battleground states like Michigan and Georgia, where the president's campaign has filed lawsuits, to push the Trump campaign's unsubstantiated voter fraud messaging.
"Regarding the field staff that we had in Minnesota, at this point, the field staff has been re-resourced or redeployed or reallocated to help out right now in Michigan, Georgia and Arizona," she said. "We need to bring all these states home for the president; their campaign feels like we're gonna bring all them home. So we are going to deliver this great Donald Trump another four years in this country."
The day after the call, Carnahan began her efforts to boost Trump's message, telling The Minnesota Star Tribune that, "when changes like [election law changes] are brought forward at a mass level in multiple states, it does raise questions, it does raise some doubt."
It seems as though other state GOP chairs have begun making similar efforts as the race narrows and moves in favor of Democratic nominee Joe Biden.
In Michigan, where Biden leads by 146,000 votes, the state's GOP chairwoman Laura Cox raised suspicions that software glitches could cost the party thousands of votes.
Newsweek reached out to McDaniel and Carnahan for comment but did not hear back before publication.