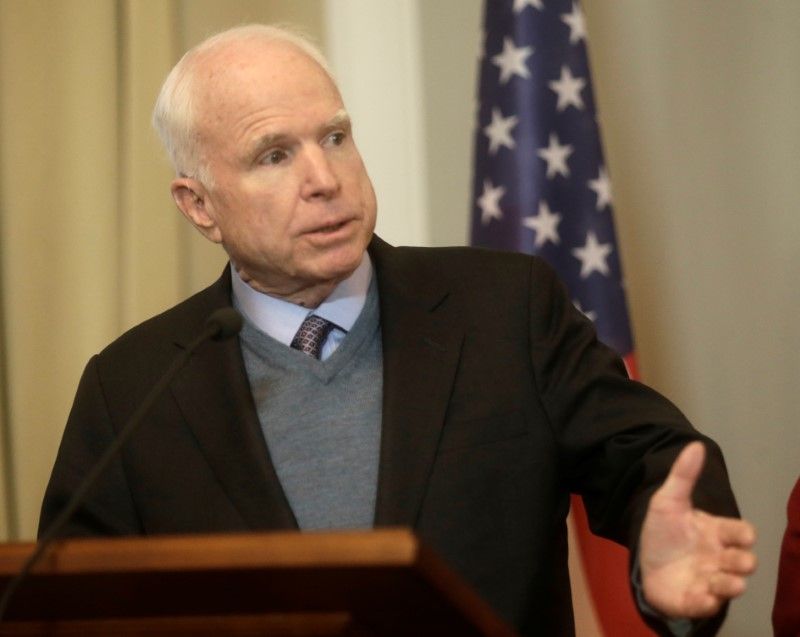 U.S. President-elect Donald Trump's choice for Secretary of State, Rex Tillerson, will have to explain his relationship with Russian leader Vladimir Putin at his confirmation hearing, senior Republican senator John McCain said on Thursday.
McCain, who is chairman of the U.S. Senate Armed Services Committee, also called President Putin "a thug and a murderer."
Speaking on a tour of the Baltic states, where there is widespread concern that Moscow wants to reassert its power across the region, McCain said he had concerns about Tillerson, who opposed sanctions on Russia after its annexation of Crimea.
"I and several of my colleagues have concerns about Mr. Tillerson, and some of his past activities, specifically his relationship with Vladimir Putin," McCain told reporters. "I have concerns but at the same time I'm certain we will give Mr. Tillerson an opportunity to make his case about why he is qualified to be Secretary of State."
Exxon Mobil Chief Executive Tillerson could face a rocky confirmation process, given worries among both Democrats and Republicans about his connections with Russia and possible conflicts of interest related to his business ties.
Relations between Moscow and Washington have deteriorated following Russia's annexation of the Crimea in 2014, with the two nations also at loggerheads over Syria.
The Obama administration also plans a series of retaliatory measures against Russia for hacking into U.S. political institutions and individuals and leaking information.
Trump has said that the United States should move on from the controversy. McCain, however, said the United States needed to reassure voters there and abroad that elections would not be influenced by foreign powers.
"I agree with president-elect that we need to get on of our lives—without having elections being affected by any outside influence, especially Vladimir Putin, who is a thug and a murderer," he said.
Fellow Republican senator Lindsey Graham, who is travelling with McCain, called for sanctions against Russia to be widened to target areas like energy and to be directly aimed at Putin.
"I think the sanctions need to go beyond what it is today, they need to name Putin as an individual and his inner circle because nothing happens in Russia without his knowledge and approval," Graham said.