State Investigators Discover PG&E Ignored Maintenance Problems Leading to Deadliest Fire In California History
Failure by Pacific Gas and Electric Company (PG&E) to properly maintain its towers and electric wires was directly responsible for the Camp Fire, a California wildfire that claimed 85 lives and destroyed over 150,000 acres of land, according to a report released by state investigators.
Ground observations of the tower where the fire began showed that a closer inspection of the tower was necessary. Despite that, no closer inspection—which would require climbing the tower—had been performed at the site since 2001.
In the report completed by the Safety and Enforcement Division (SED) of the California Public Utilities Commission, it was found that "the identified shortcomings in PG&E's inspection of the incident tower were not isolated, but rather indicative of an overall pattern of inadequate inspection and maintenance of PG&E's transmission facilities."
Initially installed between 1919 and 1921, the tower and equipment had been in use since 1921. Investigators found that a C-hook on the tower had worn out and was unable to support the weight of the insulating wires.
"SED notes that a climbing inspection of the Incident Tower during that time could have identified the worn C-hook before it failed," the report said, "and that its timely replacement could have prevented ignition of the Camp Fire."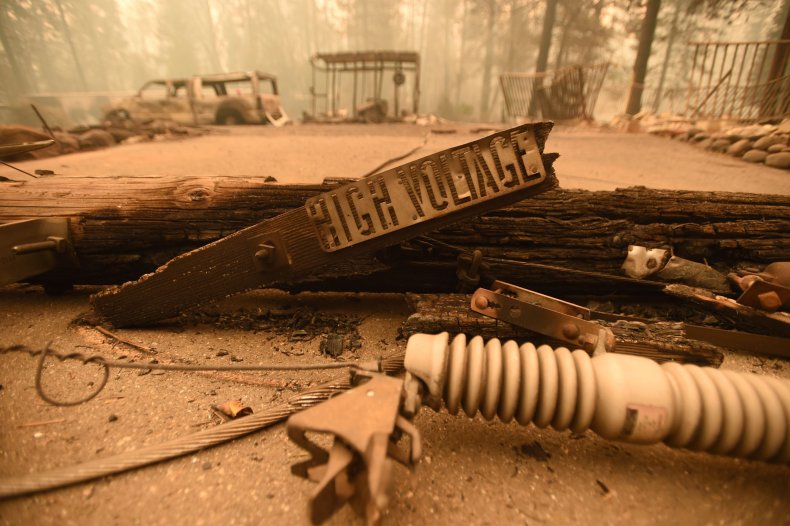 PG&E also failed to identify hardware defects, problems with the insulators and foundation related issues on the electrical line that sparked the fire.
In all, the SED found that PG&E violated 12 safety procedures.
"PG&E accepts SED's conclusion that PG&E electrical transmission lines near Pulga were a cause of the Camp Fire, reaffirming CAL FIRE's earlier determination," PG&E said in a statement sent to Newsweek.
"PG&E's most important responsibility must always be public and employee safety," the statement continued, "and we remain focused on helping affected communities recover and rebuild, resolving wildfire victims' claims fairly and expeditiously, and further reducing wildfire risks."
Facing liabilities in the area of $30 billion connected to wildfires, PG&E filed for bankruptcy protection in January.
"PG&E believes it is probable that Pacific Gas and Electric Company's equipment will be determined to be an ignition point of the fire," the report said. "We believe the Chapter 11 process will provide a forum for us to work collaboratively to balance the interests of our many stakeholders."
Nearly 19,000 structures were destroyed in the Camp Fire. In the town of Paradise, California over 11,000 homes were destroyed. Only 11 have been rebuilt, according to NPR. At its peak, the fire spread at the rate of 80 football fields per minute. It took firefighters 17 days to fully contain the Camp Fire.
In a statement issued Friday, PG&E announced a $13.5 billion settlement meant to resolve claims from the Camp Fire, wildfires that occurred in 2017, the Butte fire in 2015 and the Ghost Ship Fire in Oakland in 2016. PG&E has also restructured its leadership structure in accordance with the bankruptcy plan.
"From the beginning of the Chapter 11 process, getting wildfire victims fairly compensated, especially the individuals, has been our primary goal. We want to help our customers, our neighbors and our friends in those impacted areas recover and rebuild after these tragic wildfires," said new CEO and President of PG&E Corporation Bill Johnson in a statement sent to Newsweek.
"There have been many calls for PG&E to change in recent years. PG&E's leadership team has heard those calls for change, and we realize we need to do even more to be a different company now and in the future," the statement read. "We will continue to make the needed changes to re-earn the trust and respect of our customers, our stakeholders and the public. We recognize we need to deliver safe and reliable energy service every single day—we're determined to do just that."
Updated 12/05/2015 3:47 PM EST: Story updated to include a statement from PG&E.
Updated 12/09/2019 5:21 PM EST: Story updated to include settlement information from PG&E.