Local Governments Are Trying to Make the Cannabis Industry Less Racist
Local governments looking to legalize marijuana across the nation are starting to think about racial equity—at a time when a multi-billion dollar cannabis industry is excluding the communities most devastated by the War on Drugs.
As of 2017, more than 80 percent of U.S. marijuana business owners and founders were white, while only 10 percent were Hispanic, Latino or black, according to a survey by the Marijuana Business Daily.
From Chicago, Illinois, to Saint Paul, Minnesota, officials are trying to support better minority entry into cannabis businesses. In some cases, that means giving black and brown people grants to set up shop. In others, it means undoing criminal records leftover from the drug's prohibition.
Minnesota State Rep. Ryan Winkler, together with the governor's administration, is working on a legalization bill for the next legislative session that's sensitive to barriers to entry. He's exploring state-facilitated business partnerships between people with cash-in-hand and those that don't have money to spare, among other provisions.
"One of the messages that has come through loud and clear from the beginning is that the communities most adversely affected by the War on Drugs and by cannabis prohibition should be able to participate in the economic development opportunities associated with legalization," Winkler told Newsweek.
While recreational marijuana use is about the same across races in the U.S., black people are almost four times more likely to be arrested than white people, according to the American Civil Liberties Union. That's because law enforcement focuses on misdoings in urban areas, lower income communities and communities of color, according to the Drug Policy Alliance.
"I look at it from a justice framework," Winkler continued. "As we transition away from the criminal justice framework and into a public health and regulatory framework, this is an opportunity to right some of those wrongs."
Run-ins with the legal system on top of barriers to licensing and loans can all lead to minority business owners to look elsewhere for income, according to reporting by The Root and National Public Radio.
They're missing out on an industry that raked in $12.2 billion in sales last year, according to The Motley Fool. Some estimates suggest that, in a few years' time, the global cannabis industry has the potential to grow to more than $130 billion in annual sales.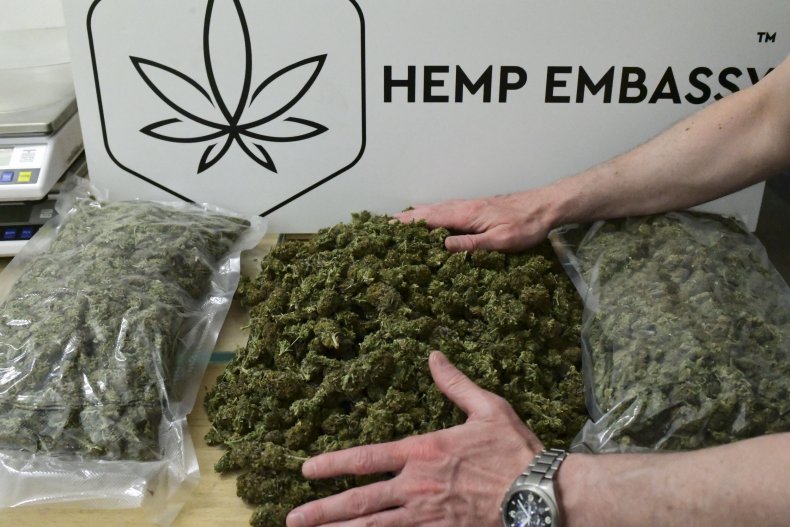 Earlier this week, Chicago's black caucus delayed zoning rules they feared would place future minority cannabis retailers at a disadvantage, according to reporting by the Chicago Tribune. A clause in the policy could give future brown and black entrepreneurs more regulatory hoops to jump through prior to selling the drug.
"At the end of the day, there's nothing in this ordinance that will help make sure the black and brown community will be able to get part of these dispensaries," Alderman Anthony Beale told the Tribune.
In Pennsylvania, State Senators Daylin Leach and Sharif Street introduced legislation Tuesday that would automatically seal off the records of anyone with marijuana convictions and offer grants to people harmed by the drug's prohibition they can use to start their own cannabis businesses.
"The war on drugs was a war on people," Street said in a statement to Newsweek. "The prohibition of cannabis destroyed lives and any effort to legalize must include restorative justice."