The State of Religion After Trump's Muslim Ban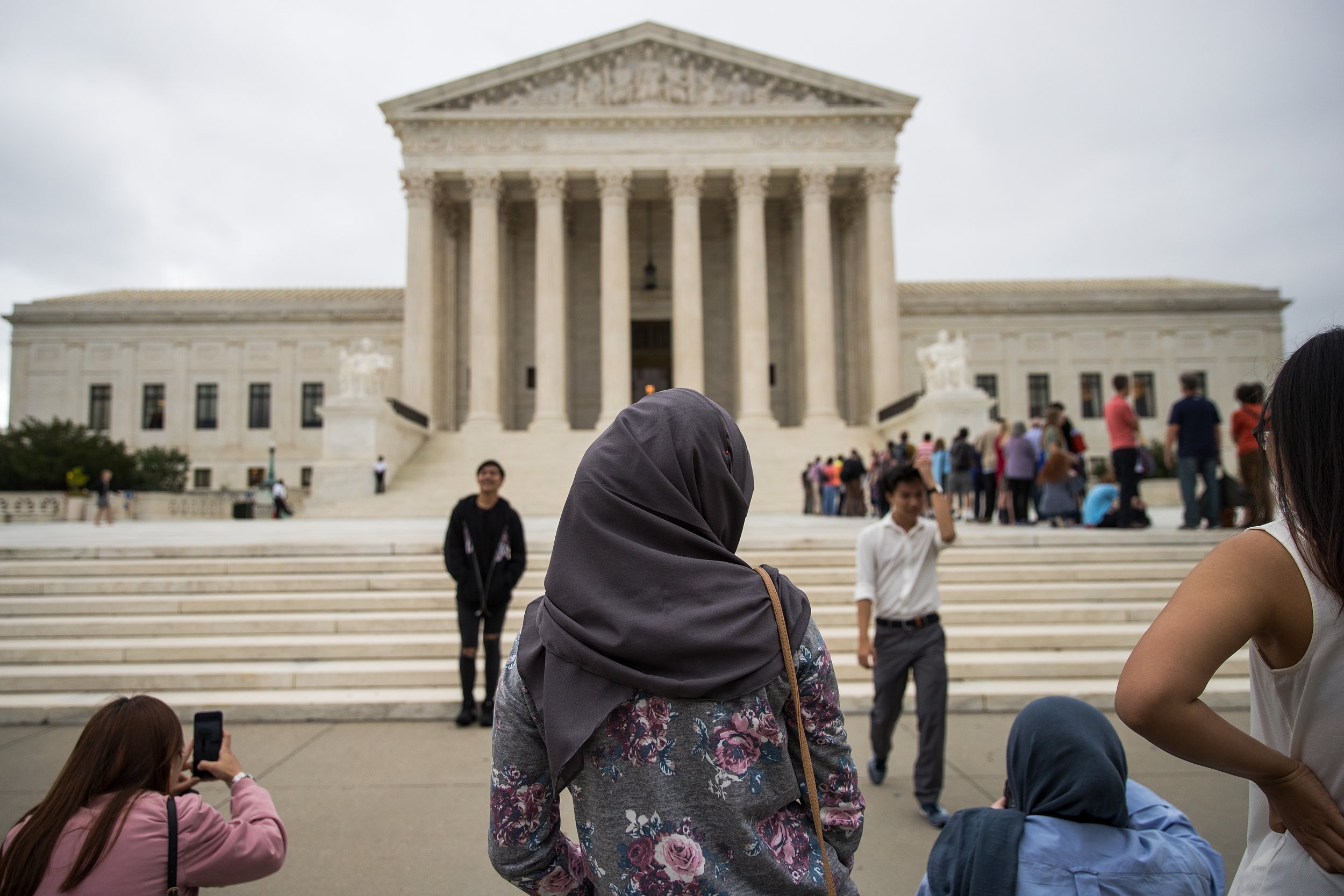 Tuesday's State of the Union address falls on the first anniversary of then-acting Attorney General Sally Yates' historic refusal to defend President Donald Trump's initial executive order barring admission to the U.S. for people from Iraq, Iran, Libya, Somalia, Sudan, Syria and Yemen.
"I thought, based on all the evidence I had, that it was based on religion," she later told The New Yorker. "And then I thought back to Jim Crow laws, or literacy tests. Those didn't say that the purpose was to prevent African-Americans from voting. But that's what the purpose was."
Trump's response was to fire her.
As Jewish, Christian and Muslim leaders, we want to take this opportunity to reflect on the state of religious freedom in our union. A year after this Muslim ban, where do we stand?
The ban was Trump's first attempt to fulfill his campaign promise by "calling for a total and complete shutdown of Muslims entering the United States—and we know it was meant to "cause chaos." Former White House Chief Strategist Steve Bannon later bragged to journalists about his plan to throw our immigration system into disarray. A Department of Homeland Security report reviewing the the ban found that government officials "had virtually no warning that the Executive Order was to be issued."
The administration succeeded in creating chaos, but the Muslim ban had deeper and more sinister goals. When seen in combination with other events in the first year of the Trump presidency—such as retweeting anti-Muslim videos, and appointing known anti-Muslim extremists to his administration—we can say firmly that Trump's anti-Muslim policies are intended to divide the American people by religion.
Moreover, his administration has actively dismantled the U.S. refugee resettlement program, putting the lives of tens of thousands of refugees in danger. Trump has brazenly fostered resentment towards Americans who are Muslim, refugees and immigrants from all backgrounds, and other minorities, thinking this will excite his white Christian base.
We're heartened that the Trump administration has largely failed in their broader goal to divide us by religion. Jews, Christians and Muslims are more resolved than ever to find strength in our unity, and uphold the religious freedom of all Americans.
We saw resistance to the ban immediately following its release: Americans of all faiths and none at all rushed to airports across the country. Jews, Christians and Muslims of all denominations condemned the executive order, and started organizing together to a greater extent than we've ever seen. We knew immediately that government-sanctioned discrimination against any religious group is a threat to all of our shared religious freedom.
Our federal judicial system has largely backed up Yates' assessment. The first Muslim ban was blocked by federal judges who sided with plaintiffs based on the "likelihood of success on the establishment cause claim," identifying a strong link between Trump's anti-Muslim rhetoric and his three attempts at a ban, judges understood that these bans equated to constitutionally prohibited discrimination against Muslims. The Supreme Court will soon rule on the Muslim ban 3.0.
For us as faith leaders, Trump has brought forth a key question: Does "religious freedom" apply to all of us, or just to the religions Trump prefers?
Thankfully, the vast majority of Americans reject his type of bigotry, and with it, his Muslim ban. One new study even suggests that the reality of the Muslim ban prompted Americans to shift their views in a positive direction. As Vox reported, "the media backlash to the ban and the national conversation it prompted caused many participants to reevaluate their views. More than 30 percent of participants said they felt more negatively about the ban a week after its announcement than they did in the days leading up to it."
We certainly don't want to be Pollyannaish about the real and lasting harm done by Trump's anti-Muslim policies—especially as the third iteration of the ban, and restrictions on refugee resettlement, are being painfully implemented right now. Still, we see signs of hope more broadly in our faith communities. Trump didn't invent anti-Muslim bigotry, but his actions have spurred a new conversation about it, with more and more leaders engaging and speaking out on the topic.
The coming months and years will likely see even more attempts to scare us into abandoning our commitments to equality, and to the freedom of religion for all Americans. No matter how the Supreme Court rules, or what other anti-Muslim policies Trump announces, we refuse to be divided by hate. We will not succumb to fear. We pledge to stand with each other, shoulder to shoulder, in the spirit of universal kinship.
We hope and pray that Americans of all religious backgrounds will continue to stand with us during these dark uncertain times. May we be inclusive, may we reaffirm our nation's commitment to treat Americans of all colors and creeds with the same fairness and may we choose respect.
Reverend Jimmie Hawkins is the director of the Presbyterian Office of Public Witness in Washington, D.C. Imam Talib Shareef is president and Imam of the Nation's Mosque, Masjid Muhammad, in Washington, D.C. Rabbi Fred Scherlinder Dobb serves Adat Shalom Reconstructionist Congregation in Bethesda, Md.