State-Run Russian News Site Accidentally Declares Ukraine's Defeat
A Russian state-run news outlet had to scramble after accidentally publishing an article announcing Urkraine's defeat. The outlet quickly deleted it, but not before several social media users noticed and translated the error.
RIA Novosti published the article, which erroneously declared, "Ukraine has returned to Russia...It will be reorganized, re-established and returned to its natural state as part of the Russian world...[Russia, Belarus and Ukraine will now act] in geopolitical terms as a single whole," according to Google Translate.
The article is incorrect and was most likely pre-written for publication and then published accidentally.
The Russian invasion of Ukraine remains underway. Although Russian and Ukrainian officials began peace talks on Monday, the negotiations and armed conflict remain ongoing as Western nations continue to issue economic and diplomatic sanctions against Russia.
"There will be no more Ukraine as anti-Russia," the article continued, calling attempts to preserve Ukraine "the height of...geopolitical stupidity."
"The West as a whole, and even more so Europe in particular, did not have the strength to keep Ukraine in its sphere of influence, and even more so to take Ukraine for itself," the article continued.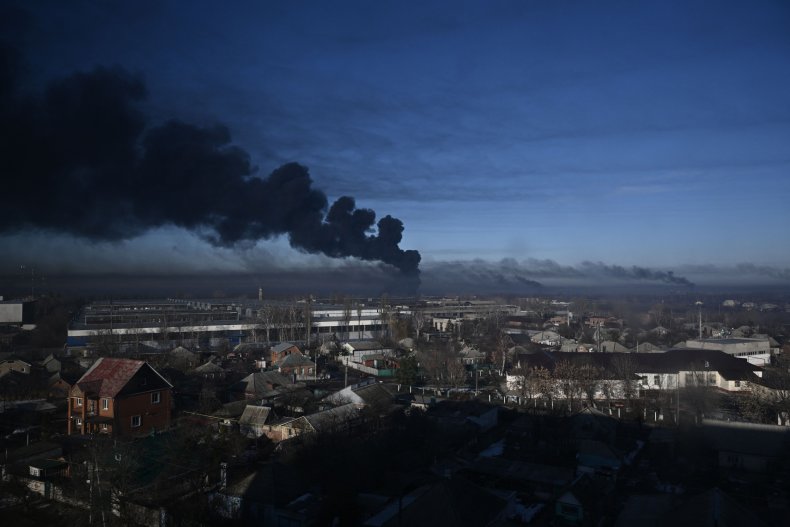 The article said that, if left unconquered, Ukraine would be an anti-Russian national security risk and "an outpost for the West to put pressure on us." It also said an unconquered Ukraine would have divided the ethnically related regional residents and "betray the memory of our ancestors...for allowing the disintegration of the Russian land."
The article also mocked the sanctions placed upon Russia for its invasion.
"Seeking to punish us, the West thinks that relations with it are of vital importance to us. But this has not been the case for a long time...Russia has not only challenged the West, it has shown that the era of Western global domination can be considered completely and finally over."
The article also had racist undertones as it said Germany's alleged goal of "European integration does not make strategic sense...because the Anglo-Saxons need a controlled Europe." Anglo-Saxon is a term for white people related to Germanic inhabitants of fifth-century England.
In other words, the article said that ethnic Russians need unification because Europe cannot be controlled by people of mixed races and ethnicities.
The article was scheduled to run around 8 a.m. on February 26, according to the article's date on The Internet Archive. Though RIA Novosti quickly deleted it, the outlet's blunder was quickly reported on by Pakistan's Frontier Post, Scotland's The Scotsman and other international news outlets.
As the Russian attack upon Ukraine entered its fifth day, negotiations between the two nations have been difficult, according to Mykhailo Podolyak, an adviser for Ukrainian President Volodymyr Zelensky.
"Unfortunately, the Russian side is still extremely biased regarding the destructive processes it launched," Podolyak posted on Twitter.
In the meanwhile, the Russian shelling of east Ukrainian cities has continued with reports of significant casualties.
As of Monday morning (U.S. time), at least 3,500 Russian soldiers have been injured or killed in the war. An estimated 102 Ukrainian civilians have been killed with another 304 injured, U.N.'s human rights chief, Michelle Bachelet, said. However, the true number of casualties during wartime is hard to determine and the actual number could be "considerably higher," Bachelet said.