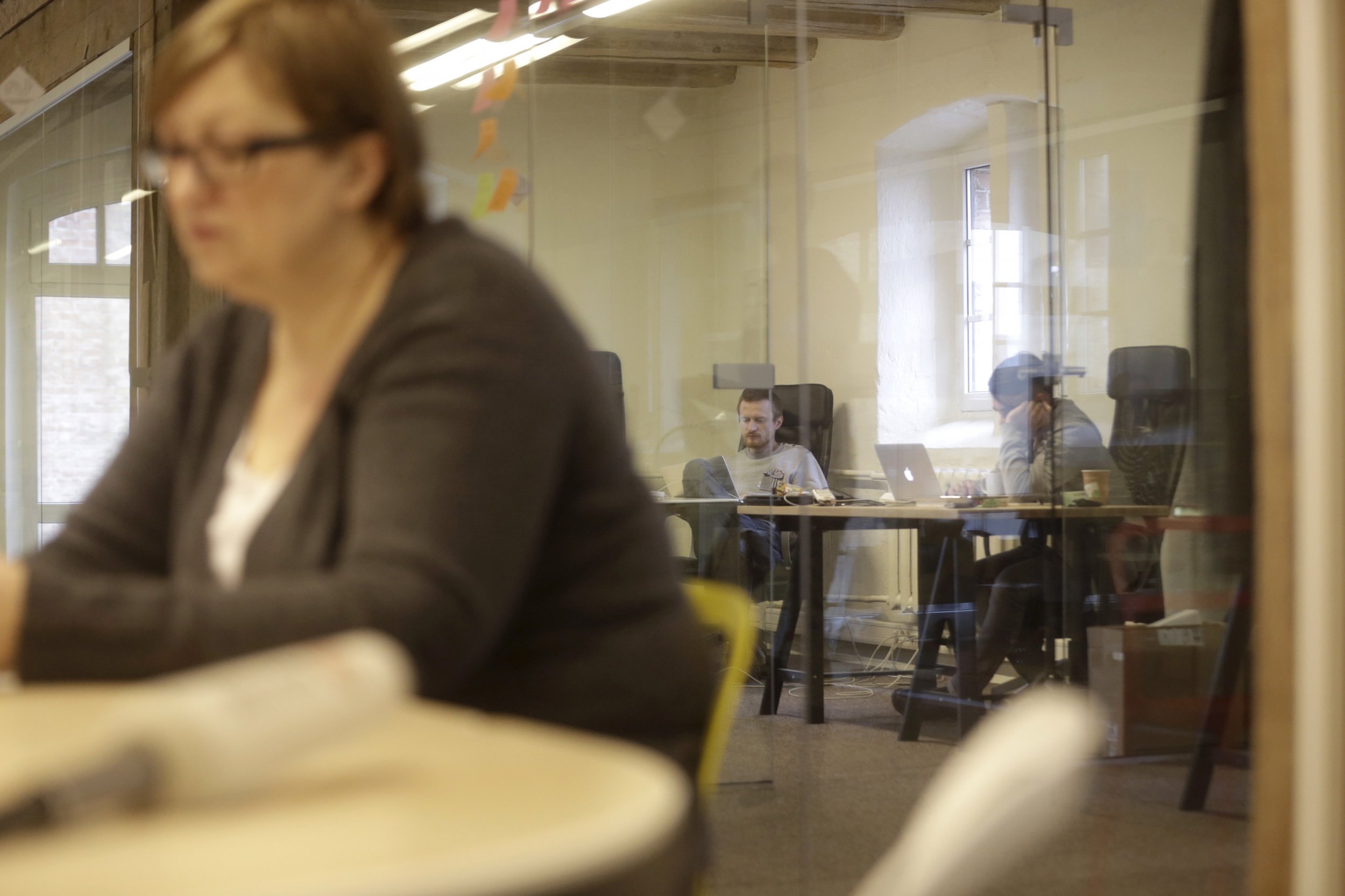 On March 12, 2014, Galina Timchenko, the editor-in-chief of Russian news website Lenta.Ru, received a call from Alexander Mamut, the publication's principal stockholder. Mamut commended Timchenko for her professional abilities. "You're a great editor," he said. He also informed her that she was fired.
Mamut never explained why he made the decision, one that seems especially strange considering that Lenta was showing its best figures since launching in 1999: 85 million page views and 20 million unique users per month. Timchenko's dismissal might have been connected to the warning that Lenta.ru received that same day from Roskomnadzor, a government organization overseeing the Russian media: According to officials, one of the stories contained an "extremist" hyperlink.
It also might have had something to do with the folder that Mamut brought to one of his meetings with Timchenko several weeks earlier. The folder, given to him by one of the officials of the Presidential Administration, contained every story and tweet by Lenta that the government didn't like, carefully printed out and outlined with a highlighter.
Almost the entire editorial team of Lenta.ru left the publication after Timchenko was fired. The staff didn't want to work with the new editor-in-chief, Alexey Goreslavsky, who previously held the job of GR officer in the media company that Lenta belonged to (GR meaning "government relations") and, several years earlier, had been an editor-in-chief of the notoriously pro-government news website Vzglyad.
The effect of Timchenko's forced resignation was devastating to both Lenta.Ru and the wider Russian media. The problem was not so much that Lenta was biased against the government but that it tried to preserve professional standards, use reliable sources and be objective. Apparently, in the Kremlin's view, now even this was too much.
It would be an overstatement to say that Lenta was the last independent media outlet in Russia. But it probably was the most popular (ironically, the website's success delivered its fate), but there are still some left: RBC.Ru, a news website; Vedomosti, a daily financial newspaper; Novaya Gazeta, a weekly investigative newspaper; Dozhd, a TV channel; and several others. However, considering the news that comes from Russia almost every day now, one would assume that a media startup isn't exactly the most brilliant idea in a country where one can be prosecuted for twerking.
That doesn't appear to be the case, though. Recently, new Russian media outlets have been popping up almost every few weeks. In fact, Timchenko's new venture is a prime example of this trend. Last October, she launched Meduza, a website that aggregates the most important news from Russia and abroad (according to Timchenko, its most recent motto is "Everything you need to understand about the world today") and reports its own stories on the war in Ukraine, absurd Russian legislative initiatives, troubling public health issues, ISIS propaganda and protest activities, among other things. It also has an English version, a very rare thing for any Russian publication.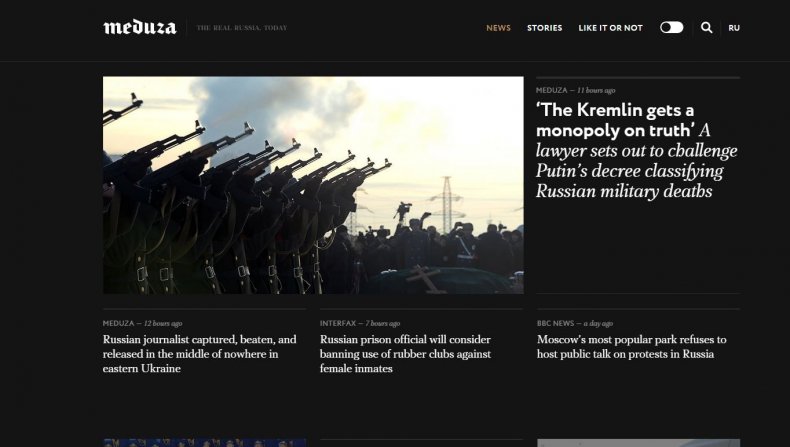 With a small staff of around 20, a slick design (the website was created around the idea that it should be mobile- and app-first) and a variety of new formats such as Vox-like stacks of explanatory cards, Meduza seems to be if not the most comprehensive at least the most forward-thinking Russian news media outlet at the moment. However, it's not the only example of a new outlet run by people who have been around the industry long enough to know all its perks and perils.
There's MediaZona, a website covering the Russian judicial and penitentiary system, run by Sergey Smirnov. Smirnov is a former reporter for Gazeta.ru, another big Russian news website owned by Aleksandr Mamut. It went through an administrative change recently and become much more loyal to the government.
There's also Arzamas, an educational media company created by Philipp Dzyadko, who previously was an editor-in-chief of a city magazine, Bolshoi Gorod. During his tenure, he consistently and almost aggressively blurred the distinction between journalism and activism (one of the magazine's covers read, "Fire them both," referring to then Russian Prime Minister Vladimir Putin and President Dmitry Medvedev).
Then there's Takie Dela, a website launched by Andrei Loshak, one of Russia's most talented broadcast journalists, who worked for state-owned TV channel NTV until his views became too liberal for the channel's supervisors.
N+1 is a website about science created by Andrey Konyaev, who worked with Timchenko at Lenta.Ru and helped to create the website's extremely successful, albeit rather controversial, social media strategy.
And there are more: The Question, a sort of Russian answer to Quora; Sygma, a thought-inspiring platform that can be vaguely compared to Medium; The Challenger, a website about fitness and a healthy way of life. All of them were launched in the past year. None of them belong to an existing media corporation, and they don't seem to want to be bought by one. In a way, for Russian media professionals, it's safer to be on your own than to be dependent on someone who can raise your salary and provide you with a fancy office but can also take your job and your publication away from you if you start to cause trouble.
One way to conduct a media business in this kind of environment is to simply accept that it's not actually a business but a kind of civic project. That's the way that Arzamas operates. It delivers to its audience one online course a week, telling stories about Russia in the 18th century, medieval art or South American mythology through videos narrated by top Russian scholars, interviews, picture galleries, quizzes, puzzles and more. Arzamas is funded by Anastasia Chukhrai, who is more a patron than an investor.
"We exist at the junction of media and education, and our project is first and foremost about enlightenment," Dzyadko explains. "Russia has a big problem: It lacks a common cultural memory. If nobody remembers anything, it's really easy to manipulate the past. I'm sure that there are three areas of occupation worth considering in contemporary Russia: education, health care and charity. In a way, we're doing all three."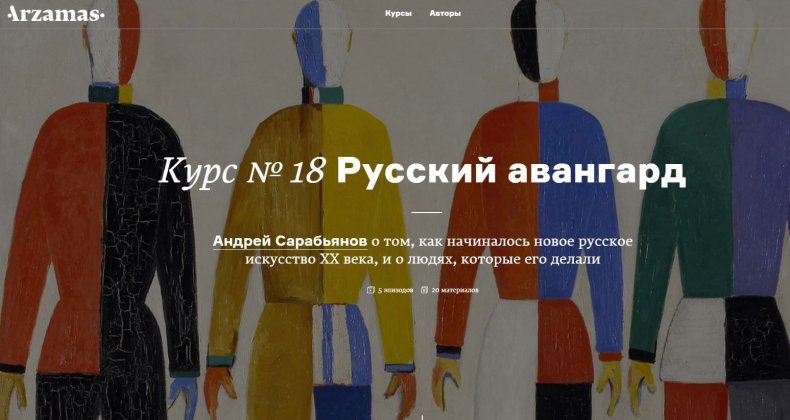 The same nonprofit strategy applies to MediaZona, which covers the violent and terrifying world of Russian courts and prisons. MediaZona is funded by none other than Masha Alekhina and Nadya Tolokonnikova, the formerly imprisoned members of Pussy Riot who, since their 2013 release, have been rather successful in raising funds for various causes. "We are sure that the information that we present is important for society," Smirnov says. "And what could we advertise anyway? Some lotion you put on your hands after they take off the handcuffs?"
Takie Dela has an even more peculiar business model: It was actually created by a charity foundation called Need Help to attract more attention to charities' causes—and, hopefully, to raise more money. "We aim to expand the audience of charity projects by producing quality journalism," Loshak said. "Our mission is to bring humanity back into journalism. By now we have read a million op-eds about Putin, but we don't know anything about the lives of common people."
To achieve its purpose, Takie Dela doesn't limit its coverage to sensitive and painful subjects such as the social adaptation of former prisoners or the life of Russian orphans. There's also news about Sochi bears treated for alcoholism (yes, the animal) or a story by a reporter who worked for one night as a security guard in a brothel in St. Petersburg.
Other new media outlets prefer a more traditional setup: an investment that is supposed to be paid off through advertising revenue. In Russia, apparently, if you manage to get investors, the first rule is that you don't talk about them.
Even though the stories on N+1 are mostly about things like toothed whales and inert gases, which don't pose any considerable political risk even in Russia, Konyaev refuses to name its investor, saying only that he "finds science journalism interesting and important."
Same goes for The Question, a service that aims to connect people who have questions about anything with people who are able to competently answer them. "Sometimes to be able to ask the right question is more important than getting an answer. We want to create the culture of consciousness," says Tonya Samsonova, the website's creator and a staff reporter for controversial radio station Echo of Moscow, who lives and works in London. Samsonova refused to talk about her investors, citing a nondisclosure agreement that she signed. Both The Question and N+1 hope to eventually become sustainable by selling display ads and creating special projects with advertisers.
Meduza, which in seven months was able to reach an impressive figure of more than 2 million unique visitors monthly, already successfully sells ads and creates special projects. However, with a yearly budget of 1.5 million euros ($1.68 million), it relies on investors too, and Timchenko can easily explain why she would like them to remain anonymous.
"Putting pressure on an investor is the first and maybe the only way of influencing independent media, and we've seen it done many times," she says. Since the media industry isn't exactly the most profitable business in Russia, she adds, people who invest in the media usually have other businesses. Or at least their relatives live in the country. And the government can get to both of those.
"So if I face a choice between my professional reputation and the well-being of people who invested in us and their families, I'm willing to put my reputation at risk," Timchenko says.
The most curious detail about Meduza is also connected to the demands of its investors. It is a Russian news website that isn't actually based in Russia. Its headquarters are a spacious six-bedroom apartment with authentic plasterwork from the early 20th century in Riga, Latvia. (The editorial team is so small that it doesn't need an actual office.) That wasn't the plan initially, but when Timchenko and her team were negotiating with an exiled Russian oligarch, Mikhail Khodorkovsky, about a possible investment, it was his requirement that the company be based in the European Union. Khodorkovsky, according to Timchenko, knew that his name would create additional risks for the publication and wanted to avoid them.
Khodorkovsky eventually decided not to invest, but Timchenko is glad that her newsroom isn't in Moscow. "We probably wouldn't have enough strength in us to create something new in Russia, in the same old circumstances, under pressure from all the official organizations, from the fire department to the general prosecutor's office," she says.
The pressure still exists. Just last week, a member of the Russian parliament asked law enforcement agents to check on Meduza for extremism, citing reporting that the website did about the activities of ISIS. (It's a claim that seems even more absurd considering that, after Meduza's Q&A with a Russian-speaking ISIS missionary who lives in Berlin, German police launched an investigation of him.) "Whatever cunning we come up with, they're going to respond to it with some unpredictable stupidity," Timchenko says with a shrug.
Whatever their focus might be and wherever their newsroom is located, those new digital, independent Russian media platforms have something in common: the feeling of some kind of mission and the realization that, due to Russia's very peculiar media environment, there's now a demand that they can respond to.
"I think all of us are driven just by the wish to practice real journalism," Smirnov says. "Not everybody wants to do propaganda."
"There's a natural necessity for the existence of this media," Konyaev says. "Actually, sometimes it's easier to create your own publication than to quit the job."
(Full disclosure: I worked as the editor-in-chief of Afisha, an arts and culture magazine that belongs to the same media company as Lenta.Ru, at the time of Timchenko's dismissal and wrote two stories for Meduza.)