State Trooper Dies in Tanker Crash While Trying to Help Disabled Motorist
Massachusetts State Trooper Tamar Bucci died on Thursday as she was responding to a disabled car on the side of Interstate 93, patrolling the same stretch of road that she had protected for two years, when a tanker truck hit her cruiser.
Bucci was attempting to drive up to the disabled motorist when the truck, carrying 10,000 gallons of gasoline, pushed her car off the roadway around 11:45 p.m.
Two good samaritans nearby pulled her from the damaged vehicle and a Stoneham police officer performed CPR before she was taken to the Massachusetts General Hospital, but she did not survive. Bucci had just turned 34.
The Massachusetts State Police Department posted a photograph of the trooper on Twitter, along with a tribute. "We are heartbroken for her loss," the post said. A follow-up tweet added: "No greater love hath a person than to give her life for another."
Massachusetts Governor Charlie Baker tweeted: "Trooper Tamar Bucci embodied the best of the Massachusetts State Police, and her loss is devastating to her loved ones, the Commonwealth and her brothers and sisters in blue."
Baker ordered flags at all state buildings to be lowered to half-staff in honor of Bucci.
The Massachusetts Transportation Department also lit up the Zakim Bridge, the Longfellow Bridge, the Fore River Bridge and the Burns Bridge in blue for Bucci, sharing photos of the state's symbolic structures on Twitter.
Bucci was the 22nd trooper at the state police department to die in the line of duty. Across the United States, 58 law enforcement officers were killed in traffic-related incidents in 2021, demonstrating a 38 percent increase from 2020, according to the National Law Enforcement Officers Memorial Fund.
The driver who Bucci was attempting to assist was hospitalized with minor injuries, according to police. The tanker truck driver was not injured and remained at the scene. Police said he is cooperating with the investigation.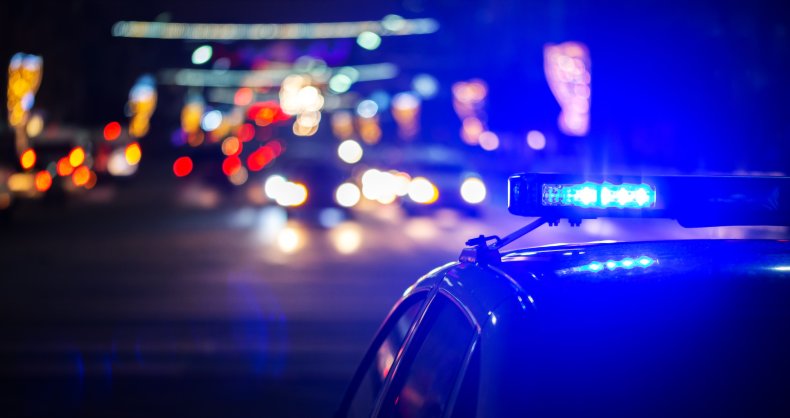 Pat Catino, a former boss of Bucci's at the Assembly Sports Club in Somerville, told The Boston Globe that being a state trooper was a "real dream" for Bucci, who had just joined the force in 2020. "She wanted to change the perception that police were the bad guys," Catino said.
Before she became a trooper, Bucci worked at the security department at the Encore Boston Harbor Casino. Before that, she was a personal trainer.
Catino told The Boston Globe that when Bucci was a trainer, she sometimes challenged the male trainers to fitness competitions. She tended to win those contests, he said—she loved the fun of a challenge.
Newsweek reached out to the Massachusetts State Police for comment.