State of the Union 2019 Drinking Game Rules for Donald Trump's Annual Speech
President Donald Trump's State of the Union address is expected to draw viewers from across the country and for those who like to pair their politics with a nice wine or beer, there's a drinking game for that.
While Trump has repeatedly said that he does not partake in alcoholic beverages on a regular basis, several websites offered guidelines for viewers of his speech who want to boost their blood alcohol content. Rules for the various games ranged from drinking when he said specific phrases or words to who showed up on camera during the speech.
Drink When
The website Drink When, which creates drinking games for various television events and movies, established two different versions of the game. The regular version dictated that participants take a sip of their drink when:
Trump says "Tremendous"
Trump says "Wall"
Trump says "Crisis"
Trump brings up an opponent
Trump noticeably goes off prompter
There's extreme Republicans clapping or standing ovation
There's a cut to an unhappy Democrat
For the "extreme" version, participants were required to also drink whenever the word "America" was said.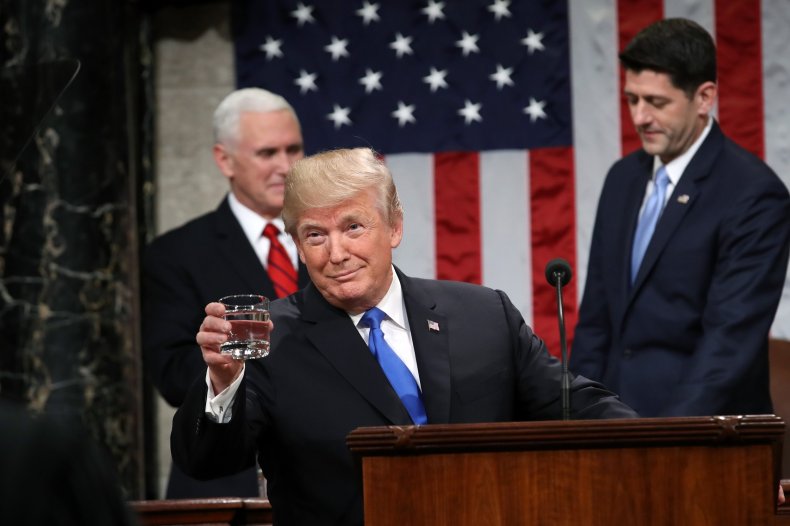 Debate Drinking
Another website, Debate Drinking, gave participants the chance to choose the rules they'd follow. With both a Trump 1 and Trump 2 option, the trigger words differed depending on the list that was chosen and also included community words, which required everyone to drink.
The Trump 1 list, identified as the red team, included the words:
Compromise
Infrastructure
Jobs
China
Together
Strengthen
The Trump 2 list, called the blue team, included the words:
Crisis
Wall
Regulations
ISIS
Alone
Threaten
The community words were identified as "tremendous," "billions," and "bigly." Debate Drinking will also have a live stream available of the scoreboard for the drinking game, so participants could follow along in case their ears missed a word.
Given that there's no official drinking game for the State of the Union address, viewers can also opt to make up their own rules by choosing various words and actions to prompt a sip of a drink.
Trump is expected to deliver his annual speech at 9 p.m. EST in the Chamber of the House of Representatives. There's no exact length of time that the State of the Union runs, but Trump's speech in 2017 lasted almost an hour and a half. Most television networks have set aside two hours' worth of coverage for the event.
While the choice of beverage is up to participants or the rule maker, Debate Drinking recommended opting for something domestic because "we are drinking for America after all." The website also defined a drink as a gulp of beer or a sip of wine or liquor.
Given that the words were chosen specifically because they would hit on topics the president would likely address, it's important to remember that there is no prize to the drinking game. It isn't the Olympics, no participant has ever gone down in history, and the only gold medal is waking up on Wednesday ready to take on the workday. So, have fun, but know your limits and never drive after a night of drinking.