President Obama Delivers Final State of the Union Address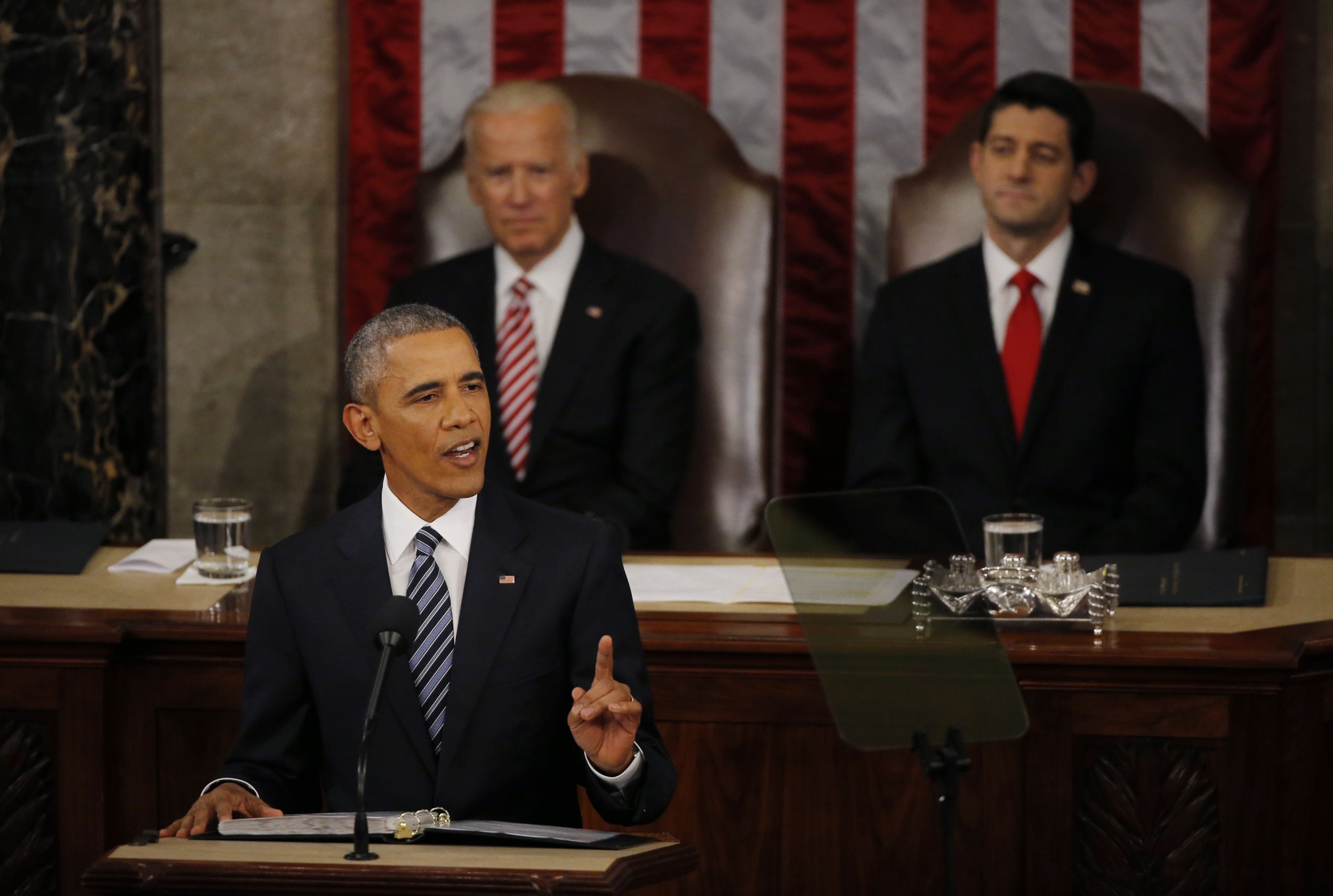 In his relatively brief and notably subdued final State of the Union address on Tuesday night, President Barack Obama urged congressional leaders to cooperate and encouraged Americans to stay active in public life in order to secure a better future.
"My fellow Americans, whatever you may believe, whether you prefer one party or no party, our collective future depends on your willingness to uphold your obligations as a citizen. To vote. To speak out," he said.
"What I'm asking for is hard. It's easier to be cynical; to accept that change isn't possible, and politics is hopeless, and to believe that our voices and actions don't matter. But if we give up now, then we forsake a better future," he said.
Related: President Obama Calls on Lifting Cuban Embargo in SOTU
Obama opened Tuesday night's address with a brief joke about the upcoming Iowa caucuses and a quick nod to newly-minted House Speaker Paul Ryan, who along with Vice President Joe Biden, was seated behind him.
"For this final one," he said, "I'm going to try to make it shorter. I know some of you are antsy to get back to Iowa."
He acknowledged expectations are low for what his administration will achieve during his last calendar year in office. But he thanked Ryan—who was elected to replace former speaker John Boehner in October—for passing a budget and making tax cuts permanent for working families.
Obama then proceeded to say he hopes that this year Congress can work together on bipartisan priorities, including reforming the criminal justice system, helping Americans battling prescription drug abuse and protecting children from gun violence.
Obama said he will place Biden in charge of a new national initiative to cure cancer, what he called "mission control." Biden's son, Beau, died of brain cancer in May 2015. In December, the vice president worked to give scientists at the National Institutes of Health the strongest resources they have had in a decade.
"For the loved ones we've all lost, for the family we can still save, let's make America the country that cures cancer once and for all," Obama said.
On education, the president said he would continue fighting for providing two years of community college at no cost for every responsible student. "Because no hardworking student should be stuck in the red," Obama said.
Obama also encouraged Congress to take a vote on authorizing the use of military force against the Islamic State militant group (ISIS), if leaders are serious about winning the war and want to send a message to U.S. troops.
"But the American people should know that with or without congressional action, ISIL will learn the same lessons as terrorists before them," he said, using an acronym for ISIS.
Analysis: Obama Defends Record at State of the Union Address