President Donald Trump will deliver his second State of the Union address before Congress this Tuesday evening after it was delayed because of the partial shutdown of the federal government over the border wall.
That stayed in focus during the president's address, as did U.S. immigration policy at the southern border. The president brought three relatives of Gerald and Sharon David, who were killed by an undocumented immigrant in their Reno, Nevada, home as his guests. He also brought Elvin Hernandez, a special agent with the Trafficking in Persons Unit of the Department of Homeland Security's Homeland Security Investigations division.
In a pre-State of the Union briefing, a senior White House official said that the speech would deliver a bipartisan message of "choosing greatness" for America, and would ask Congress to "reject the politics of retribution."
Trump, however, appeared to reject that message on Tuesday morning when he tweeted that Senate Minority Leader Chuck Schumer had criticized his speech because "he's just upset that he didn't win the Senate, after spending a fortune, like he thought he would. Too bad we weren't given more credit for the Senate win by the media!" Schumer had delivered a speech saying that he doubted the president would follow through on his calls for unity between parties.
While immigration policy was likely to take up a good chunk of the president's speech time, he was also expected to touch on trade deals, foreign policy, the economy, infrastructure, the price of medical care in the United States and access to abortion. "The president will talk about the fundamental importance of the right to human life in his speech," said the White House official.
Newsweek live fact-checked the president's speech, and added additional information to present a well-rounded view of the issues the president cares about.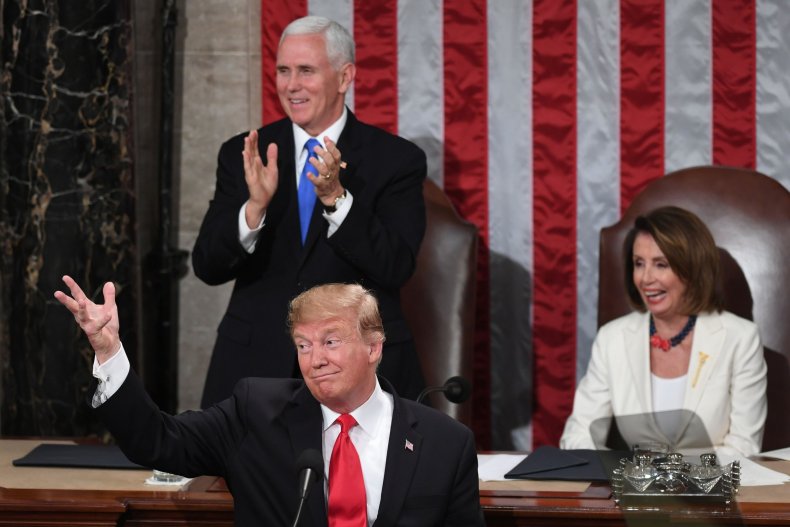 9:16 p.m.
"The agenda I will lay out this evening is not a Republican agenda or a Democrat agenda," said Trump. Referring to the Democratic Party as the "Democrat" party is typically considered a dig at the left. The president has commented on this before, and explained that he did it on purpose.
"You notice I say 'Democrat Party'? I hate how it sounds; that's why I say it, because it's really their name, you know," said the president at a West Virginia rally. "It's not the Democratic Party, which flows nicer. Their real name is the Democrat Party."
9:20 p.m.
"Nearly 5 million Americans have been lifted off food stamps."
It is true, the number of Americans using food stamps is at a low, but that's not the full story. Enrollment is still much higher than it was pre-recession. About 42 million Americans currently participate in the SNAP program. "That's pretty striking," said Matt Knott, president of Feeding America. The president in the past has proposed a 30 percent cut to the nutrition program's budget, and wants to impose restrictive work requirements to move more Americans off of the program.
9:25 p.m.
"An economic miracle is taking place in the United States—and the only thing that can stop it are foolish wars, politics or ridiculous partisan investigations."
Robert Mueller is a registered Republican, and prominent Republican figures like Senator Susan Collins and Senator Lindsey Graham have worked to protect his investigation of Russia's role in the 2016 presidential election. It is unclear how this investigation would affect the economy.
9:30 p.m.
"We passed a massive tax cut for working families and doubled the child tax credit. We virtually ended the estate, or death, tax on small businesses, ranches and family farms."
About 48 percent of Americans believe their economic conditions are worsening, according to a new Gallup poll, and just 39 percent of Americans supported the Republican tax plan, according to Gallup.
American corporations spent $1 trillion buying back their own stock, a record, and nearly 140 times more than companies gave their workers in bonuses or pay increases, according to Americans for Tax Fairness.
9:35 p.m.
On the "very dangerous southern border":
Apprehensions at the U.S.-Mexico border have declined by more than 75 percent since 2000. There is not a uniquely dangerous border crisis. The undocumented immigrant population hit a 12-year low in 2016, the most recent year for which data was available.
Statistically, immigrants are no more dangerous than American citizens. If anything, they're less so. The vast majority of research finds that immigrants do not increase local crime rates, and are less likely to be convicted of crimes and incarcerated than native-born Americans.
According to the Justice Department, nearly 75 percent of all immigrants show up for their court dates. About 90 percent of immigrants seeking asylum attend their court dates.
The Center for Migration Studies, a New York think tank, found that only about one-third of illegal immigration occurred at the U.S. southern border; the rest overstayed visas.
9:42 p.m.
On the wall:
A border wall would take years to build because of legal restrictions. States, Native American tribes and private citizens own the vast majority of land along the southern border and would need to give over their land to the federal government or be sued. President George W. Bush attempted to do something similar when he was president, and a number of those lawsuits are still in court, more than 10 years later.
Building a wall would not be the most effective way to stop drug smuggling, as the majority of drugs enter the United States through legal ports of entry, according to the Department of Justice. During the first 11 months of 2018, 90 percent of the heroin and 88 percent of cocaine intercepted at the border was found coming through a legal port of entry.
9:50 p.m.
"All Americans can be proud that we have more women in the work force than ever before."
While there are more women in the work force because of population growth, women's unemployement rates are well below pre-recession levels, according to Federal Reserve economic data by the Federal Reserve Bank of St. Louis.
10 p.m.
"These are living, feeling, beautiful babies who will never get the chance to share their love and dreams with the world. And then, we had the case of the governor of Virginia, where he basically stated he would execute a baby after birth.To defend the dignity of every person, I am asking the Congress to pass legislation to prohibit the late-term abortion of children who can feel pain in the mother's womb."
The American Congress of Obstetricians and Gynecologists, the American Academy of Pediatrics, the American Medical Association, the World Health Organization and the International Federation of Gynaecology and Obstetrics all support access to abortion.
Virginia Governor Ralph Northam commented about what would happen if a baby was born and was "nonviable." He said the baby would be kept comfortable and the parents and doctor would discuss what would happen next. He did not suggest killing or "executing" a baby.
Virginia law currently allows third-term abortions if a woman gets approval from three doctors and is able to prove that she would face a life-threatening medical risk otherwise. Ending access to third-term abortions would certainly lead to an increase in the deaths of pregnant women.
About 90 percent of all abortions in the United States happen within the first 12 weeks of a pregnancy. Just 1.3 percent of all abortions take place in the third-trimester.
President Donald Trump was pro abortion rights himself at one time. He said he decided to change his position after his friends thought about having an abortion but didn't and had a baby who was "a total superstar."
"I am very pro-choice, I hate the concept of abortion. I hate it. I hate everything it stands for. I cringe when I listen to people debating the subject. But you still—I just believe in choice."—President Donald Trump, NBC News, October 24, 1999
10:15 p.m.
"If I had not been elected President of the United States, we would right now, in my opinion, be in a major war with North Korea."
The president is likely referring to a statement he's made in the past, that President Barack Obama was close to "pressing the trigger" with North Korea. While Obama did tell Trump that dealing with North Korea would be his most challenging foreign policy problem, there is no evidence that he had plans for war.
"The Department of Defense always looks at contingencies, but the Obama administration was consistently of the belief—informed by the best thinking and analysis from our intelligence community, war fighters, and diplomats—that diplomacy was the only viable option given what we knew would be catastrophic implications of a conflict on the Peninsula," Ned Price, a national security council spokesperson in the Obama White House told CNN.
10:30 p.m .
"My Administration has acted decisively to confront the world's leading state sponsor of terror: the radical regime in Iran. To ensure this corrupt dictatorship never acquires nuclear weapons, I withdrew the United States from the disastrous Iran nuclear deal. And last fall, we put in place the toughest sanctions ever imposed on a country."
FBI Director Christopher Wray, CIA Director Gina Haspel and Director of National Intelligence Dan Coats reported to Congress last week that the Iran nuclear deal had been successful. Their report said that "U.S. sanctions reimposed on Iran in August and November 2018 have had limited effect on Iran's ability to operate in Syria," and warned that Iranian officals had threatened to "resume nuclear activities that the [nuclear deal] limits—if Iran does not gain the tangible trade and investment benefits it expected from the deal." The president said they had never said these things but later acknowledged he disagreed with him.