At State of Union, Michelle Obama to Leave Seat Vacant for Gun Violence Victims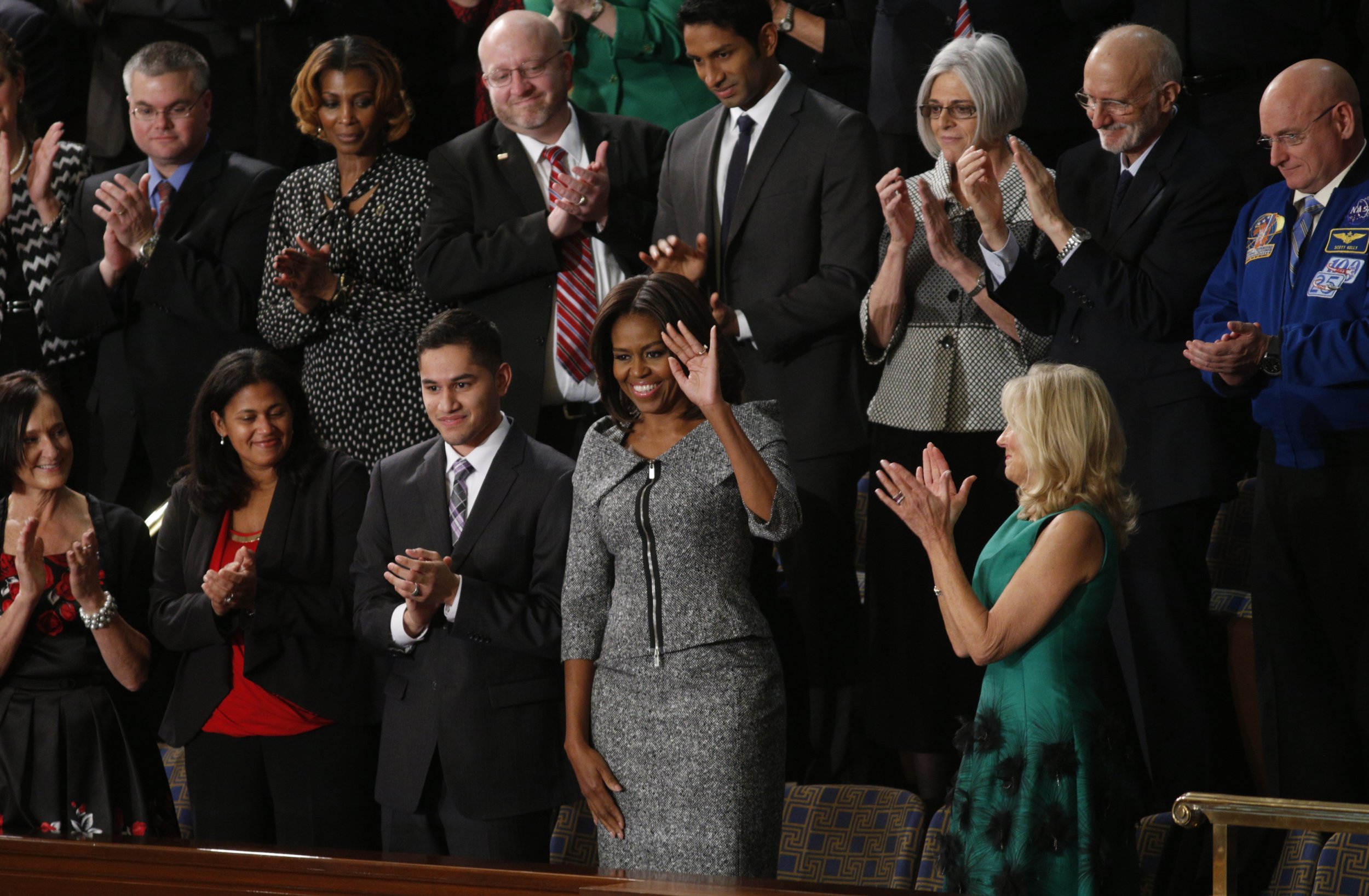 Updated | An empty seat in honor of victims of gun violence will be left in first lady Michelle Obama's box during Tuesday's State of the Union address, the White House announced on Sunday morning.
The address will be President Barack Obama's last, and comes a week after the White House announced a series of executive actions meant to curb gun violence.
"We leave one seat empty in the First Lady's State of the Union Guest Box for arthe victims of gun violence who no longer have a voice—because they need the rest of us to speak for them. To tell their stories. To honor their memory," the White House said in a statement. "To support the Americans whose lives have been forever changed by the terrible ripple effect of gun violence—survivors who've had to learn to live with a disability, or without the love of their life. To remind every single one of our representatives that it's their responsibility to do something about this."
The first lady's guests include a number of people who have influenced her husband's time in office: Sue Ellen Allen, an Arizona nonprofit leader who works on criminal justice reform; Cary Dixon, who works to advocate for opioid reform; Connecticut Governor Dannel P. Malloy, who has worked on programs to reintegrate nonviolent criminals back into society; and Mayor Mark Luttrell, a Republican from Tennessee who has spent his career focused on criminal justice. The president recently commuted the sentences of dozens of drug offenders and last year became the first sitting chief executive to visit a federal prison, where he called for criminal justice reform.
Gloria Balinski, who wrote the president a letter thanking him for improving the economy, will also attend at the first lady's invitation, as will small-business owner Ronna Rice and environmental-business owner Mark Davis.
Another attendee, an avid campaigner during Obama's 2008 and 2012 runs, Edith Childs coined the "Fired Up! Ready to Go!" chants. She previously attended a holiday celebration at the White House on President Obama's invitation.
A Syrian refugee relocated to Troy, Michigan, Refaai Hamo will attend as a show of support for the president's stance on accepting such refugees. More than half of the nation's governors have opposed accepting such refugees; however, the decision is ultimately a federal one, and Obama has expressed his support for allowing displaced persons to be relocated into the United States after a thorough security vetting.
The White House reached out to Hamo after reading about his story on Humans of New York, a Facebook page known for interviewing interesting people both in New York City and around the world:
The partner of Daniel Kaufman, one of those killed in the mass shooting in San Bernardino, California, late last year, will attend as an activist. "I speak for both Daniel and myself when I say that this attack should NOT encourage people to treat Muslims any differently than they would anyone else," Ryan Reyes said. "The twisted actions and beliefs of a few should not be used to view the majority."
Cynthia K. Dias, Lisa Jaster, Naveed Shah, Earl Smith and Spencer Stone, who are all involved in with the military or veterans' services, will also attend, a not to Obama's role as commander-in-chief. Stone is well known for subduing a gunman on a train in France last year, gaining status as an international hero.
Dr. Jill Biden, Vice President Joe Biden's wife, also influenced the makeup of the first lady's box: Jennifer Bragdon, a community college student from Texas, was invited after Dr. Biden met with her last March to learn about technological advancements at community colleges. Other education-focused invitees include Lydia Doza, a college student and STEM advocate; Oscar Vazquez, a veteran and STEM leader; and Satya Nadella, the CEO of Microsoft, who recently announced a $75 million investment in computer science education.
The plaintiff in the lawsuit that led to marriage equality, Jim Obergefell, will also attend. The Supreme Court decision that stemmed from his lawsuit was a landmark case and was considered one of the Obama administration's crowning achievements for the left. Another representative of a crowning achievement is Cedris Rowland, who works as a navigator to the Affordable Care Act, better known as Obamacare.
Seattle Police Chief Kathleen O'Toole will attend as a representative for changes made to increase transparency and trust between the public and authorities. Her department is testing body cameras, which Black Lives Matters activists have called for all officers to wear.
Twelve-year-old Braeden Mannering, the youngest person among those sitting with the first lady, started a nonprofit to provide healthy food to the homeless.
This story has been updated to include a Facebook post about Hamo.