Watch State of the Union 2019 Online: Live Stream, TV Channel, Start Time as Donald Trump Gives Address to Congress
President Donald Trump's State of the Union address, starting at 9 p.m. EST Tuesday, will be accessible to Americans on a variety of platforms, and a cable television subscription is not needed.
Here is a live stream of the address, courtesy of the PBS NewsHour:
For those who want to watch Trump's speech on television, all the major networks will be broadcasting it, including ABC, CBS News, CNN, Fox News and NBC. Spanish-language stations, including Telemundo and Univision, will also be airing the address with real-time translation. Some networks will stream the address on their websites or YouTube channels, but may ask for subscription information to log in.
Roku, YouTube TV, DirecTV Now, Hulu Live TV and Fubo TV will also carry the address.
The State of the Union will also be live-streamed on C-SPAN's official site, along with the White House website and Facebook page.
It will also be possible to listen to Trump's speech on most news and public radio stations, including NPR. Free Internet radio TuneIn is another option.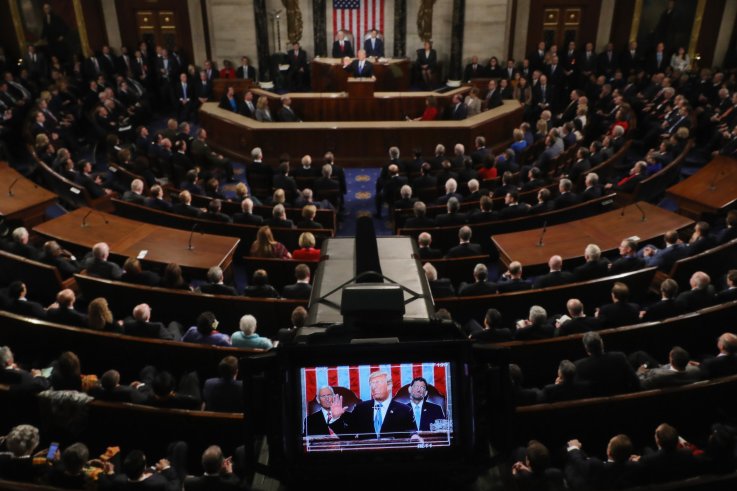 Now that you know how to tune in to the address, here are some things to watch for.
Trump is expected to raise a range of issues, including immigration and border security (the sticking point in the government shutdown), trade with China, negotiations with North Korea, national security and the economy. The White House released an excerpt from Trump's speech ahead of the event, suggesting his address would focus on unity.
"Together we can break decades of political stalemate," the excerpt states. "We can bridge old divisions, heal old wounds, build new coalitions, forge new solutions and unlock the extraordinary promise of America's future. The decision is ours to make."
But a tweet by Trump on Tuesday morning suggested his speech may not be all about peace and harmony.
"I see [Senate Minority Leader Chuck] Schumer is already criticizing my State of the Union speech, even though he hasn't seen it yet," Trump tweeted. "He's just upset that he didn't win the Senate, after spending a fortune, like he thought he would. Too bad we weren't given more credit for the Senate win by the media!"
The address will take place a week after it was originally scheduled because Democratic House Speaker Nancy Pelosi uninvited Trump to the chamber citing "security concerns" during the government shutdown, and stated he would not be asked back until the government reopened.
Trump's speech last year ran 80 minutes, and was the longest since President Bill Clinton's address in 2000.
Watch State of the Union 2019 Online: Live Stream, TV Channel, Start Time as Donald Trump Gives Address to Congress | U.S.