State of the Union Revives Biden's 'Corn Pop' Story—and Mocking
Twitter users are mocking President Joe Biden ahead of the State of the Union address Tuesday evening, resurfacing the president's previous story about a gang leader named "Corn Pop."
Biden is scheduled to deliver his second State of the Union address at the U.S. Capitol at 9 p.m. ET on Tuesday, when the president is expected to announce a new set of policies to further advance his "unity agenda," the White House previously said.
Prior to Biden's speech, former White House press secretary Jen Psaki, who served with both the Obama and Biden administrations, spoke on MSNBC about what to expect out of Tuesday's address, and she said that the president needs to focus on telling a story to get his message across.
"What he needs to do is tell a story," Psaki said during a segment on Morning Joe. "Joe Biden is an amazing storyteller. I mean, you sit in the Oval Office, [White House press secretary Karine Jean-Pierre] can tell you, and he can story tell for six hours."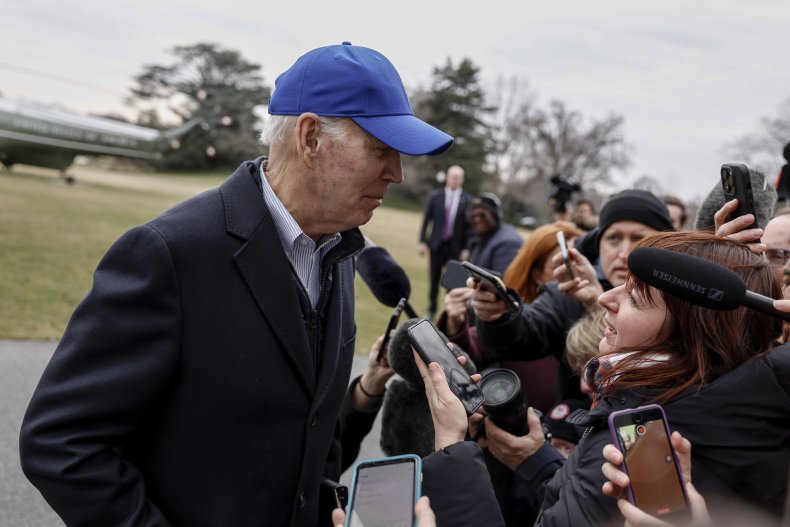 The clip of Psaki's advice was later posted on Twitter by the Daily Caller, sparking criticism over Biden's storytelling in the past.
One tale in particular that was brought up by users was the story of young Biden allegedly standing up to a gang called "the Romans" at an all-Black pool in Delaware, where Biden said he worked as a lifeguard. According to the president's 2007 autobiography, Promises to Keep, Biden convinced the gang's leader, "Corn Pop," to put down his straight razor and become friends.
That story particularly gained attention in 2019 when a video of Biden retelling it went viral, with the president telling a crowd at a ceremony in 2017 that "Corn Pop was a bad dude."
Conservative media personality Ben Shapiro reposted the clip of Psaki's commentary Tuesday afternoon, writing on Twitter, "To be fair, 'Corn Pop was a bad dude' is a good story."
Jason Mattera, a conservative author and activist, also reposted Psaki's clip, noting, "...especially his 'amazing' stories of corn pop and attending a HBCU."
Rudy Giuliani also poked fun at Biden's story in a tweet, writing, "The State of the Union Address is tonight. Now—nobody tell Corn Pop, you got it, Jack?"
MSNBC columnist Eric Michael Garcia came to Biden's defense in a response to Shapiro's criticism, however, saying that the president's tale of Corn Pop "WAS a true story and it actually showed how Joe Biden built a strong relationship with Delaware's Black community."
When asked in a separate tweet if the story is made fun of because people don't believe Biden was telling the truth, Garcia noted that "a lot of conservatives (and even some leftists) think it was an example of Biden being senile and sundowning or whatever."
"But yes, 'Corn Pop was a bad dude' is a hilarious string of words," Garcia added.
Newsweek has reached out to Psaki for comment.