When is the State of the Union? Start Time and Everything to Know About President's Annual Address to Congress
President Donald Trump's third-year State of the Union address is set for Tuesday at 9 p.m. EST, a week after the originally scheduled date of January 29, having been postponed due to a government shutdown showdown with House Speaker Nancy Pelosi and congressional Democrats.
In keeping with tradition, Trump will deliver his address to a joint session of Congress in the chamber of the House of Representatives.
In a January 3 letter, Speaker Pelosi invited Trump to deliver his State of the Union on the last Tuesday of the month, but in a January 16 letter recommended delaying the address until after the government reopened, "given the security concerns" during the partial government shutdown.
"Since the start of modern budgeting in Fiscal Year 1977, a State of the Union address has never been delivered during a government shutdown," Pelosi wrote.
Trump replied in a letter of his own on January 23 that the Department of Homeland Security and the Secret Service indicated "there are no security concerns" around the State of the Union and he intended to honor Pelosi's initial invitation. "It would be so very sad for our Country if the State of the Union were not delivered on time, on schedule, and very importantly, on location!" Trump wrote.
Pelosi replied to Trump the same day, telling him the House would not consider a concurrent resolution authorizing his address in the chamber until government reopened. After that rejection, Trump backed down.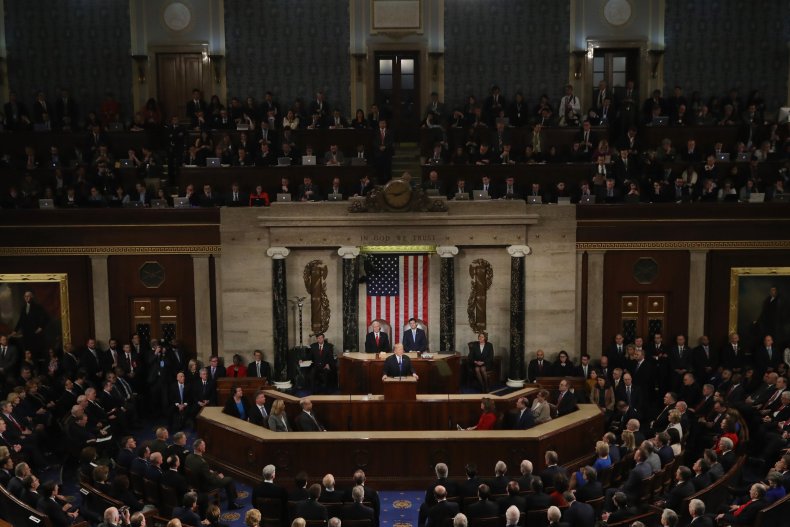 This marks the first time in United States history a president has postponed the State of the Union due to a standoff with Congress. President Ronald Reagan delayed his address in 1986 after the Challenger space shuttle exploded, killing all seven crew members. Prior to the advent of television and radio, past presidents submitted a written address, rather than giving a speech before Congress.
The U.S. Constitution states that the president "shall form time to time give to the Congress Information of the State of the Union, and recommend to their Consideration such measures as he shall judge necessary and expedient."
Trump's address on Tuesday will mark the 96th in-person annual address. His speech will apparently call for unity across party lines and focus on border security and immigration, among other issues.
"Together we can break decades of political stalemate," Trump will say, according to an excerpt of the address that the White House has released. "We can bridge old divisions, heal old wounds, build new coalitions, forge new solutions and unlock the extraordinary promise of America's future. The decision is ours to make."