State of the Union: A Presidential Trump, but Will It Last?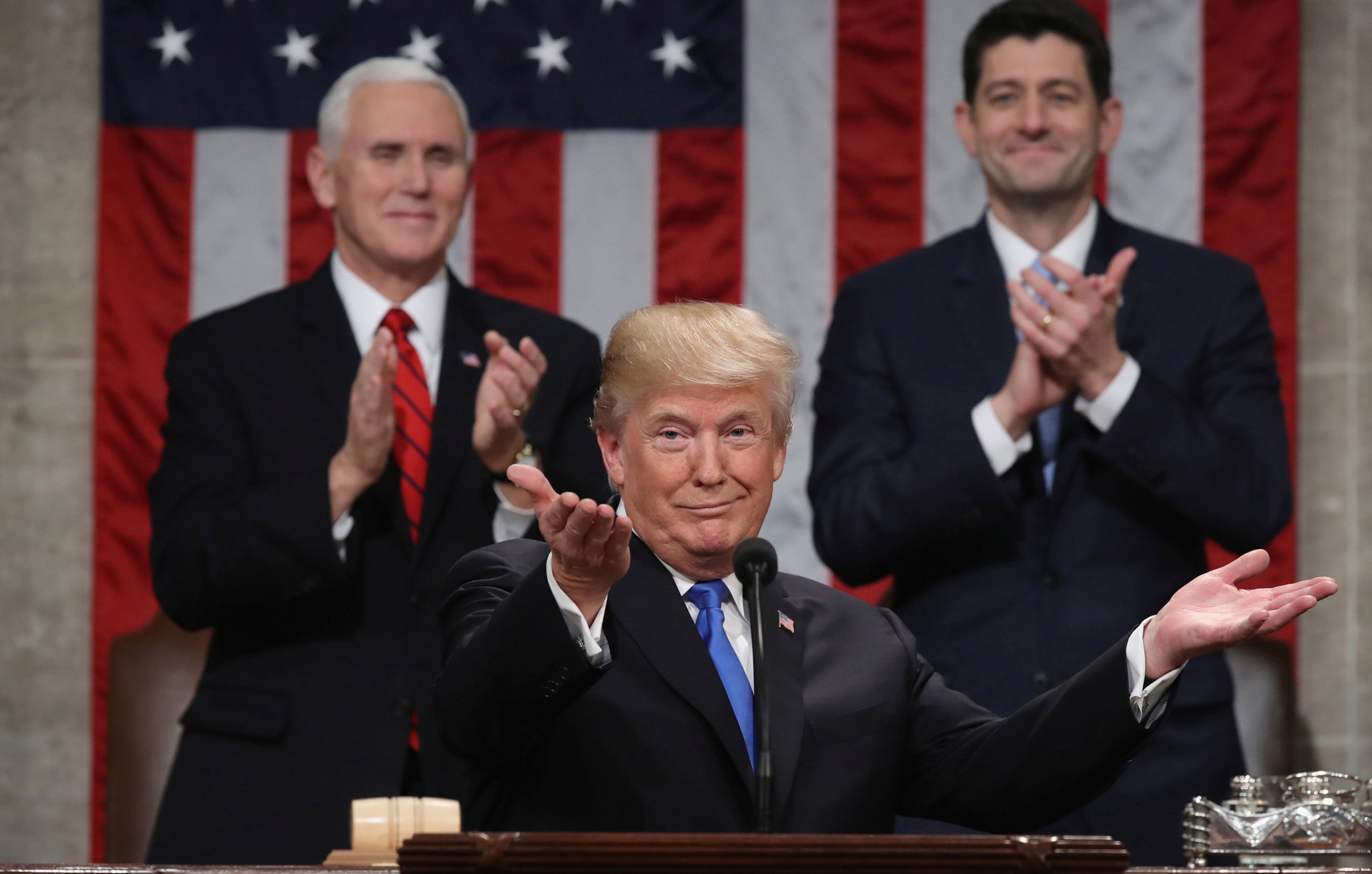 Eleven months ago, on February 28, 2017, President Donald Trump delivered a speech to a joint session of Congress that was, effectively, his first State of the Union address. Even detractors were awed by his bearing, a marked contrast from his boisterous campaign rallies. Something new was afoot.
"Presidential Trump," declared a CNN headline. "With a new tone, Trump declares ambitious vision for the country," it also said.
Van Jones, the CNN contributor who'd made an emotional show of dismay on election night, alluded to Trump's heartfelt mention of a military widow in the audience. "He became president of the United States in that moment," Jones said.
The following Saturday, Trump woke the world with tweets announcing that President Barack Obama had his "wires tapped." The contention that the previous administration had surveilled Trump's campaign was unfounded, the tweets based on a dubious Fox News report. By the time a stunned public digested the implications of Trump's charge, the presidential tone of late February was forgotten.
Then, two months later, Trump fired FBI Director James Comey, and Washington was plunged into a world of conspiracy, accusation, paranoia and recrimination from which it has not recovered. More and more, the well-crafted, well-delivered speech in February seemed less like the arrival of a more sober Trump than a feint to a political reality that would never be.
On Tuesday night, Trump delivered his first true State of the Union address. The nearly 80-minute speech made few of the shows of unity White House officials had promised in a preview of the speech several days before—even if the remarks were largely free of bluster. The speech probably did little to move either supporters or detractors of the president. Both sides had plenty of material for their fundraising emails.
"Tonight, I call upon all of us to set aside our differences, to seek out common ground, and to summon the unity we need to deliver for the people. This is really the key. These are the people we were elected to serve," Trump said near the beginning of the speech, which was the third-longest State of the Union on record. He proceeded to celebrate last year's passage of a $1.5 trillion tax cut while also calling for support of his immigration proposal and massive infrastructure plan, which may cost $1.7 trillion.
For supporters of Trump, his ability to stick to a script and deliver reliable Republican talking points—sound economy, strong foreign policy—was more than enough. "Trump Shows Heart," said a headline on the Drudge Report, the website that serves as a nexus of conservative punditry and news.
"This speech represents the presidential performance that Trump observers have been waiting for—brilliant mix of numbers and stories, humility and aggressiveness, traditional conservatism and political populism," wrote Republican pollster Frank Luntz on Twitter. "Only one word qualifies: Wow."
Others, however, were neither impressed nor convinced. Foremost were the Democrats listening the House chamber, many of whom wore black, in solidarity with victims of sexual assault but also in pointed protest of Trump. They sat glumly as he described his efforts to severely restrict both legal and illegal migration. And they certainly didn't clap when he announced his intention of keeping open the military detention facility at Guantánamo Bay, Cuba.
"Ugh," wrote Senator Christopher Murphy, Democrat of Connecticut, on Twitter. "If you were hoping for a unifying speech, you got the opposite." He added that the speech contained an "over the top demonization of immigrants."
"After a year of erratic leadership, hateful rhetoric, and broken promises, President Trump's actions in the days ahead will speak louder than words read from tonight's teleprompter," tweeted Senator Robert Menendez, Democrat of New Jersey.
Many liberals share the view expressed by Menendez. They had hoped, early in Trump's presidency, that he would govern as a pragmatic, results-oriented centrist. Instead, his earliest initiatives—a ban on travelers from some Muslim-majority countries, efforts to repeal the Affordable Care Act—made clear that he was no Republican in name only, as some hoped and others fear.
That gives Democrats little incentive to work with Trump, who are plainly unconvinced by his gestures at unity and bipartisanship. If they had once awaited a presidential "pivot," they've now accepted that Trump is impulsive and driven by instinct, perfectly willing to speak his mind on Twitter without much concern for the consequences. The looming midterm primaries make any efforts to work with a president loathed by the Democratic base unfathomable.
Trump faithfully delivered the speech whose text was released by the White House earlier this evening. But there was a dutiful quality to the address. Trump seemed to lack enthusiasm. Even the Republicans in the audience seemed relatively muted.
That may be because of developments Trump didn't mention, namely the investigation into his campaign's collusion with Russia, which is being led by special counsel Robert Mueller. Republicans on Capitol Hill have been furiously working to discredit Mueller, his investigators and their findings—even as Democrats grow convinced that Mueller's findings could be so damning that they lead to Trump's impeachment. Trump is said to be consumed by the probe, even as he insists no collusion took place.
Also reportedly taking a toll on Trump is the recent revelation that he had a romantic relationship with an adult film actress, Stephanie Clifford, who used the screen name Stormy Daniels. She was reportedly paid $130,000 by a Trump personal lawyer, Michael Cohen, to stay quiet about the 2006 dalliance. Despite that, detailed reports about their romantic involvement have been in the news for days, and have reportedly caused friction between the president and first lady Melania Trump.
The year, in other words, has not begun auspiciously for Trump. And now that he has been in office for a full year, Americans are unlikely to be satisfied by a "presidential" tone. They need him to be a president too—and for more than just one evening.