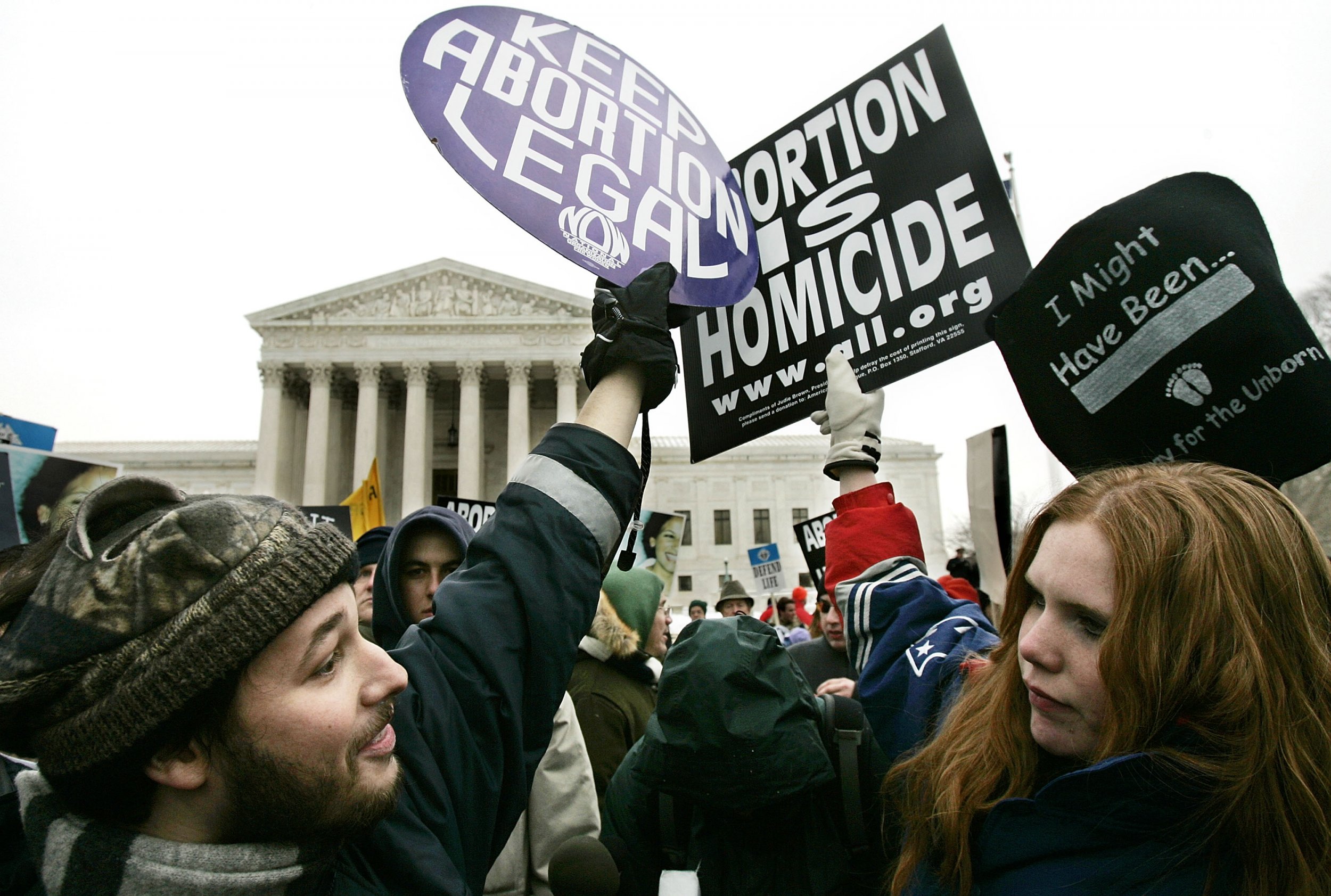 The United States could see its first state to lose abortion access in 2018—adding to a bleak landscape where regions of the country only have one in-state clinic offering the procedure.
There are six states that rely on a sole abortion provider: Kentucky, West Virginia, Wyoming, South Dakota, North Dakota and Mississippi. A handful of those states, which all carry Republican-controlled legislatures, are bracing for additional restrictions on abortions before the 2018 midterm elections.
The fight for Kentucky's last abortion provider — the EMW Women's Surgical Center in Louisville — will come down to a pending decision from U.S. District Judge Greg Stivers anticipated in 2018. Planned Parenthood Director of External Affairs in Kentucky Tamarra Wieder said there is no timeline for Stivers' decision, but abortion rights activists fear legislative retaliation from anti-abortion lawmakers if the verdict allows the EMW Center to remain open.
"We are anxiously awaiting the judge's ruling," Tamarra Wiedler told Newsweek. "I'm hoping he doesn't rule until after the legislative session because I strongly believe we will see something from the legislature, if they are still able to file a bill, to counteract the ruling from the court if it's in favor of the clinic."
There are two key regions in the United States where a single abortion clinic closure would represent a large victory for anti-abortion activists: the first state in modern American history to not have an abortion clinic. The pending judicial decision in Kentucky is why all eyes are on the state and its verdict — but the concern of losing abortion access applies across the southeastern U.S. region.
Kentucky's EMW Women's Surgical Center Case
The legal battle in Kentucky is a fight between the state government and the EMW Women's Surgical Clinic in Louisville. The local Planned Parenthood affiliate and the American Civil Liberties Union signed on as plaintiffs in the high-stakes court case, which started in September 2017.
The legal challenge began in March 2017 when the state sent the clinic a notice claiming it was not authorized to perform abortions because it lacked paperwork properly outlining its hospital services. That policy — also referred to as "transfer and transport agreements" stipulates that abortion clinics have emergency hospital services available within a reasonable distance from their building.
After receiving the notice, the EMW Women's Surgical Clinic sued the Governor. The clinic said it had previously received approval to provide abortions through June 2017. The state's second-to-last clinic—the EMW Clinic in Lexington—closed in January 2017 after the state denied its abortion license.
The case went to trial for a federal hearing in September for three days, ACLU of Kentucky legal fellow Heather Gatnarek told Newsweek. The EMW Center argued that the state's regulations create an unconstitutional, "undue burden" on a woman's right to an abortion. The state countered by saying Kentucky has the right to regulate abortion to keep women safe.
Each party submitted a post-trial briefing "measuring hundreds of pages" to the Judge Stivers on November 21, 2017, Gatnarek told Newsweek. He under no specific timetable to issue a decision on whether Kentucky will keep its final abortion provider, but the ruling is anticipated in 2018.
"If we win, abortion clinics would still need licenses in the state, but not transfer agreements," Gatnarek told Newsweek.
The clinic is allowed to continue performing abortions while the judge deliberates.
"Where are patients going to go?"
Just east of Kentucky, its bordering state of West Virginia could see legislative attacks in 2018 on its final abortion clinic, according to The Guttmacher Institute, a research group that supports abortion rights. It's second-to-last clinic, the Kanawha Surgicenter, closed in 2017 when the primary doctor moved.
Its final clinic, the Women's Health Center of West Virginia, is about one hour outside Kentucky.
"It's of note that we border West Virginia," Wieder told Newsweek. "We're surrounded by states that oppose abortion access. If Kentucky and West Virginia shut down their clinics, where are patients going to go? To have states that touch each other not have access is extremely frightening."
The GOP West Virginia Senate and House majority and minority leaders were not immediately reachable for a comment on 2018 legislative goals.
Further south of Kentucky, the Jackson Women's Health Organization remains Mississippi's final abortion clinic. The clinic calls itself "The Pink House" and it has weathered several legal battles against the Mississippi State Legislature, most recently in 2014 when a judge upheld that "a state cannot lean on its sovereign neighbors to provide protection of its citizens' federal constitutional rights" to abortion. Since the loss, the legislature has remained quiet, Elizabeth Nash, the senior state issues manager for Guttmacher, told Newsweek.
"The legislature hasn't been particularly active for the past couple of years," Nash said. "Mississippi has so many restrictions it is hard to imagine what they might do, aside from ban abortion. And some states are looking to do that, anticipating [Supreme Court] changes."
The legislative fights are rarely as simple outright abortion bans which would violate the 1973 Supreme Court decision in Roe v. Wade that determined a person may choose to have an abortion until a fetus becomes viable, or as early as 24 weeks, according to the Supreme Court opinion. Nash said some states are waiting to "force a challenge" to the definition of viability in the Supreme Court case.
"Culture wars are an easy distraction"
The lack of abortion access is mirrored in a Northwest cluster of states—Wyoming, South Dakota, North Dakota—but there are fewer concerns about tightened abortion restrictions there in the 2018 legislative sessions. Nash told Newsweek that North Dakota is not in session in 2018, making new laws impossible, and Wyoming will enter a "budget session" in February 2018 where policy bills are less likely.
There are concerns that anti-abortion policies will be championed in 2018 ahead of midterm elections, particularly in states where Republican voters might be souring against their lawmakers, Wieder said. The "culture wars" tend to help GOP lawmakers keep their base's support, and anti-abortion legislation can become a political litmus test for Republicans in challenging legislative times.
"Culture wars are an easy distraction from other issues," Wieder told Newsweek. "My fear is that when legislation around pensions and budgets get heated, a really controversial abortion bill will be proposed to take attention off it. The landscape is already bleak. It terrifies me to think what will happen if a state loses all access."