Staten Island Bar at Center of Anti-Lockdown Protests, Reopens, Defying De Blasio
Mac's Public House, a focal point of anti-lockdown protestors in Staten Island, New York City, has re-opened in defiance of shutdown restrictions issued by both city Mayor Bill de Blasio and the New York State Democratic Governor Andrew Cuomo.
Although the bar was ordered to close by the city Health Department on November 27, the bar operated on Friday night, opening at 8 p.m. and closing at 10 p.m. local time.
The bar's co-owner, Danny Presti, was arrested on Tuesday and charged with obstruction of government administration after he continued to operate the bar in defiance of state rules. The rules requires bars and restaurants in areas with COVID-19 positivity rates above 5 percent to only offer outdoor dining. As of December 3, Staten Island's positivity rate is 8.06 percent, according to city data.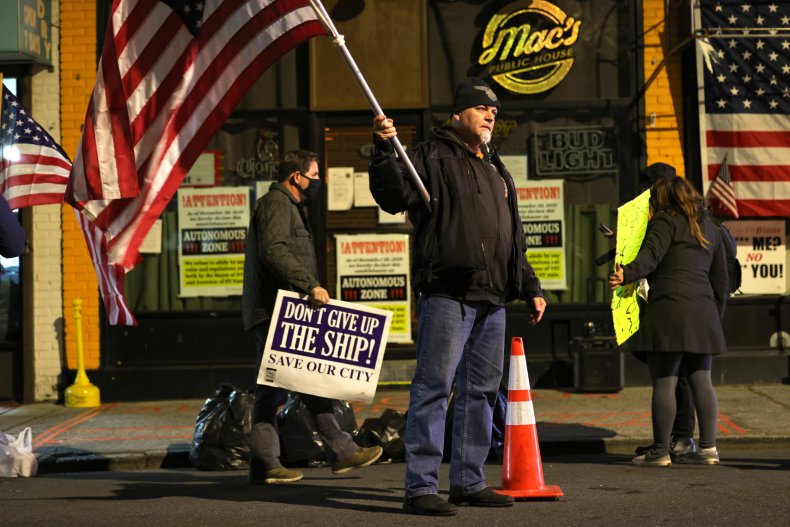 Presti and co-owner Keith McAlarney had continued allowing people to dine inside and tried to skirt the law by declaring the bar as an "autonomous zone" and offering "free" food and drink with a "suggested donation" to cover its usual prices.
However, the State Liquor Authority said the offer of "free" food and drink didn't allow the bar to skirt state laws required for its business to maintain its liquor license for serving alcohol. The state revoked the bar's liquor license on November 27, and the city Health Department ordered it to close.
On Wednesday night, protesters gathered in front of the bar to demonstrate against the lockdown orders. Among them were members of The Proud Boys, a self-described "male chauvinist" group that has ties to white supremacists. The borough of Staten Island is more Republican-leaning than the city's other boroughs, according to The New York Times, potentially explaining some of its residents' support of anti-lockdown sentiment.
"We are not getting the support that we need, the funding, anything from our local, state governments, all governments, for what we need, and we need our livelihoods back," Presti told Spectrum News. "If they're not going to give it to us, we're going to take it back at this point because we have no confidence in them to do what needs to be done."
Jack Sterne, a spokesman for the governor told the Times, "Breaking the law and putting your neighbors' lives at risk during a global pandemic to make a political statement is simply unacceptable."
Mitch Schwartz, a spokesperson for the mayor, told the publication, "COVID-19 doesn't respect autonomous zones, and neither does the sheriff—there are consequences for endangering your neighbors in a pandemic."
Presti and McAlarney have said that government shutdowns are harming businesses and that patrons should be able to decide for themselves whether to dine in public.
Newsweek contacted Mac's Public House for comment.