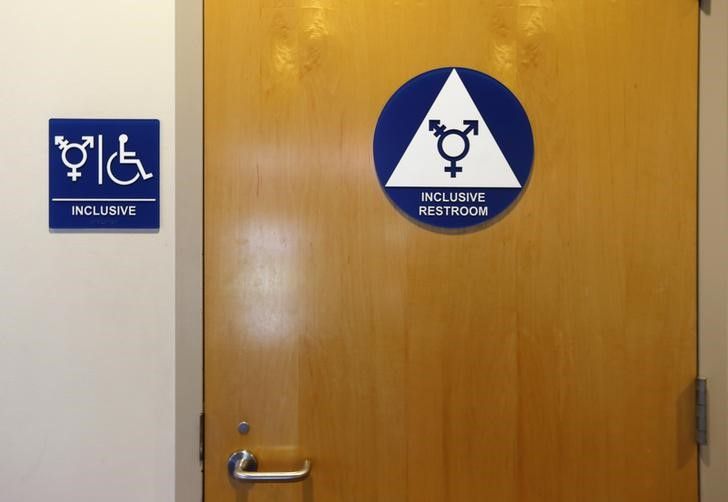 The battle over America's bathrooms has raged into 2017, as advocates in more than half a dozen states are seeking to enact "bathroom bills" that would require people to use the facilities that correspond to their sex assigned at birth.
Even though North Carolina Governor Pat McCrory was defeated in November's election, the controversial legislation the Republican signed last year placing restrictions on who can use sex-segregated bathrooms in the state, House Bill 2, remains in place. Now a number of legislators in other states are putting forward their own cases to clamp down on who uses what bathrooms, and in the process targeting the transgender and gender non-binary communities.
The National Conference on State Legislators said on Thursday that legislation has been introduced recently in eight states, including Texas, to restrict the use of spaces such as bathrooms, changing facilities, shower rooms and locker rooms by requiring that they be used according to a person's biological sex.
On Thursday in Texas, Senate Bill 6, aka the Texas Privacy Act, was filed. The state's lieutenant governor, Dan Patrick, a conservative Christian, said the bill would protect the privacy of people living in the state. The bill also would allow the Texas attorney general to issue fines of between $1,000 and $1,500 per day for a first offense—and between $10,000 and $10,500 a day for the second offense—to school districts, charter schools and state agencies that violate the law. You can read the contents of the bill here.
Related: Critics says Texas 'bathroom bill' targets LGBT rights
"We know it's going to be a tough fight. The forces of fear and misinformation will pull out all the stops, both in Texas and nationally," Patrick said at a press conference in Austin while unveiling the bill. "You can mark today as the day that Texas is drawing a line in the sand and saying no. The privacy and safety of Texans is our first priority, not political correctness."
The Texas effort comes despite a warning from the Texas Association of Business that said the state could lose between $964 million and $8.5 billion and nearly 200,000 jobs as a result. North Carolina suffered economic losses after its House Bill 2 became law, including the relocation of major sporting events out of the state and some companies pulling back from planned job growth. Patrick said critics were dispersing "fake news" about the risk to Texas's economy, adding that North Carolina is "doing just fine."
Following the furor that erupted last year over North Carolina's law, the U.S. Department of Education issued a letter providing guidance to schools on Title IX requirements. The letter said that transgender students in public schools should be allowed to use sex-segregated facilities that are based on their gender identity, which is not the same as sex assigned at birth.
"Bathroom bills" have become something of a national phenomenon in recent years: Between 2013 and 2016, bathroom bills or similar legislation were considered in more than two dozen states. Colorado, Florida, Kentucky, Massachusetts, Minnesota, Missouri, Nevada, Texas and Wisconsin all considered bathroom bills last year. Still, North Carolina remains the only state that has enacted such a law. Below are the states with prefiled and pending bathroom bill legislation.
Minnesota
Introduced on Thursday, House File 41, aka the Student Privacy Act, would require that all restrooms, locker rooms, shower rooms and changing rooms used by multiple students "be designated for the exclusive use" of male and female students only. The bill defines sex as the sex assigned at birth and determined by chromosomes. The bill, which is pending, allows schools to provide special accommodations for students in certain circumstances, including a single-occupancy stall.
Kentucky
House Bill 106 was introduced on January 3 by Democratic State Representative Rich Nelson. Under the bill, the executive branch of the state government would require every multi-occupancy bathroom or changing facility to be used by people according to the gender corresponding to that listed on their birth certificates. The law would also require cities, counties and local municipalities to "designate every multiple occupancy bathroom or changing facility it controls to only be used by persons based on their 'biological sex.'"
Nelson, who also introduced a religious freedom bill this week, said that while he was not aware of any current issue with bathrooms in Kentucky, "we want to be vigilant about what could happen." You can read the contents of the bill here.
Missouri
Senate Bill 98, introduced on January 4, states that all school restrooms, locker rooms, and shower rooms used by multiple students must be designated for and used by male or female students only. The bill states that "at no time shall a student be allowed to access a public school restroom, locker room, or shower room designated for use by the opposite biological sex." Read the bill here.
Making sure all the bases are covered, Missouri also has a pending House Bill 202, which "requires all public restrooms, other than single occupancy restrooms, to be gender-divided." According to the bill's text, HB 202 is the same as HB 1847, which was introduced in 2016.
South Carolina
South Carolina's House Bill 3012, prefiled in mid-December, says local governments cannot pass laws allowing people to use public accommodations, bathrooms and changing rooms regardless of their biological sex. Local governments would be allowed to pass laws requiring people to use such facilities based only on their biological sex.
Virginia
The state prefiled House Bill 1612 on Tuesday. It says people are not allowed to enter opposite-sex facilities, "subject to certain exceptions." Also known as the Physical Privacy Act, it was filed in the Virginia House of Delegates by Delegate Bob Marshall.
On Thursday, Virginia Governor Terry McAuliffe signed an executive order prohibiting the state "from doing business with entities that discriminate based on sexual orientation or gender identity." He called his policy "another giant step forward in our fight to ensure that all Virginians receive the full benefits of their citizenship, without regard to their sexual orientation or gender identity."
Alabama
Senate Bill 1 was prefiled by Alabama Senator Phil Williams in May; it is a similar legislative effort couched in the language of "privacy." Under the bill, businesses with restrooms, bathrooms or changing facilities would have to choose between three options: have facilities used by only one person at a time; have facilities used by multiple people of the same gender; or have an attendant stationed outside the bathroom "to monitor the appropriate use of the restroom and answer any questions or concerns posed by users."
The bill also says bathrooms and changing rooms are "places of increased vulnerability and present the potential for crimes against individuals utilizing those facilities," including voyeurism, exhibitionism, molestation, and assault and battery.
Washington
Prefiled in early December, House Bill 1101 has some of the harshest language of any "bathroom bill." It states that a person who is "preoperative, nonoperative, or otherwise has genitalia of a different gender from that which the facility is segregated" can, by law, be denied the use of a bathroom. The bill doesn't say exactly how that would be determined.