Following an announcement Wednesday, New Mexico has become the first state to request volunteers from the National Guard to serve as emergency substitute teachers amid staffing shortages caused by COVID across the state.
Gov. Michelle Lujan Grisham said at a press conference Wednesday that the state needs an estimated 800 substitute teachers and daycare workers for anything from one class period to an entire day of teaching, according to The Associated Press.
A spike in Omicron cases has caused a shortage of teachers and other school employees at several schools. Around 60 districts shifted to remote learning since the return from winter break, according to The Albuquerque Journal.
The newspaper also reported that in addition to COVID, a 40 percent spike in retirements among New Mexico school employees is worsening a shortage the state has reported in recent years as schools have struggled to recruit and retain teachers. New Mexico schools had about 1,000 openings at the start of this school year, compared to 570 the year prior.
Lujan Grisham said state employees are also encouraged to apply for the temporary program, since substitutes can be approved after they take an online training course and pass a background check. She said state officials hope to approve and get as many as 500 volunteer Guard members and state employees into classrooms as soon as possible, the AP reported.
The governor has also pushed for legislation currently under consideration in the state legislature to raise pay for public school employees and approve raises for teachers at various stages of their careers.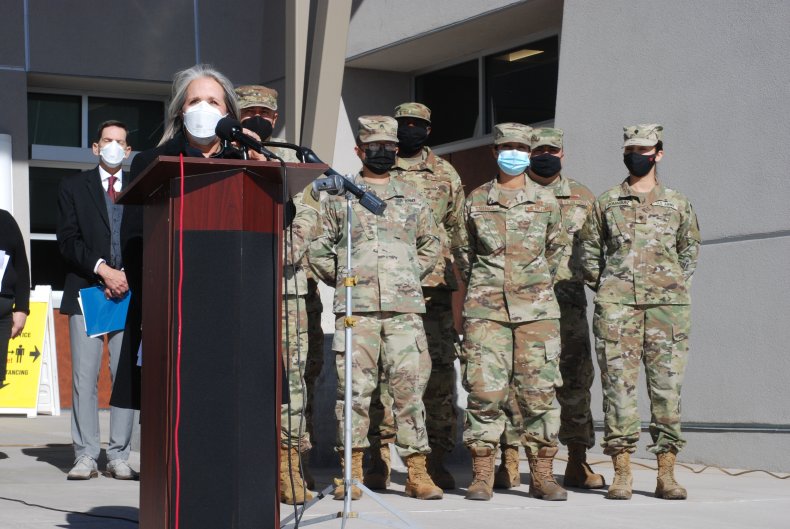 State employees would receive the equivalent of paid leave days while teaching, and National Guard members would be paid their normal rate for days classified as "active duty," the Journal reported.
However, the plan announced by Lujan Grisham does not have unanimous approval among state lawmakers.
"She wants to be a hero when her administration does something unusual ... just to cover up her failure to put together a plan that works," Republican House Minority Leader Jim Townsend said, according to the AP. "They're not teachers. That's not what they were trained to do."
Several states across the U.S. have deployed National Guard troops in recent months to help staff hospitals hit particularly hard by COVID or administer vaccination and testing sites, including Washington, Ohio, Maryland and Georgia, among others.
Tuesday, Oklahoma Gov. Kevin Stitt said he planned to sign an executive order that would allow state employees to work as emergency substitutes, the AP reported. The move was criticized by some state lawmakers considering Stitt has worked to prevent schools from being able to institute mask mandates to prevent the spread of COVID among students and teachers.