States Can Save the Lives of New Mothers by Taking a Single Step | Opinion
Gabriela's* head sunk, her eyes darting away, as she described her relapse. Three months ago, she had given birth to a beautiful baby boy. But she increasingly found herself feeling empty and depressed, unable to handle the challenges of being a single new mother. In a moment of weakness, her struggles with substance use resurfaced.
As a medical student rotating at my hospital's OB/GYN substance use disorder clinic, I met many women like Gabriela. Most were from marginalized communities, having little social support or depending on government programs like Medicaid and SNAP to access basic services like health care and food. Some, unfortunately, would lose their Medicaid coverage a few months after giving birth.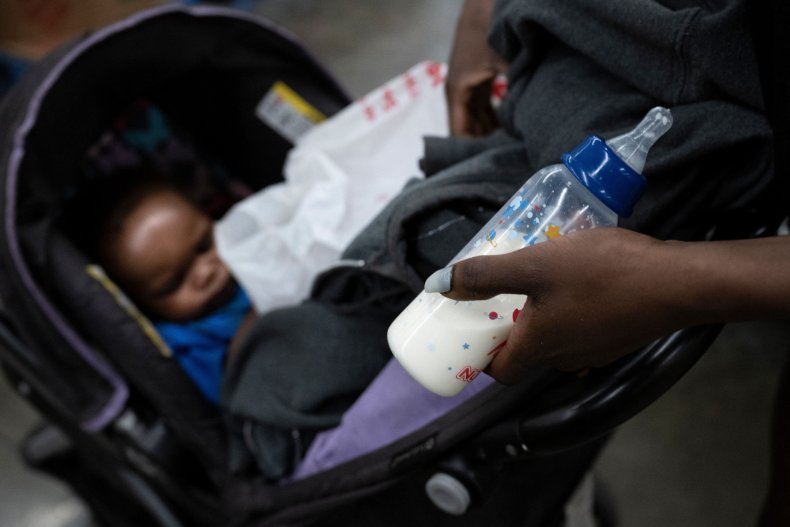 The Consolidated Appropriations Act of 2023, building on the American Rescue Plan, permanently allowed states to extend Medicaid coverage for postpartum women to one year. Yet at least a dozen states have not done so.
While many have discussed why access to care is important for postpartum women, we've overlooked a group for whom postpartum coverage is lifesaving. For women with mental health or substance use disorders, the year after childbirth is the deadliest. States who have held out should act now to extend postpartumMedicaid coverage.
Substance use often skyrockets in the months following birth. A loss of health insurance coverage (and with it, access to substance use disorder treatment) in the postpartum period is commonly cited as a trigger for high rates of relapse. Substance use-related deaths closely follow these trends, peaking 7-12 months postpartum.
Existing racial/ethnic disparities in health outcomes are also being exacerbated. Growing evidence shows that the opioid epidemic has worsened in recent years and disproportionately affects communities of color. Racial/ethnic minorities are less likely to have received treatment for substance use disorder, often due to underlying social factors such as lacking health insurance or not having transportation to a doctor's office.
Additionally, behavioral health issues rarely occur in isolation—many women with substance use disorder struggle with mental health issues. Nearly 20 percent of postpartumwomen have postpartum depression, with Black and Hispanic women twice as likely to suffer from postpartum depression compared to white women.
Medicaid is uniquely positioned to address behavioral health issues among postpartum women. Medicaid is the largest insurer in the United States and pays for more than 40 percent of all births in the U.S. Medicaid is also the largest payer of behavioral health services, serving as a critical safety net for low-income individuals with mental health or substance use disorders. Without Medicaid coverage, many would be unable to afford or access needed treatment. And given that more than half of Medicaid members are Black or Hispanic, Medicaid can be a powerful tool in promoting racial health equity.
The case for expanding Medicaid postpartum coverage extends beyond patients with mental health issues or substance use disorders. The U.S. continues to face a maternal mortality crisis. We have the highest maternal mortality rate among all high-income countries. Women of color are again disproportionately affected. Black women are three times as likely as white women to die due to pregnancy-related complications during pregnancy itself or the postpartum period. And as the CDC points out, nearly 12 percent of these deaths occur between 43 and 365 days after giving birth, suggesting that 60 days of postpartum coverage is likely insufficient.
So why haven't states like Arkansas, which has the highest maternal mortality rate in the U.S., extended Medicaid postpartum coverage? Partisan politics are likely to blame. All states holding out, except Wisconsin, have Republican governors. But several other Republican-led states have extended postpartum coverage, citing that covering health care for new mothers is pro-life. Similarly, budgetary concerns are largely moot. Federal matching funds would cover at least 56 percent of costs, with nearly half of these states receiving more than 70 percent. And given that nearly all these states have expanded general Medicaid coverage, extending postpartum coverage would work well in tandem to ensure access to care for postpartum women.
The argument for extended Medicaid postpartum coverage is clear. For my patients like Gabriela, having health insurance coverage and the ability to access needed care may be the difference between life and death. Extending Medicaid coverage to one year postpartum would play a vital role in building a more comprehensive behavioral health system, improving our country's maternal care, and leveling the playing field for women of color. Our nation's mothers deserve better.
Matt Alexander is an MD/MPP student at Virginia Commonwealth University and Harvard University, where he is a Jerome Grossman Healthcare Policy Fellow. He is also a health policy and health services researcher, including helping lead the evaluation of Virginia's Medicaid expansion.
*Patient name has been changed to protect privacy
The views expressed in this article are the writer's own.