States Can't Deny Schools Who Enforce Mask Mandates Federal Funds: Education Secretary
U.S. Education Secretary Miguel Cardona said Sunday that state governments cannot limit public schools who enforce mask mandates from receiving federal funding amid an escalating battle over school masking in Florida.
Emboldened by support from the Biden administration, a sixth school district in Florida on Friday defied Republican Governor Ron DeSantis' ban on mask mandates. Cardona has vowed that the federal government would "assist any districts facing repercussions" after Florida's Board of Educators threatened to withhold state funding for school districts that refused to reverse their mask requirements.
Schools "do not have to get the green light from the governor" to use these federal funds and "I call these superintendents personally to let them know that," Cardona said on NBC News' Meet the Press Sunday.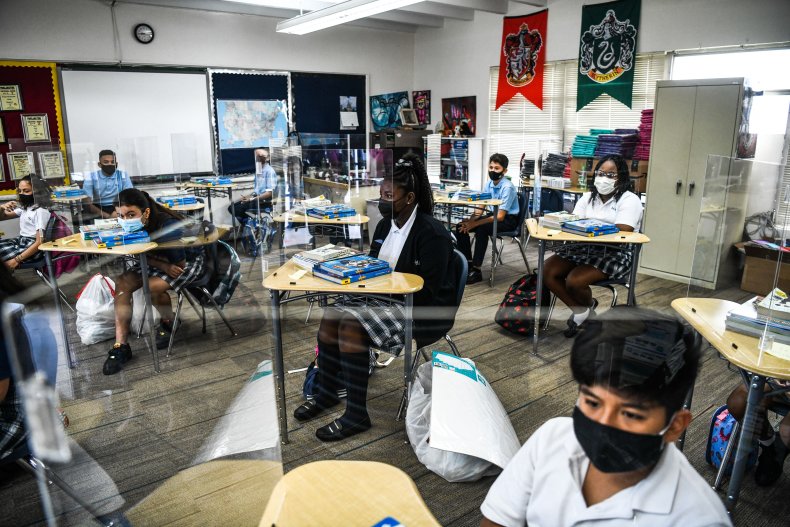 "Across the country, we have children returning to school and we're excited about that but we have to do everything in our power to keep them safe," he said. "I spoke to the superintendents of those two communities and I let them know that we have their back. And yes, they can draw down on the funds that were promised to them so they can safely reopen schools."
The Sarasota County School Board, which is in a heavily Republican-leaning area of the state, dealt a blow to DeSantis as it became the sixth district to require masks for educators, parents, students and vendors.
Board member Shirley Brown, who voted in support of the mask mandate, told Newsweek that coronavirus case numbers were too high not to impose a mandate. By the end of the month, the school district's number of cases may exceed the total number from 2020, she said.
The Florida Department of Education on Friday gave two school districts in Alachua and Broward counties 48 hours to reverse their mask mandates to avoid penalties. The state government will withhold 1/12 of the salaries of board members who don't comply every month "until each district demonstrates compliance," the department said in a statement.
Cardona affirmed the Biden administration's support for districts opposing DeSantis on Friday, saying we "stand with them and with all educators who put student and staff health and education first."
Florida has led the U.S. in new coronavirus cases in recent weeks, with the highest rate of hospitalizations among children in the country.
Supporters of mask mandates say they are necessary to limit the spread of the virus, while DeSantis advocates for the right of individuals and parents to choose.
The governor cast doubt on the effectiveness of mask wearing to control community spread of the virus at a summit on Wednesday. "Politicians want to force you to cover your face as a way for them to cover their own asses," he said. "Even though it's not proven to be effective."
Newsweek reached out to DeSantis' office for comment.