States and Colleges With The Most Players in This Year's Super Bowl
There are a total of 109 former college football players between the rosters of the two teams playing Super Bowl LV next week in Tampa, Florida. Players from the Kansas City Chiefs and Tampa Bay Buccaneers represent colleges from all across the landscape and through various divisions of the NCAA.
The players in Super Bowl LV played their high school ball in 27 different states, and there's one from Canada.
Amazingly, there are no former Alabama Crimson Tide or players Ohio State Buckeyes on either roster, but each team has a player who played for the Colorado State University-Pueblo ThunderWolves in NCAA Division II.
LSU leads all colleges with six former players just one year after they were tied for the most at Super Bowl LIV with five former Tigers.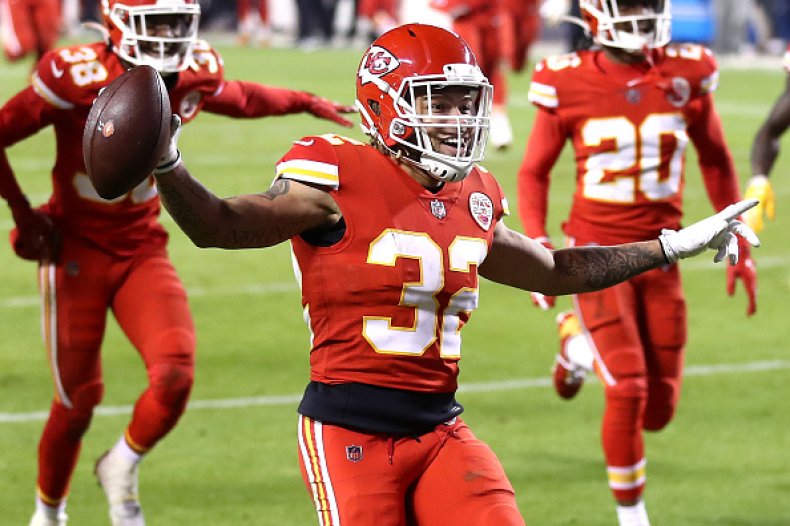 Super Bowl LV will be Sunday, February 7 at Raymond James Stadium in Tampa. Two players—Kansas City's Austin Reiter and Tampa Bay's Jason Pierre-Paul—are returning to the stadium where they played their college home games for the University of South Florida.
Meanwhile, each team has a member who played their high school football in the Tampa area. Chiefs wide receiver Byron Pringle went to Robinson High in Tampa and Buccaneers offensive lineman went to Palm Harbor University High.
The Buccaneers will be the first team in NFL history to play a Super Bowl in their home stadium.
The state of Florida leads the way with 13 players who played high school ball, followed by Georgia and Pennsylvania with eight apiece.
Here's the breakdown of players by college:
6 — LSU
4 — Clemson, Iowa, Michigan
3 — Central Michigan, Minnesota, Mississippi State, Nebraska, Penn State, South Carolina, Texas A&M
2 — Auburn, Colorado State-Pueblo, UConn, Eastern Michigan, Florida, James Madison, Michigan State, Middle Tennessee, Missouri, Pitt, USF, Tulane, Washington
1 — Appalachian State, Arizona, Arkansas, Assumption, Bowling Green, BYU, Cincinnati, Colorado State, Duke, Florida State, Georgia, Georgia Tech, Grand Valley State, Harvard, Hawaii, Hobart, Illinois, Kansas State, Kentucky, Laval, Louisiana Tech, Missouri S&T, North Carolina Central, North Carolina State, North Dakota State, Ohio, Oklahoma, Old Dominion, Oregon State, Penn, South Carolina State, Southern Arkansas, Southern Miss, Texas, Texas Tech, Troy, USC, Utah State, Vanderbilt, Villanova, Virginia, Wagner, Washington State, West Alabama, Western Illinois
Here's the breakdown by conference:
24 — SEC
19 — Big Ten
10 — ACC
7 — Mid-American
6 — Big 12
6 — Conference USA
6 — Pac-12
4 — Big East
3 — American
3 — Colonial (FCS)
3 — Mountain West
2 — Rocky Mountain Athletic Conference (DII)
2 — Mid-Eastern (FCS)
2 — Missouri Valley Football Conference (FCS)
2 — Ivy League
1 — SoCon
1 — Sun Belt
1 — Independent
1 — Northeast (FCS)
1 — GLIAC (DII)
1 — Great American (DII)
1 — Great Lakes Valley (DII)
1 — Gulf South (DII)
1 — Northeast-10 (DII)
1 — Liberty League (DIII)
Here's the breakdown by state:
13 — Florida
8 — Georgia, Pennsylvania
7 — Mississippi, Texas
6 — California, Louisiana, Michigan
5 — Illinois, Ohio
4 — Missouri, North Carolina, Virginia
3 — Maryland, Tennessee
2 — Alabama, Colorado, Iowa, Massachusetts, Minnesota, Oklahoma, Oregon, South Carolina
1 — Delaware, Nebraska, New York, Utah
1 — Canada
Each team's full rosters:
Kansas City Chiefs
Tampa Bay Buccaneers