All 50 states require most students to have certain vaccinations before attending in-person classes and it's a measure that experts say should at least be considered for the new coronavirus.
Schools across the U.S. are beginning to reopen their doors to students or making plans for the upcoming year after having closed in the spring to slow the spread of the new coronavirus. So far in the school year, schools in at least six states had to once again close down because of COVID-19 infections, prompting concerns about the safety and efficiency of having in-person classes in the fall.
Large populations of school-aged children being vaccinated against the new coronavirus could alleviate some of these concerns, as the risk of a student or faculty member contracting the new coronavirus would be lower. Multiple vaccine candidates are in Phase III trials, but Dr. William Schaffner, a professor of preventive medicine and infectious diseases at Vanderbilt University Medical Center, noted they only involve adults.
If a vaccine proves effective in adults, Schaffner said trials for children would likely start in 2021, so it will be "quite some time" before results show whether a vaccine is also safe for children. In the event a vaccine does prove safe and effective for kids, requiring the inoculation to attend in-person classes is something to think about implementing, he said.
"Just thinking about it in concept, here we are at 50,000 feet looking down on things, it is a notion worth considering for sure," Schaffner said.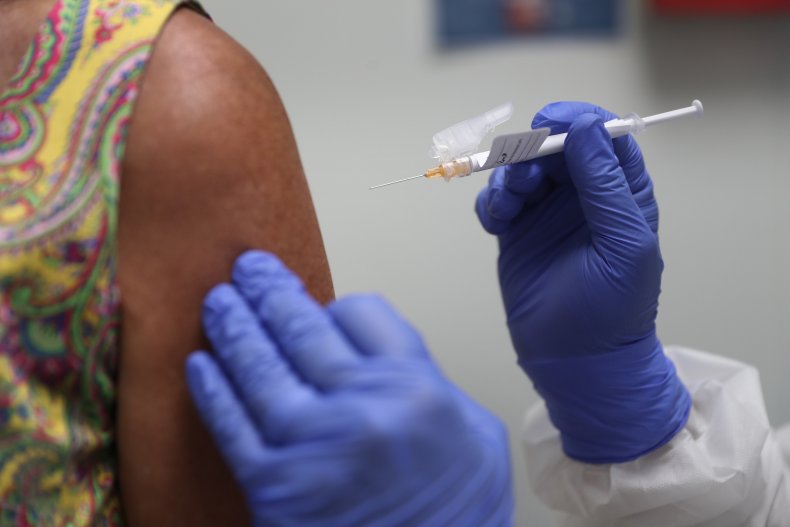 Every expert Newsweek spoke to caveated their comments with the need for the vaccine to be safe and effective. But as long as that's the case, Dr. Aaron Milstone, a professor of pediatrics at Johns Hopkins University, said schools should require it the same way other vaccines are mandated, including exemptions for certain groups.
All 50 states grant exceptions from the mandate for those that cannot be vaccinated due to medical reasons and 45 allow exemptions for religious reasons, according to the National Conference of State Legislatures.
Along with helping to prevent deaths, Milstone said vaccinating large numbers of children prevents "absenteeism" because it keeps people from being out of work, out of school and just generally feeling unwell.
In 2009, there were about 60 million cases of H1N1 in the United States, according to the Centers for Disease Control and Prevention (CDC), the first case being announced in February. The Food and Drug Administration (FDA) approved a vaccine in September of that year and the first doses were administered in October.
By late December, the vaccine was available to anyone who wanted it and although it wasn't required, clinics were set up in schools to vaccinate students on a voluntary basis.
Michelle Kelly, an associate professor of nursing at Villanova University, called the measure "absolutely essential" if a new coronavirus vaccine becomes available. Without assuring access to the vaccination, the messaging about the need to be inoculated won't matter, Kelly said.
Part of the messaging has to focus on the direct risk to each child, according to Milstone. While attempts to convince people to follow social distancing guidelines and practice proper hand hygiene has been geared toward protecting the vulnerable, Milstone said asking people to protect their community isn't always as "powerful" as asking them to protect themselves.
"It's not just, 'Hey be a good citizen and help your community, get your kid vaccinated!' They also need to understand kids can die of this," Milstone said. "Once there's a vaccine that becomes a vaccine-preventable death and that's a lot of burden to live with if you don't vaccinate your kid."
Multiple polls indicated roughly one-third of American adults won't get a coronavirus vaccine if it becomes available. To convey the need to get vaccinated is something that requires public health officials, church and community leaders, school officials, health care providers, advocacy groups and social media influencers, on target, Kelly said.
"The health care community in the U.S. has not always done a good job of spreading one message through many voices," Kelly said. " We must do so now."
As a matter of practicality, Schaffner pointed to the CDC statistic that about four million children are born each year in the U.S., meaning a significant number of doses will need to be procured to require students to be vaccinated.
Dr. Anthony Fauci, director of the National Institute of Allergy and Infectious Diseases, told a Healthline town hall that he doesn't foresee a mandate being put in place for the general public with regard to a coronavirus vaccine. Given that any vaccine is months away, Schaffner said a measure that can be taken now is requiring immunizations for the flu.
Massachusetts has already implemented such a mandate. The state's department of health announced August 19 that all students under the age of 30 must have a flu vaccine by December 31, unless a religious or medical exemption is given.
Lowering the number of flu cases helps prevent health care systems from being overrun with patients. Plus, the flu and new coronavirus have similar clinical symptoms, so Schaffner said those who are vaccinated for the flu are less likely to dismiss new coronavirus symptoms as being the flu, thereby decreasing chances they delay getting tested and spread the virus further.
If a new coronavirus vaccine proves to be safe and effective for children, deciding whether to implement a mandate comes down to "how easy would it be to do this and how much juice do we get for the squeeze," Schaffner said.