A powerful winter storm headed toward the Northeast U.S. and Mid-Atlantic has grounded flights and triggered states of emergency in multiple states as officials brace for blizzards, feet of snow, possible power outages and "thundersnow."
The storm driven by northeastern winds is expected to "wallop" New England and other parts of the Northeast over the weekend, the National Weather Service said Friday. An "explosive cyclogenesis" will occur off the Mid-Atlantic coast Friday evening, according to the service, allowing the formation of an intensive low-pressure storm system known as a "bomb cyclone."
The service has announced blizzard warnings for southern Delaware, central and eastern Long Island, southeastern Connecticut, all of Rhode Island, additional areas of eastern Massachusetts, and parts of eastern Maine.
"Heavy snow rates and strong winds will produce dangerous blizzard conditions along portions of the Mid-Atlantic and New England coasts," the service said in its forecast. "Expect whiteout conditions and nearly impossible travel at times."
Eastern New England will likely experience a "historic major winter storm," the service said, and the snowfall rate could be as high as 2 to 4 inches per hour, with 1 to 2 feet of snow in the region. Coastal areas could see hurricane-force winds of 50 to 60 mph. Also possible for eastern Massachusetts and Rhode Island is "thundersnow," a rare weather event in which thunder and lighting accompany snow instead of rain.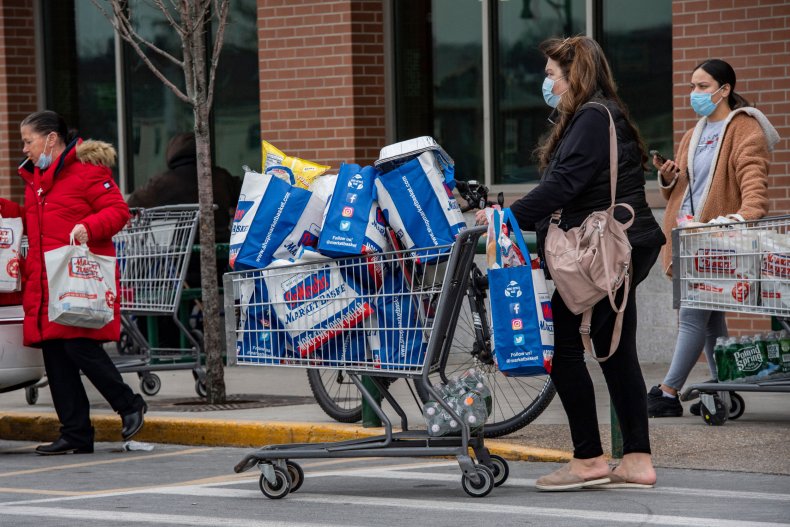 The governors of New York, New Jersey, Connecticut, Rhode Island, Virginia and Delaware have enacted states of emergency in preparation for dangerous road conditions and power outages.
Maryland Governor Larry Hogan instructed the National Guard to place 125 soldiers on active duty to assist with the response, in addition to 50 tactical vehicles for evacuation transportation.
In a statement, Hogan urged particular caution for residents of Maryland's Eastern Shore, which is expected to see up to 12 inches of snow.
"Stay off the roads tonight for your own safety, and so that the crews and first responders can do their jobs," Hogan said.
Delaware Governor John Carney issued driving restrictions for Kent and Sussex counties and authorized the National Guard to assist with the response to the storm.
New York Governor Kathy Hochul said during a Friday briefing that she didn't want travelers to fall into a situation experienced by hundreds of drivers who found themselves stuck on a Washington, D.C., area highway in freezing temperatures for hours earlier this month.
"That cold is dangerous," she said. "It can be bitter; it can be dangerous, especially if you're in a vehicle."
The storm could bring white out conditions with no visibility, and is forecast to bring sustained winds of 25 to 35 mph, with gusts as high as 45 mph, she said. Hochul advised residents to wait out the storm at home.
The National Weather Service issued a blizzard warning for parts of Massachusetts and Rhode Island that could bring 18 to 24 inches of snow and 60 mph gusts of wind, making travel "extremely difficult to impossible."
Rhode Island Governor Dan McKee has responded with a travel ban for motor vehicles on state roadways starting at 6 a.m. through 8 p.m. on Saturday.
Boston could see more than 24 inches of snow, according to the service, potentially exceeding the historic 27.6 inches of snow recorded at Logan Airport during the President's Day snowstorm of February 2003.
Airports in New York City, Newark and Boston have canceled over 90 percent of departures for Saturday, according FlightAware.