20 States Say Trump's Tax Bill Makes Obamacare Unconstitutional: Lawsuit
President Donald Trump's recently enacted Tax Cuts and Jobs Act might have rendered Obamacare unconstitutional, a lawsuit alleges.
Twenty states, including Texas, Wisconsin, Florida and West Virginia, claim that a provision of the tax bill has made former President Barack Obama's Affordable Care Act (ACA) illegal. The lawsuit, which was filed Monday, centers on a tax penalty in Obamacare's individual mandate.
The individual mandate requires most Americans to have a health coverage minimum or else face a tax fine. The GOP tax bill, which was signed into law by Trump in December 2017, repealed the individual mandate beginning in 2019. In its 2012 National Federation of Independent Business v. Sebelius decision, the Supreme Court ruled that the ACA's individual mandate was constitutional because of Congress's ability to tax.
The states in the recent lawsuit claim that since the new tax plan eliminates the ability of Congress to tax the individual mandate, it has rendered the ACA unconstitutional.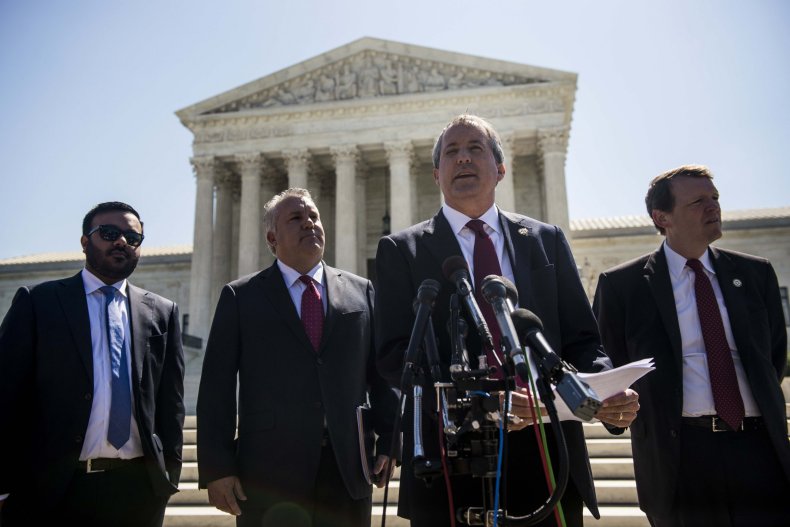 "Following the enactment of the Tax Cuts and Jobs Act of 2017, the country is left with an individual mandate to buy health insurance that lacks any constitutional basis," the lawsuit stated. The suit was filed against the U.S. Department of Health and Human Services and HHS Secretary Alex Azar by Texas Attorney General Ken Paxton.
Paxton, a Republican, also helped file an amicus curiae brief with the U.S. Supreme Court on Wednesday to help uphold Trump's travel ban.
"Texans have known all along that Obamacare is unlawful, and a divided Supreme Court's approval rested solely on the flimsy support of Congress's authority to tax. Congress has now kicked that flimsy support from beneath the law," Paxton said Monday in a statement.
"The U.S. Supreme Court already admitted that an individual mandate without a tax penalty is unconstitutional. With no remaining legitimate basis for the law, it is time that Americans are finally free from the stranglehold of Obamacare, once and for all," he continued.
The cost of health insurance has more than doubled under Obamacare since 2013. During his 2016 presidential campaign, Trump promised to "repeal and replace" the ACA, though that promise has gone unfulfilled more than a year into his presidency. In 2017, Trump cut outreach funding to make Obamacare deadlines known to the public.